Filters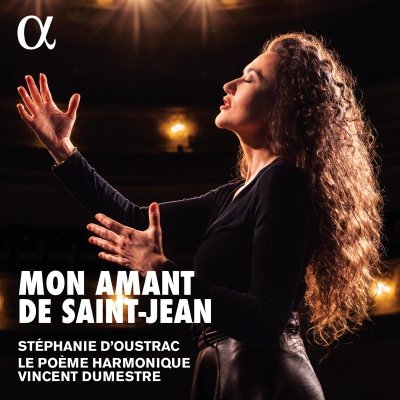 Inlay available for download
Booklet available for download
J'ai perdu ma jeunesse

Composer(s)

Georges Martine

Artist(s)

Vincent Dumestre

Stéphanie d'Oustrac

Le Poème Harmonique

J'ai perdu ma jeunesse

$2.30

Pièces de viole, Livre 2: No. 63, Les voix humaines

Artist(s)

Vincent Dumestre

Le Poème Harmonique

Pièces de viole, Livre 2: No. 63, Les voix humaines

$2.30

Dans mon jardin à l'ombre

Artist(s)

Vincent Dumestre

Stéphanie d'Oustrac

Le Poème Harmonique

Dans mon jardin à l'ombre

$2.30

La fille au roi Louis

Artist(s)

Vincent Dumestre

Stéphanie d'Oustrac

Le Poème Harmonique

La fille au roi Louis

$2.30

Canzona in C Major

Composer(s)

Johann Vierdanck

Artist(s)

Vincent Dumestre

Le Poème Harmonique

Canzona in C Major

$2.30

Lamento d'Arianna, SV 22: I. Lasciatemi morire

Composer(s)

Claudio Monteverdi

Artist(s)

Vincent Dumestre

Stéphanie d'Oustrac

Le Poème Harmonique

Lamento d'Arianna, SV 22: I. Lasciatemi morire

$3.40

L'Egisto, Act II, Scene 1: Lasso io vivo

Composer(s)

Francesco Cavalli

Artist(s)

Vincent Dumestre

Stéphanie d'Oustrac

Le Poème Harmonique

L'Egisto, Act II, Scene 1: Lasso io vivo

$2.30

D'elle à lui

Composer(s)

Paul Marinier

Artist(s)

Vincent Dumestre

Stéphanie d'Oustrac

Le Poème Harmonique

D'elle à lui

$2.30

Les petits pavés

Artist(s)

Vincent Dumestre

Stéphanie d'Oustrac

Le Poème Harmonique

Les petits pavés

$2.30

Où sont tous mes amants ?

Composer(s)

Charles André Cachan

Artist(s)

Vincent Dumestre

Stéphanie d'Oustrac

Le Poème Harmonique

Où sont tous mes amants ?

$2.30

Les nuits d'une demoiselle

Composer(s)

Raymond Legrand

Artist(s)

Vincent Dumestre

Stéphanie d'Oustrac

Le Poème Harmonique

Les nuits d'une demoiselle

$2.30

Les canards tyroliens

Artist(s)

Vincent Dumestre

Stéphanie d'Oustrac

Le Poème Harmonique

Les canards tyroliens

$2.30

Le tango stupéfiant

Artist(s)

Vincent Dumestre

Stéphanie d'Oustrac

Le Poème Harmonique

Le tango stupéfiant

$2.30

Mon amant de Saint-Jean

Composer(s)

Émile Carrara

Artist(s)

Vincent Dumestre

Stéphanie d'Oustrac

Le Poème Harmonique

Mon amant de Saint-Jean

$2.30
Total running time: 59 minutes.

Album information

Fascinated by the interplay of echoes from one past to another, Vincent Dumestre and Stéphanie d'Oustrac found an affinity in the project Mon Amant de Saint-Jean, their very first collaboration, and aimed to make it a unique musical adventure: a recital in which the atmosphere of the chansons of the Années Folles infuses early music with its sweet madness.

In 1904, the great cabaret singer Yvette Guilbert was invited to the home of the Casadesus family, the founders of the Société des Instruments Anciens (Early instrument society): the Baroque fraternised with the café-concert. Around the same time, in the revue Paris qui chante, an aria by Scarlatti rubbed shoulders with the coarse language of Aristide Bruant and Paulin, while Gaston Dumestre, a singer at the cabaret Le Chat Noir (and one of Vincent's ancestors!), sang chansons réalistes while accompanying himself on the theorbo presented to him by Oscar II of Sweden: 'It is in language that we must seek the common driving force. These cabaret singers relished a very special flavour, a vigour, a raciness in the words of the Baroque era', concludes Vincent Dumestre.
Related Artists