Filters
Mozart: Piano Concertos 25 & 26
Mozart: Piano Concertos 25 & 26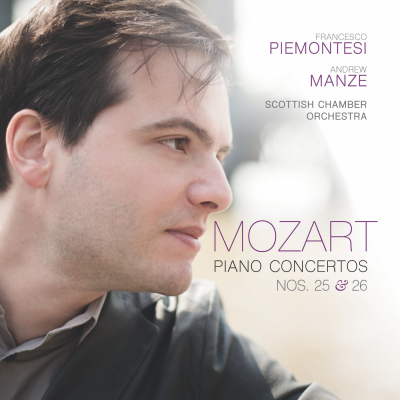 Inlay available for download
Booklet available for download
Piano Concerto No. 26 in D major, K. 537 'Coronation': I. Allegro

Composer(s)

Wolfgang Amadeus Mozart

Artist(s)

Andrew Manze

Francesco Piemontesi

Scottish Chamber Orchestra

Piano Concerto No. 26 in D major, K. 537 'Coronation': I. Allegro

$4.75

Piano Concerto No. 26 in D major, K. 537 'Coronation': II. [Larghetto]

Composer(s)

Wolfgang Amadeus Mozart

Artist(s)

Andrew Manze

Francesco Piemontesi

Scottish Chamber Orchestra

Piano Concerto No. 26 in D major, K. 537 'Coronation': II. [Larghetto]

$2.30

Piano Concerto No. 26 in D major, K. 537 'Coronation': III. [Allegretto]

Composer(s)

Wolfgang Amadeus Mozart

Artist(s)

Andrew Manze

Francesco Piemontesi

Scottish Chamber Orchestra

Piano Concerto No. 26 in D major, K. 537 'Coronation': III. [Allegretto]

$3.40

Piano Concerto No. 25 in C major, K. 503: I. Allegro maestoso

Composer(s)

Wolfgang Amadeus Mozart

Artist(s)

Andrew Manze

Francesco Piemontesi

Scottish Chamber Orchestra

Piano Concerto No. 25 in C major, K. 503: I. Allegro maestoso

$4.75

Piano Concerto No. 25 in C major, K. 503: II. Andante

Composer(s)

Wolfgang Amadeus Mozart

Artist(s)

Andrew Manze

Francesco Piemontesi

Scottish Chamber Orchestra

Piano Concerto No. 25 in C major, K. 503: II. Andante

$3.40

Piano Concerto No. 25 in C major, K. 503: III. Allegretto

Composer(s)

Wolfgang Amadeus Mozart

Artist(s)

Andrew Manze

Francesco Piemontesi

Scottish Chamber Orchestra

Piano Concerto No. 25 in C major, K. 503: III. Allegretto

$3.40
Total running time: 61 minutes.







Album information

Described as a "stellar Mozartian" Francesco Piemontesi finds a perfect partner in the Scottish Chamber Orchestra whose impeccable credentials are widely acknowledged.

Franceso Piemontesi has performed Mozart extensively recently, including a critically acclaimed 2015 BBC Prom, a Mozart cycle at London's Wigmore Hall which commenced in January 2016 and continues in 2017 and Mozart concertos with the SCO which The Herald awarded five stars.

The Swiss pianist enjoys particular insight into Mozart gaining a useful 'love of detail' from his teacher Alfred Brendel, who was himself renowned for his masterly interpretations of Mozart. This recording couples consecutive yet contrasting works from Mozart's Vienna period: K. 503 represents the longest and most substantial of his concert masterpieces and K. 537 provides the soloist with an audience-pleasing cadenza.

Conductor Andrew Manze, well known as a HIP pioneer, shares Piemontesi's approach to creating an authentic performance, making this a Mozart dream team.
Related Artists
Reviews