Filters
Mozart: Piano Concertos Nos. 12, 13 & 14, The Chamber Version
Mozart: Piano Concertos Nos. 12, 13 & 14, The Chamber Version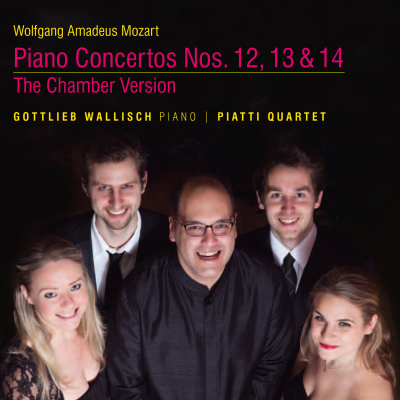 Inlay available for download
Booklet available for download
Piano Concerto No. 12 in A Major, K. 414 - Allegro

Composer(s)

Wolfgang Amadeus Mozart

Artist(s)

Gottlieb Wallisch

Piatti Quartet

Piano Concerto No. 12 in A Major, K. 414 - Allegro

$3.40

Piano Concerto No. 12 in A Major, K. 414 - Andante

Composer(s)

Wolfgang Amadeus Mozart

Artist(s)

Gottlieb Wallisch

Piatti Quartet

Piano Concerto No. 12 in A Major, K. 414 - Andante

$2.30

Piano Concerto No. 12 in A Major, K. 414 - Allegretto

Composer(s)

Wolfgang Amadeus Mozart

Artist(s)

Gottlieb Wallisch

Piatti Quartet

Piano Concerto No. 12 in A Major, K. 414 - Allegretto

$2.30

Piano Concerto No. 13 in C Major, K. 415 - Allegro

Composer(s)

Wolfgang Amadeus Mozart

Artist(s)

Gottlieb Wallisch

Piatti Quartet

Piano Concerto No. 13 in C Major, K. 415 - Allegro

$3.40

Piano Concerto No. 13 in C Major, K. 415 - Andante

Composer(s)

Wolfgang Amadeus Mozart

Artist(s)

Gottlieb Wallisch

Piatti Quartet

Piano Concerto No. 13 in C Major, K. 415 - Andante

$2.30

Piano Concerto No. 13 in C Major, K. 415 - Rondeau. Allegro

Composer(s)

Wolfgang Amadeus Mozart

Artist(s)

Gottlieb Wallisch

Piatti Quartet

Piano Concerto No. 13 in C Major, K. 415 - Rondeau. Allegro

$3.40

Piano Concerto No. 14 in E-flat Major, K. 449 - Allegro vivace

Composer(s)

Wolfgang Amadeus Mozart

Artist(s)

Gottlieb Wallisch

Piatti Quartet

Piano Concerto No. 14 in E-flat Major, K. 449 - Allegro vivace

$3.40

Piano Concerto No. 14 in E-flat Major, K. 449 - Andantino

Composer(s)

Wolfgang Amadeus Mozart

Artist(s)

Gottlieb Wallisch

Piatti Quartet

Piano Concerto No. 14 in E-flat Major, K. 449 - Andantino

$2.30

Piano Concerto No. 14 in E-flat Major, K. 449 - Allegro ma non troppo

Composer(s)

Wolfgang Amadeus Mozart

Artist(s)

Gottlieb Wallisch

Piatti Quartet

Piano Concerto No. 14 in E-flat Major, K. 449 - Allegro ma non troppo

$2.30
Total running time: 68 minutes.
Album information

The Piatti Quartet's debut recording features master Mozartian Gottlieb Wallisch in a stunning performance of his fellow Austrian's own rarely-heard chamber orchestrations.

The combination of string quartet and solo piano, strikingly enhances the intricacies of Mozart's string writing and encourages immediate interaction among the five musicians. Gottlieb Wallisch and the Piatti Quartet performed this repertoire to packed audiences at various venues and festivals across the UK in the summer and autumn of 2011.

Mozart: Piano Concertos Nos. 12, 13 & 14, The Chamber Version is a brilliant debut from the young quartet and a welcome addition to Gottlieb's already impressive Mozart discography.
Related Artists
Reviews