Filters
Mozart: Requiem (Reconstruction of first performance)
Mozart: Requiem (Reconstruction of first performance)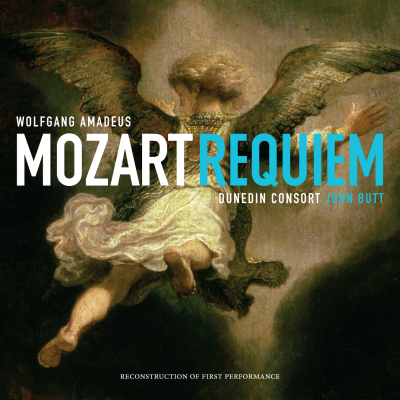 Inlay available for download
Booklet available for download
Requiem in D minor, K. 626 - I. Requiem aeternam

Composer(s)

Wolfgang Amadeus Mozart

Artist(s)

Dunedin Consort

Requiem in D minor, K. 626 - I. Requiem aeternam

$2.30

Requiem in D minor, K. 626 - II. Kyrie

Composer(s)

Wolfgang Amadeus Mozart

Artist(s)

Dunedin Consort

Requiem in D minor, K. 626 - II. Kyrie

$2.30

Requiem in D minor, K. 626 - III. Dies irae

Composer(s)

Wolfgang Amadeus Mozart

Artist(s)

Dunedin Consort

Requiem in D minor, K. 626 - III. Dies irae

$2.30

Requiem in D minor, K. 626 - IV. Tuba mirum

Composer(s)

Wolfgang Amadeus Mozart

Artist(s)

Dunedin Consort

Requiem in D minor, K. 626 - IV. Tuba mirum

$2.30

Requiem in D minor, K. 626 - V. Rex tremendae

Composer(s)

Wolfgang Amadeus Mozart

Artist(s)

Dunedin Consort

Requiem in D minor, K. 626 - V. Rex tremendae

$2.30

Requiem in D minor, K. 626 - VI. Recordare

Composer(s)

Wolfgang Amadeus Mozart

Artist(s)

Dunedin Consort

Requiem in D minor, K. 626 - VI. Recordare

$2.30

Requiem in D minor, K. 626 - VII. Confutatis

Composer(s)

Wolfgang Amadeus Mozart

Artist(s)

Dunedin Consort

Requiem in D minor, K. 626 - VII. Confutatis

$2.30

Requiem in D minor, K. 626 - VIII. Lacrimosa

Composer(s)

Wolfgang Amadeus Mozart

Artist(s)

Dunedin Consort

Requiem in D minor, K. 626 - VIII. Lacrimosa

$2.30

Requiem in D minor, K. 626 - IX. Domine Jesu

Composer(s)

Wolfgang Amadeus Mozart

Artist(s)

Dunedin Consort

Requiem in D minor, K. 626 - IX. Domine Jesu

$2.30

Requiem in D minor, K. 626 - X. Hostias

Composer(s)

Wolfgang Amadeus Mozart

Artist(s)

Dunedin Consort

Requiem in D minor, K. 626 - X. Hostias

$2.30

Requiem in D minor, K. 626 - XI. Quam olim Abrahae

Composer(s)

Wolfgang Amadeus Mozart

Artist(s)

Dunedin Consort

Requiem in D minor, K. 626 - XI. Quam olim Abrahae

$2.30

Requiem in D minor, K. 626 - XII. Sanctus

Composer(s)

Wolfgang Amadeus Mozart

Artist(s)

Dunedin Consort

Requiem in D minor, K. 626 - XII. Sanctus

$2.30

Requiem in D minor, K. 626 - XIII. Benedictus & Osanna

Composer(s)

Wolfgang Amadeus Mozart

Artist(s)

Dunedin Consort

Requiem in D minor, K. 626 - XIII. Benedictus & Osanna

$2.30

Requiem in D minor, K. 626 - XIV. Agnus Dei

Composer(s)

Wolfgang Amadeus Mozart

Artist(s)

Dunedin Consort

Requiem in D minor, K. 626 - XIV. Agnus Dei

$2.30

Requiem in D minor, K. 626 - XV. Lux aeterna

Composer(s)

Wolfgang Amadeus Mozart

Artist(s)

Dunedin Consort

Requiem in D minor, K. 626 - XV. Lux aeterna

$2.30

Requiem in D minor, K. 626 - XVI. Cum sanctis

Composer(s)

Wolfgang Amadeus Mozart

Artist(s)

Dunedin Consort

Requiem in D minor, K. 626 - XVI. Cum sanctis

$2.30

Misericordias Domini in D minor, K. 222 - 'Offertorium de tempore'

Composer(s)

Wolfgang Amadeus Mozart

Artist(s)

Dunedin Consort

Misericordias Domini in D minor, K. 222 - 'Offertorium de tempore'

$3.40

Requiem in D minor, K. 626 - I. Requiem aeternam (Reconstruction of Requiem performance at Mozart's funeral, 1791)

Composer(s)

Wolfgang Amadeus Mozart

Artist(s)

Dunedin Consort

Requiem in D minor, K. 626 - I. Requiem aeternam (Reconstruction of Requiem performance at Mozart's funeral, 1791)

$2.30

Requiem in D minor, K. 626 - II. Kyrie (Reconstruction of Requiem performance at Mozart's funeral, 1791)

Composer(s)

Wolfgang Amadeus Mozart

Artist(s)

Dunedin Consort

Requiem in D minor, K. 626 - II. Kyrie (Reconstruction of Requiem performance at Mozart's funeral, 1791)

$2.30
Total running time: 61 minutes.





Album information

Dunedin Consort presents the premiere recording of Mozart scholar David Black's new 2013 edition of Süssmayr's completion of the Requiem. It was named winner of the 'Choral' category at the 2014 Gramophone Awards.

This GRAMMY-nominated recording provides the opportunity to re-imagine what this work may have sounded like at its very first performance and won Dunedin Consort its second Gramophone Award. The recording is the first not only to use this new edition, but also to present the work using forces close in style and scale to those at the first performances.

One striking element of these performances is the fact that the soloists are also the leaders of the choir, thus giving a greater consistency to the relationship between the solo numbers and the choruses. Taking centre stage are soloists Joanne Lunn soprano, Rowan Hellier alto, Thomas Hobbs tenor and Matthew Brook bass-baritone.
Related Artists
Reviews