Filters
Mozart y Mambo: Cuban Dances
Mozart y Mambo: Cuban Dances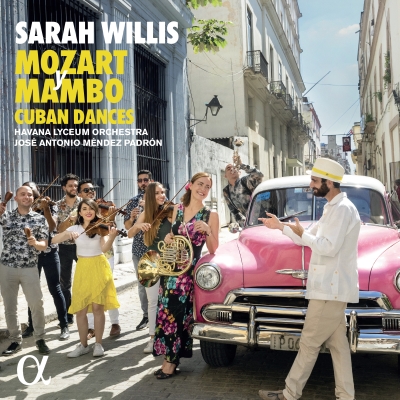 Inlay available for download
Booklet available for download
Horn Concerto No. 2 in E-Flat Major, K. 417: I. Allegro maestoso

Composer(s)

Wolfgang Amadeus Mozart

Artist(s)

José Antonio Méndez Padrón

Sarah Willis

Havana Lyceum Orchestra

Horn Concerto No. 2 in E-Flat Major, K. 417: I. Allegro maestoso

$2.30

Horn Concerto No. 2 in E-Flat Major, K. 417: II. Andante

Composer(s)

Wolfgang Amadeus Mozart

Artist(s)

José Antonio Méndez Padrón

Sarah Willis

Havana Lyceum Orchestra

Horn Concerto No. 2 in E-Flat Major, K. 417: II. Andante

$2.30

Horn Concerto No. 2 in E-Flat Major, K. 417: III. Rondo (Allegro)

Composer(s)

Wolfgang Amadeus Mozart

Artist(s)

José Antonio Méndez Padrón

Sarah Willis

Havana Lyceum Orchestra

Horn Concerto No. 2 in E-Flat Major, K. 417: III. Rondo (Allegro)

$2.30

Cuban Dances for Solo Horn, Strings and Percussion: No. 1, Tamarindo Scherz-son

Composer(s)

Pepe Gavilondo

Artist(s)

José Antonio Méndez Padrón

Sarah Willis

Havana Lyceum Orchestra

Cuban Dances for Solo Horn, Strings and Percussion: No. 1, Tamarindo Scherz-son

$2.30

Cuban Dances for Solo Horn, Strings and Percussion: No. 2, Danzón de la Medianoche

Composer(s)

Yuniet Lombida

Artist(s)

José Antonio Méndez Padrón

Sarah Willis

Havana Lyceum Orchestra

Cuban Dances for Solo Horn, Strings and Percussion: No. 2, Danzón de la Medianoche

$2.30

Cuban Dances for Solo Horn, Strings and Percussion: No. 3, Guaguancó Sencillo

Composer(s)

Wilma Alba Cal

Artist(s)

José Antonio Méndez Padrón

Sarah Willis

Havana Lyceum Orchestra

Cuban Dances for Solo Horn, Strings and Percussion: No. 3, Guaguancó Sencillo

$2.30

Cuban Dances for Solo Horn, Strings and Percussion: No. 4, Un Bolero para Sarah

Artist(s)

José Antonio Méndez Padrón

Sarah Willis

Havana Lyceum Orchestra

Cuban Dances for Solo Horn, Strings and Percussion: No. 4, Un Bolero para Sarah

$2.30

Cuban Dances for Solo Horn, Strings and Percussion: No. 5, Sarahchá

Composer(s)

Yuniet Lombida

Artist(s)

José Antonio Méndez Padrón

Sarah Willis

Havana Lyceum Orchestra

Cuban Dances for Solo Horn, Strings and Percussion: No. 5, Sarahchá

$2.30

Cuban Dances for Solo Horn, Strings and Percussion: No. 6, ¡Ay Comay! Un Changüí pa´Sari

Composer(s)

Ernesto Oliva

Artist(s)

José Antonio Méndez Padrón

Sarah Willis

Havana Lyceum Orchestra

Cuban Dances for Solo Horn, Strings and Percussion: No. 6, ¡Ay Comay! Un Changüí pa´Sari

$2.30

Horn Concerto No. 1 in D Major, K. 412/386b: I. Allegro

Composer(s)

Wolfgang Amadeus Mozart

Artist(s)

José Antonio Méndez Padrón

Sarah Willis

Havana Lyceum Orchestra

Horn Concerto No. 1 in D Major, K. 412/386b: I. Allegro

$2.30

Horn Concerto No. 1 in D Major, K. 412/386b: II. Rondo (Allegro)

Composer(s)

Wolfgang Amadeus Mozart

Artist(s)

José Antonio Méndez Padrón

Sarah Willis

Havana Lyceum Orchestra

Horn Concerto No. 1 in D Major, K. 412/386b: II. Rondo (Allegro)

$2.30

Veinte Años

Composer(s)

Maria Teresa Vera

Artist(s)

José Antonio Méndez Padrón

Sarah Willis

Havana Lyceum Orchestra

Veinte Años

$2.30

El Bodeguero

Composer(s)

Richard Egües

Artist(s)

José Antonio Méndez Padrón

Sarah Willis

Havana Lyceum Orchestra

El Bodeguero

$2.30

Pa Pa Pa (Inspired by the Papageno/Papagena Duet from W.A. Mozart's The Magic Flute)

Composer(s)

Edgar Olivero

Pa Pa Pa (Inspired by the Papageno/Papagena Duet from W.A. Mozart's The Magic Flute)

$2.30
Total running time: 60 minutes.
Album information

Following the phenomenal success of the first Mozart y Mambo album, Sarah Willis returns to Cuba not only to record two more Mozart horn concertos but also to create a landmark original work that takes its place in Cuban music history.

In Mozart y Mambo - Cuban Dances, Sarah commissions the very first Cuban horn concerto – calling on six young talented Cuban composers to each write an original dance for solo horn, strings, and percussion inspired by the most famous dance rhythms from across different regions of Cuba. Together with her beloved Havana Lyceum Orchestra conducted by José Antonio Méndez Padrón, Sarah takes us on a cross country musical road trip in this spectacular showcase of the roots and traditions of Cuba's music and dance. Look out for special guests appearances from the Buena Vista Social Club's Carlos Calunga and the legendary guïro player Enrique Lazaga.

Cuban Dances is Cuban music as it has never been heard before and a huge challenge for the horn player, not only technically but physically – "if you can't dance it you can't play it" she was told. So dance it she did! Mozart y Mambo - Cuban Dances is full of magic, energy, and passion, and Sarah's love for Cuban music is evident in every track.
Related Artists
Reviews