Filters
Mr Charles the Hungarian. Handel's Rival in Dublin
Mr Charles the Hungarian. Handel's Rival in Dublin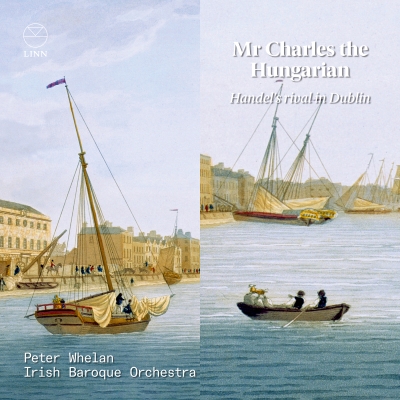 Inlay available for download
Booklet available for download
Il pastor fido, HWV 8c: Ouverture. Untitled

Composer(s)

George Frideric Handel

Artist(s)

Peter Whelan

Irish Baroque Orchestra

Il pastor fido, HWV 8c: Ouverture. Untitled

$2.30

Il pastor fido, HWV 8c: Ouverture. Allegro

Composer(s)

George Frideric Handel

Artist(s)

Peter Whelan

Irish Baroque Orchestra

Il pastor fido, HWV 8c: Ouverture. Allegro

$2.30

Giulio Cesare, HWV 17, Act I, Scene 9: Va tacito

Composer(s)

George Frideric Handel

Artist(s)

Peter Whelan

Anneke Scott

Irish Baroque Orchestra

Miriam Kaczor

Giulio Cesare, HWV 17, Act I, Scene 9: Va tacito

$3.40

Concerto in F Major: I. Adagio

Composer(s)

Johann Adolf Hasse

Artist(s)

Peter Whelan

Leo Duarte

Irish Baroque Orchestra

Nicola Boud

Michele Fattori

Concerto in F Major: I. Adagio

$2.30

Concerto in F Major: II. Allegretto

Composer(s)

Johann Adolf Hasse

Artist(s)

Peter Whelan

Leo Duarte

Irish Baroque Orchestra

Nicola Boud

Michele Fattori

Concerto in F Major: II. Allegretto

$2.30

Concerto in F Major: III. Adagio

Composer(s)

Johann Adolf Hasse

Artist(s)

Peter Whelan

Leo Duarte

Irish Baroque Orchestra

Nicola Boud

Michele Fattori

Concerto in F Major: III. Adagio

$2.30

Concerto in F Major: IV. Allegretto ma poco

Composer(s)

Johann Adolf Hasse

Artist(s)

Peter Whelan

Leo Duarte

Irish Baroque Orchestra

Nicola Boud

Michele Fattori

Concerto in F Major: IV. Allegretto ma poco

$2.30

Concerto, Op. 4 No. 1: III. "Signora Barbarini's Minuet"

Composer(s)

Johann Adolf Hasse

Artist(s)

Peter Whelan

Irish Baroque Orchestra

Concerto, Op. 4 No. 1: III. "Signora Barbarini's Minuet"

$2.30

Water Music, Suite No. 1, HWV 348: I. Allegro - Andante - Allegro

Composer(s)

George Frideric Handel

Artist(s)

Peter Whelan

Irish Baroque Orchestra

Water Music, Suite No. 1, HWV 348: I. Allegro - Andante - Allegro

$2.30

Water Music, Suite No. 1, HWV 348: IV. Passepied

Composer(s)

George Frideric Handel

Artist(s)

Peter Whelan

Irish Baroque Orchestra

Water Music, Suite No. 1, HWV 348: IV. Passepied

$2.30

Water Music, Suite No. 1, HWV 348: VI. Minuet

Composer(s)

George Frideric Handel

Artist(s)

Peter Whelan

Irish Baroque Orchestra

Water Music, Suite No. 1, HWV 348: VI. Minuet

$2.30

Water Music, Suite No. 1, HWV 348: VII. Bourée

Composer(s)

George Frideric Handel

Artist(s)

Peter Whelan

Irish Baroque Orchestra

Water Music, Suite No. 1, HWV 348: VII. Bourée

$2.30

Water Music, Suite No. 1, HWV 348: VIII. Hornpipe

Composer(s)

George Frideric Handel

Artist(s)

Peter Whelan

Irish Baroque Orchestra

Water Music, Suite No. 1, HWV 348: VIII. Hornpipe

$2.30

Water Music, Suite No. 1, HWV 348: IX. Andante

Composer(s)

George Frideric Handel

Artist(s)

Peter Whelan

Irish Baroque Orchestra

Water Music, Suite No. 1, HWV 348: IX. Andante

$2.30

Water Music, Suite No. 2, HWV 349: I. Overture

Composer(s)

George Frideric Handel

Artist(s)

Peter Whelan

Irish Baroque Orchestra

Water Music, Suite No. 2, HWV 349: I. Overture

$2.30

Water Music, Suite No. 2, HWV 349: II. Alla Hornpipe

Composer(s)

George Frideric Handel

Artist(s)

Peter Whelan

Irish Baroque Orchestra

Water Music, Suite No. 2, HWV 349: II. Alla Hornpipe

$2.30

Concerto Grosso in G Major, HWV 314, Op. 3 No. 3: I. Largo e staccato

Composer(s)

George Frideric Handel

Artist(s)

Peter Whelan

Miriam Kaczor

Irish Baroque Orchestra

Concerto Grosso in G Major, HWV 314, Op. 3 No. 3: I. Largo e staccato

$2.30

Concerto Grosso in G Major, HWV 314, Op. 3 No. 3: II. Allegro

Composer(s)

George Frideric Handel

Artist(s)

Peter Whelan

Miriam Kaczor

Irish Baroque Orchestra

Concerto Grosso in G Major, HWV 314, Op. 3 No. 3: II. Allegro

$2.30

Concerto Grosso in G Major, HWV 314, Op. 3 No. 3: III. Adagio

Composer(s)

George Frideric Handel

Artist(s)

Peter Whelan

Miriam Kaczor

Irish Baroque Orchestra

Concerto Grosso in G Major, HWV 314, Op. 3 No. 3: III. Adagio

$2.30

Concerto Grosso in G Major, HWV 314, Op. 3 No. 3: IV. Allegro

Composer(s)

George Frideric Handel

Artist(s)

Peter Whelan

Miriam Kaczor

Irish Baroque Orchestra

Concerto Grosso in G Major, HWV 314, Op. 3 No. 3: IV. Allegro

$2.30

Napolitana, TWV 41:B4

Composer(s)

Georg Philipp Telemann

Artist(s)

Peter Whelan

Leo Duarte

Irish Baroque Orchestra

Napolitana, TWV 41:B4

$2.30

Sonata X: I. [Untitled]

Composer(s)

Lorenzo Bocchi

Artist(s)

Peter Whelan

Jonathan Byers

Irish Baroque Orchestra

Sonata X: I. [Untitled]

$2.30

Sonata X: II. Adagio

Composer(s)

Lorenzo Bocchi

Artist(s)

Peter Whelan

Jonathan Byers

Irish Baroque Orchestra

Sonata X: II. Adagio

$2.30

Sonata X: III. Vivace

Composer(s)

Lorenzo Bocchi

Artist(s)

Peter Whelan

Jonathan Byers

Irish Baroque Orchestra

Sonata X: III. Vivace

$2.30

Suite 1: Chasse

Artist(s)

Peter Whelan

Anneke Scott

Irish Baroque Orchestra

Patrick Broderick

Suite 1: Chasse

$2.30

Le bourgeois gentilhomme, LWV 43, Act 4: Marche pour la Cérémonie des Turcs

Composer(s)

Jean-Baptiste Lully

Artist(s)

Peter Whelan

Irish Baroque Orchestra

Le bourgeois gentilhomme, LWV 43, Act 4: Marche pour la Cérémonie des Turcs

$2.30
Total running time: 64 minutes.


Album information

A famous French horn virtuoso in his days, the shadowy figure known only as 'Mr Charles the Hungarian' was an eccentric opportunist who travelled to Dublin in March 1742. A natural entrepreneur, he capitalized on the 'Handelmania' surrounding Handel's residence in the city at the time, and produced a concert at the Smock Alley Theatre which consisted mainly of Handel's music.

This album recreates the programme and the bohemian atmosphere of the event, showcasing solos for various instruments, some of which had never been heard in Ireland before. The highly resourceful Irish Baroque Orchestra and Peter Whelan have a proven record of curating enticing programmes inspired by Ireland's musical heritage, and this is yet another fine example. Together with works by Hasse, Telemann and Bocchi, a performance of John Walsh's early edition of Handel's Water Music gives a perfect cross-section of this captivating moment in Dublin's musical history.
Related Artists
Reviews