Filters
My heart's in the Highlands
My heart's in the Highlands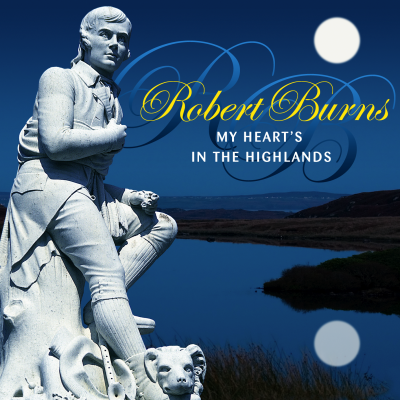 Booklet available for download
My heart's in the Highlands

Artist(s)

Karine Polwart - vocals

Iain Hood - clarsach, Fraser Fifield - whistle

My heart's in the Highlands

$1.80

O my Luve's like a red, red rose

Artist(s)

Davy Steele - vocals

Charlie McKerron - fiddle, Tony McManus - guitar

O my Luve's like a red, red rose

$1.80

Ca the yowes

Artist(s)

Kirsten Easdale - vocals, Ross Kennedy - vocals

Steve Byrne - bouzouki, Eddie Maguire - flute, Ross Kennedy - guitar

Ca the yowes

$1.80

A man's a man for a' that

Artist(s)

Iain F Benzie - vocals

Jonny Hardie - fiddle, Jamie McMenemy - bouzouki, Marc Duff - whistle

A man's a man for a' that

$1.80

Ah Chloris Since it may not be & O my Luve's like a red, red rose (part original version)

Artist(s)

Tich Frier - vocals

Malcolm Stitt - bouzouki, Ewan McPherson - mandolin, Davy Cattanach - percussion

Ah Chloris Since it may not be & O my Luve's like a red, red rose (part original version)

$1.80

Ye banks & braes o' bonie Doon

Artist(s)

Mich West - vocals

John Martin - fiddle, Wendy Weatherby - cello, Tony McManus - guitar

Ye banks & braes o' bonie Doon

$1.80

Caledonia

Artist(s)

James Malcolm - vocals

James Malcolm - guitar

Caledonia

$1.80

There grows a bonie brier-bush

Artist(s)

James Malcolm - vocals

Malcolm Stitt - bouzouki, James Malcolm - moothie

There grows a bonie brier-bush

$1.80

Galloway Tam

Artist(s)

Ian Bruce - vocals

Tony McManus - guitar, Marc Duff - recorder &bodhran, Ian Lowthian - accordion

Galloway Tam

$1.80

Charlie, he's my darling

Artist(s)

Aimee Leonard - vocals

Aimee Leonard - bodhran, Pete Clark - mandola, Frank Mackaughlin - guitar

Charlie, he's my darling

$1.80

O, leeze me on my spinnin-wheel

Artist(s)

Karine Polwart - vocals

Iain Hood - clarsach, Fraser Fifield - cojon, Karine Polwart - guitar

O, leeze me on my spinnin-wheel

$1.80

Ye Jacobites by name

Artist(s)

Ian Bruce - vocals

Ian Anderson - bouzouki, John Martin - viola, William Jackson - whistle, Dougie Pincock - small pipes, Ian Bruce - guitar

Ye Jacobites by name

$1.80

Scots wha hae

Artist(s)

Arthur Johnstone - vocals

William Jackson - clarsach, John Martin - viola, Dougie Pincock - small pipes

Ian Bruce - vocals, Gordeanna McCulloch - vocals

Scots wha hae

$1.80

My love she's but a lassie yet

Artist(s)

Jim Reid - vocals

Malcolm Stitt - bouzouki, Rod Paul - mandolin

My love she's but a lassie yet

$1.80

My Harry & A' the lads & The white cockade

Artist(s)

Wendy Weatherby - vocals

Malcolm Stitt - bouzouki, Rory Campbell - whistle, Aidan O'Rourke - fiddle

My Harry & A' the lads & The white cockade

$1.80

Ye flowery banks & The lazy mist

Artist(s)

Mairi Campbell - vocals

Eddie Maguire - flute, Iain Hood - clarsach

Ye flowery banks & The lazy mist

$1.80

O Bonie was Yon Rosy Brier & O Lovely Polly Stewart

Artist(s)

John Nichol - vocals

Malcolm Stitt - guitar, Bed Edom - guitar, John Morran - octave mandolin, Marc Duff - bodhran & whistle

O Bonie was Yon Rosy Brier & O Lovely Polly Stewart

$1.80

Ae Fond Kiss

Artist(s)

Mae McKenna - vocals

Ae Fond Kiss

$1.80

Lassie wi' the lintwhite locks

Artist(s)

Ian Bruce - vocals

Tony McManus - guitar, Ian Lowthian - accordion, Catriona Macdonald - fiddle

Lassie wi' the lintwhite locks

$1.80

Auld lang syne (original version)

Artist(s)

Ronnie Browne - vocals

Catriona MacDonald - fiddle, Ian Lowthian - accordion

Auld lang syne (original version)

$1.80
Total running time: 59 minutes.
Album information

Experience the very best songs of Robert Burns, Scotland's national poet, brought to life on this delightful disc by Scotland's finest traditional musicians.

Released to coincide with the birthday of Robert Burns on the 25th of January, this is a fitting tribute to Scotland's most celebrated poet. Robert Burns is the writer of the timeless verses of 'Auld Lang Syne' and 'My Luve's Like a Red, Red, Rose' and takes his place amongst the world's literary elite. His legacy is remembered globally with Burns suppers held annually on his birthday. My Heart's In The Highlands features an array of artists from some of Scotland's top bands including the Battlefield Band, The Cast, The Corries, Deaf Shepherd, MacAlias, Malinky, Old Blind Dogs and many more.

All tracks on this compilation are taken from The Complete Songs of Robert Burns series recorded between 1996 & 2002, produced by Dr. Fred Freeman.
Related Artists
Reviews