Filters
Artist
Orchestre Dijon Bourgogne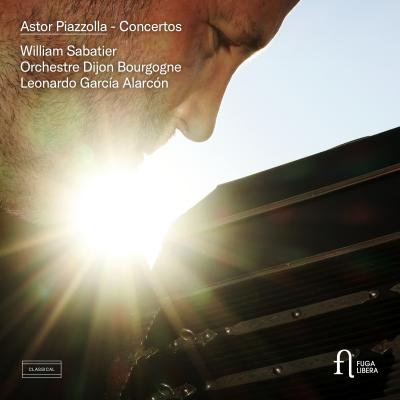 Inlay available for download
Booklet available for download
Concierto para bandoneón: I. Allegro marcato

Composer(s)

Astor Piazzolla

Artist(s)

Leonardo García Alarcón

William Sabatier

Orchestre Dijon Bourgogne

Concierto para bandoneón: I. Allegro marcato

$3.40

Concierto para bandoneón: II. Moderato

Composer(s)

Astor Piazzolla

Artist(s)

Leonardo García Alarcón

William Sabatier

Orchestre Dijon Bourgogne

Concierto para bandoneón: II. Moderato

$2.30

Concierto para bandoneón: III. Presto

Composer(s)

Astor Piazzolla

Artist(s)

Leonardo García Alarcón

William Sabatier

Orchestre Dijon Bourgogne

Concierto para bandoneón: III. Presto

$2.30

Tangazo – variaciones sobre Buenos Aires

Composer(s)

Astor Piazzolla

Artist(s)

Leonardo García Alarcón

William Sabatier

Orchestre Dijon Bourgogne

Tangazo – variaciones sobre Buenos Aires

$4.60

Doble concierto para bandoneón y piano, "Hommage à Liège": I. Introducción

Composer(s)

Astor Piazzolla

Artist(s)

Leonardo García Alarcón

William Sabatier

Orchestre Dijon Bourgogne

Doble concierto para bandoneón y piano, "Hommage à Liège": I. Introducción

$2.30

Doble concierto para bandoneón y piano, "Hommage à Liège": II. Milonga

Composer(s)

Astor Piazzolla

Artist(s)

Leonardo García Alarcón

William Sabatier

Orchestre Dijon Bourgogne

Doble concierto para bandoneón y piano, "Hommage à Liège": II. Milonga

$2.30

Doble concierto para bandoneón y piano, "Hommage à Liège": III. Tango

Composer(s)

Astor Piazzolla

Artist(s)

Leonardo García Alarcón

William Sabatier

Orchestre Dijon Bourgogne

Doble concierto para bandoneón y piano, "Hommage à Liège": III. Tango

$2.30

Oblivion

Composer(s)

Astor Piazzolla

Artist(s)

Leonardo García Alarcón

William Sabatier

Orchestre Dijon Bourgogne

Oblivion

$2.30
Total running time: 53 minutes.
Album information

William Sabatier relishes the improvisational freedom Piazzolla allowed in his exciting new interpretation of the Concierto para bandoneón and the Doble concierto - Hommage à Liège. 

Piazzolla encouraged the performer to be ever more creative; he himself stated that his concertos revived the tradition of the so-called tango a la parrilla of the 1940s, in which improvisation played a considerable role. This disc offers a new reading of Piazzolla's work, in which the codes and the richness of traditional tango reinforce the strength of his music.

William Sabatier, accompanied by the Dijon Bourgogne Orchestra under Leonardo Garcia Alarcón, here presents two highly representative works by Piazzolla that also established the bandoneon as a solo instrument.
Related Artists
Reviews