Filters
R. Strauss: Metamorphosen & Symphony for Wind Instruments
R. Strauss: Metamorphosen & Symphony for Wind Instruments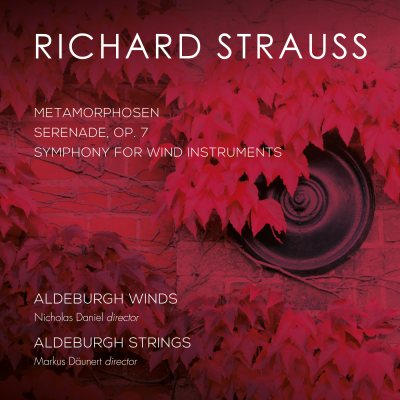 Inlay available for download
Booklet available for download
Metamorphosen, TrV. 290

Composer(s)

Richard Strauss

Artist(s)

Markus Däunert

Aldeburgh Strings

Metamorphosen, TrV. 290

$9.20

Serenade in E-flat Major, Op. 7

Composer(s)

Richard Strauss

Artist(s)

Nicholas Daniel

Aldeburgh Winds

Serenade in E-flat Major, Op. 7

$3.40

Symphony for Wind Instruments 'Frohliche Werkstatt', TrV. 291: I. Allegro con brio

Composer(s)

Richard Strauss

Artist(s)

Nicholas Daniel

Aldeburgh Winds

Symphony for Wind Instruments 'Frohliche Werkstatt', TrV. 291: I. Allegro con brio

$4.60

Symphony for Wind Instruments 'Frohliche Werkstatt', TrV. 291: II. Andantino, sehr gemachlich

Composer(s)

Richard Strauss

Artist(s)

Nicholas Daniel

Aldeburgh Winds

Symphony for Wind Instruments 'Frohliche Werkstatt', TrV. 291: II. Andantino, sehr gemachlich

$2.30

Symphony for Wind Instruments 'Frohliche Werkstatt', TrV. 291: III. Menuett – Etwas lebhaft

Composer(s)

Richard Strauss

Artist(s)

Nicholas Daniel

Aldeburgh Winds

Symphony for Wind Instruments 'Frohliche Werkstatt', TrV. 291: III. Menuett – Etwas lebhaft

$2.30

Symphony for Wind Instruments 'Frohliche Werkstatt', TrV. 291: IV. Einleitung

Composer(s)

Richard Strauss

Artist(s)

Nicholas Daniel

Aldeburgh Winds

Symphony for Wind Instruments 'Frohliche Werkstatt', TrV. 291: IV. Einleitung

$5.75
Total running time: 77 minutes.
Album information

Violinist Markus Däunert and oboeist Nicholas Daniel lead two super groups of strings and winds respectively for Aldeburgh's second recording for Linn.

A counterpart to the Aldeburgh Strings course, whose recording of Britten's Serenade for Tenor, Horn and Strings launched this partnership in 2016, Aldeburgh Winds offered an opportunity for exceptional wind and brass players to work intensively alongside leading international professionals.

Richard Strauss poured out some of his most heartfelt inspiration in Metamorphosen, a 25-minute string masterpiece written as an elegy in the wake of Germany's destruction in the Second World War.

In complete contrast the Serenade radiates Mozartian bonhomie combined with Strauss's exquisite chamber scoring which provides a tantalising glimpse of the composer to come.

The Symphony for Wind Instruments ('Fröhliche Werkstatt') adds a third clarinet, basset horn and bass clarinet to the Serenade's line-up and is very important work in the wind ensemble repertory.
Related Artists
Reviews