Filters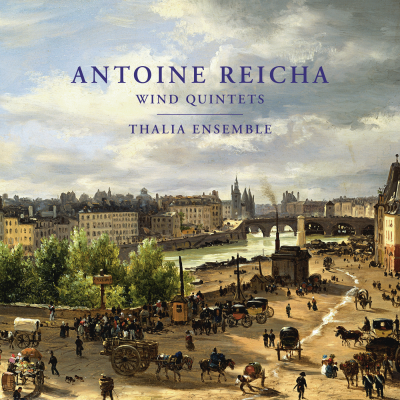 Inlay available for download
Booklet available for download
Quintet No. 3 in G Major, Op. 88: I. Introductione. Lento - Allegro assai

Composer(s)

Antoine Reicha

Artist(s)

Thailia Ensemble

Quintet No. 3 in G Major, Op. 88: I. Introductione. Lento - Allegro assai

$3.40

Quintet No. 3 in G Major, Op. 88: II. Andante

Composer(s)

Antoine Reicha

Artist(s)

Thailia Ensemble

Quintet No. 3 in G Major, Op. 88: II. Andante

$2.30

Quintet No. 3 in G Major, Op. 88: III. Menuetto. Allegro vivo

Composer(s)

Antoine Reicha

Artist(s)

Thailia Ensemble

Quintet No. 3 in G Major, Op. 88: III. Menuetto. Allegro vivo

$2.30

Quintet No. 3 in G Major, Op. 88: IV. Finale. Allegro vivace

Composer(s)

Antoine Reicha

Artist(s)

Thailia Ensemble

Quintet No. 3 in G Major, Op. 88: IV. Finale. Allegro vivace

$2.30

Adagio in D minor "pour le cor anglais"

Composer(s)

Antoine Reicha

Artist(s)

Thailia Ensemble

Adagio in D minor "pour le cor anglais"

$3.40

Quintet No. 6 in B-Flat Major, Op. 100: I. Poco adagio - Allegro

Composer(s)

Antoine Reicha

Artist(s)

Thailia Ensemble

Quintet No. 6 in B-Flat Major, Op. 100: I. Poco adagio - Allegro

$4.60

Quintet No. 6 in B-Flat Major, Op. 100: II. Andante poco adagio

Composer(s)

Antoine Reicha

Artist(s)

Thailia Ensemble

Quintet No. 6 in B-Flat Major, Op. 100: II. Andante poco adagio

$3.40

Quintet No. 6 in B-Flat Major, Op. 100: III. Minuetto. Allegro scherzo

Composer(s)

Antoine Reicha

Artist(s)

Thailia Ensemble

Quintet No. 6 in B-Flat Major, Op. 100: III. Minuetto. Allegro scherzo

$2.30

Quintet No. 6 in B-Flat Major, Op. 100: IV. Finale. Andante - Allegro assai

Composer(s)

Antoine Reicha

Artist(s)

Thailia Ensemble

Quintet No. 6 in B-Flat Major, Op. 100: IV. Finale. Andante - Allegro assai

$3.40
Total running time: 67 minutes.
Album information

Thalia Ensemble's win at the prestigious biennial York Early Music International Young Artists Competition led to this debut recording.

Thalia Ensemble, whose prize-winning programme included works by Antoine Reicha, was praised by the jury for its beautiful ensemble sound, as well as the ensemble's lively communication. The competition is renowned for launching the careers of many notable ensembles, such as Palladian Ensemble, Profeti della Quinta and Ensemble Meridiana.

Premiered in Paris in the early nineteenth century these works were an overnight sensation, recognized across Europe as the pinnacle of their genre. More than any other composer who wrote for winds, Reicha produced works that were hailed as worthy counterparts to the string quartet. An experienced flautist, Reicha was able to craft quintets that successfully integrated each wind instrument, employing its unique character and technical anomalies to full effect. As well as taking influence from his close acquaintances Haydn and Beethoven, Reicha's melodic style is Mozartian in flavour, spiced with subtle chromatic tinges and quirky syncopations.

In addition to the quintets Reicha's Adagio 'pour le cor anglais' is a fine addition to the programme.

Performing on this recording are: Belén Nieto Galán (flute), Sarah Aßmann (oboe and cor anglais), Diederik Ornée (clarinet), Hylke Rozema (natural horn) and José Rodrigues Gomes (bassoon). 
Related Artists
Reviews