Filters
Respighi: Pini di Roma, Impressioni brasiliane & Belkis, regina di Saba
Respighi: Pini di Roma, Impressioni brasiliane & Belkis, regina di Saba
Artist
London Philharmonic Orchestra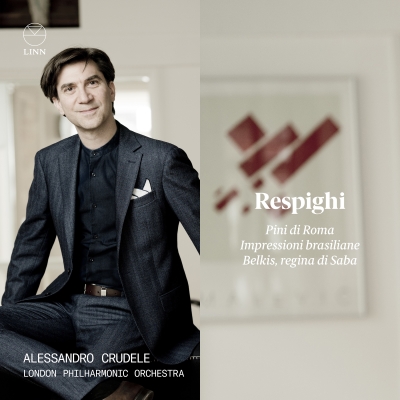 Inlay available for download
Booklet available for download
Pini di Roma, P 141: I. I pini di Villa Borghese

Composer(s)

Ottorino Respighi

Artist(s)

Alessandro Crudele

London Philharmonic Orchestra

Pini di Roma, P 141: I. I pini di Villa Borghese

$2.30

Pini di Roma, P 141: II. Pini presso una catacomba

Composer(s)

Ottorino Respighi

Artist(s)

Alessandro Crudele

London Philharmonic Orchestra

Pini di Roma, P 141: II. Pini presso una catacomba

$2.30

Pini di Roma, P 141: III. I pini del Gianicolo

Composer(s)

Ottorino Respighi

Artist(s)

Alessandro Crudele

London Philharmonic Orchestra

Pini di Roma, P 141: III. I pini del Gianicolo

$3.40

Pini di Roma, P 141: IV. I pini della Via Appia

Composer(s)

Ottorino Respighi

Artist(s)

Alessandro Crudele

London Philharmonic Orchestra

Pini di Roma, P 141: IV. I pini della Via Appia

$2.30

Impressioni brasiliane, P 153: I. Notte tropicale

Composer(s)

Ottorino Respighi

Artist(s)

Alessandro Crudele

London Philharmonic Orchestra

Impressioni brasiliane, P 153: I. Notte tropicale

$3.40

Impressioni brasiliane, P 153: II. Butantan

Composer(s)

Ottorino Respighi

Artist(s)

Alessandro Crudele

London Philharmonic Orchestra

Impressioni brasiliane, P 153: II. Butantan

$2.30

Impressioni brasiliane, P 153: III. Canzone e Danza

Composer(s)

Ottorino Respighi

Artist(s)

Alessandro Crudele

London Philharmonic Orchestra

Impressioni brasiliane, P 153: III. Canzone e Danza

$2.30

Belkis, regina di Saba, P 171: I. Il sogno di Salomone

Composer(s)

Ottorino Respighi

Artist(s)

Alessandro Crudele

London Philharmonic Orchestra

Belkis, regina di Saba, P 171: I. Il sogno di Salomone

$3.40

Belkis, regina di Saba, P 171: II. La danza di Belkis all'aurora

Composer(s)

Ottorino Respighi

Artist(s)

Alessandro Crudele

London Philharmonic Orchestra

Belkis, regina di Saba, P 171: II. La danza di Belkis all'aurora

$3.40

Belkis, regina di Saba, P 171: III. Danza guerresca

Composer(s)

Ottorino Respighi

Artist(s)

Alessandro Crudele

London Philharmonic Orchestra

Belkis, regina di Saba, P 171: III. Danza guerresca

$2.30

Belkis, regina di Saba, P 171: IV. Danza orgiastica

Composer(s)

Ottorino Respighi

Artist(s)

Alessandro Crudele

London Philharmonic Orchestra

Belkis, regina di Saba, P 171: IV. Danza orgiastica

$2.30
Total running time: 67 minutes.

Album information

This colourful journey across different times and places marks the first recording of Italian conductor Alessandro Crudele and the London Philharmonic Orchestra for Linn.

At the helm of the flamboyant LPO the versatile conductor has recorded a compendium of programmatic works spanning the artistic life of Ottorino Respighi. Starting with one of his first masterpieces, the evocative and at times epic Pini di Roma is a botanical journey through Rome at different times of the day. The more impressionistic, travelogue Impressioni brasiliane, the result of a trip Respighi made in Brazil, is suffused with local music and culture and dates from the mature years of the composer. Much in the same vein, the late ballet Belkis, regina di Saba describes a mythological voyage this time; the little-known work recounts the Queen's route across the desert to meet Solomon, King of Israel, with whom she is in love.
Related Artists
Reviews