Filters
Rogier: Music from the Missae Sex
Rogier: Music from the Missae Sex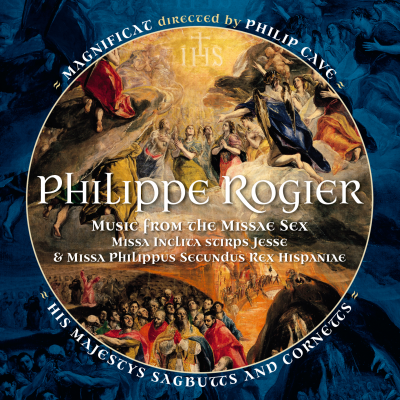 Inlay available for download
Booklet available for download
Motet: Inclita stirps Jesse

Composer(s)

Jacobus Clemens

Artist(s)

Philip Cave

Magnificat

Motet: Inclita stirps Jesse

$2.30

Missa Inclita stirps Jesse: I. Kyrie Eleison

Composer(s)

Philippe Rogier

Artist(s)

Philip Cave

Magnificat

Missa Inclita stirps Jesse: I. Kyrie Eleison

$2.30

Missa Inclita stirps Jesse: II. Gloria in excelsis

Composer(s)

Philippe Rogier

Artist(s)

Philip Cave

Magnificat

Missa Inclita stirps Jesse: II. Gloria in excelsis

$2.30

Missa Inclita stirps Jesse: III. Credo in unum deum

Composer(s)

Philippe Rogier

Artist(s)

Philip Cave

Magnificat

Missa Inclita stirps Jesse: III. Credo in unum deum

$3.40

Missa Inclita stirps Jesse: IV. Sanctus

Composer(s)

Philippe Rogier

Artist(s)

Philip Cave

Magnificat

Missa Inclita stirps Jesse: IV. Sanctus

$2.30

Missa Inclita stirps Jesse: V. Agnus Dei

Composer(s)

Philippe Rogier

Artist(s)

Philip Cave

Magnificat

Missa Inclita stirps Jesse: V. Agnus Dei

$2.30

Cancion francesca glosada

Composer(s)

Antonio de Cabez�n

Artist(s)

Philip Cave

Magnificat

Cancion francesca glosada

$2.30

Missa Philippus Secundus Rex Hispaniae: I. Kyrie Eleison

Composer(s)

Philippe Rogier

Artist(s)

Philip Cave

Magnificat

Missa Philippus Secundus Rex Hispaniae: I. Kyrie Eleison

$2.30

Missa Philippus Secundus Rex Hispaniae: II. Gloria in excelsis

Composer(s)

Philippe Rogier

Artist(s)

Philip Cave

Magnificat

Missa Philippus Secundus Rex Hispaniae: II. Gloria in excelsis

$2.30

Da pacem, Domine a6

Composer(s)

Philippe Rogier

Artist(s)

Philip Cave

Magnificat

Da pacem, Domine a6

$2.30

Missa Philippus Secundus Rex Hispaniae: III. Credo in unum deum

Composer(s)

Philippe Rogier

Artist(s)

Philip Cave

Magnificat

Missa Philippus Secundus Rex Hispaniae: III. Credo in unum deum

$3.40

Ave maris stella

Composer(s)

Antonio de Cabez�n

Artist(s)

Philip Cave

Magnificat

Ave maris stella

$2.30

Missa Philippus Secundus Rex Hispaniae: IV. Sanctus & Benedictus

Composer(s)

Philippe Rogier

Artist(s)

Philip Cave

Magnificat

Missa Philippus Secundus Rex Hispaniae: IV. Sanctus & Benedictus

$2.30

Missa Philippus Secundus Rex Hispaniae: V. Agnus Dei

Composer(s)

Philippe Rogier

Artist(s)

Philip Cave

Magnificat

Missa Philippus Secundus Rex Hispaniae: V. Agnus Dei

$2.30
Total running time: 74 minutes.

Album information

Magnificat, one of the world's leading vocal ensembles, presents a new collection of premiere recordings by the Renaissance composer Philippe Rogier in celebration of the 450th anniversary of Rogier's birth.

Magnificat, who specialise in the restoration and performance of neglected choral masterpieces of the 16th and 17th centuries, embraces the composer's rich, contrapuntal Renaissance style.

The lush textures and colours for which Rogier is renowned are highlighted by the musicians and singers in this historically-informed performance that is bursting with vitality and energy.  The inclusion of cornetts and sackbuts adds a noble and grandious sound to the performance and were an important tool for composers in creating a colourful timbre in the 16th and 17th centuries.
Related Artists
Reviews