Filters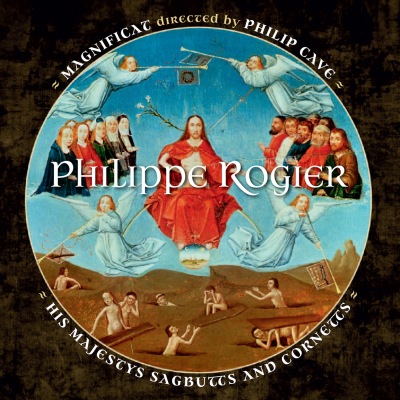 Inlay available for download
Booklet available for download
Domine Dominus noster

Composer(s)

Philippe Rogier

Artist(s)

Philip Cave

Magnificat and His Majestys Sagbutts and Cornetts

Domine Dominus noster

$2.30

Missa Domine Dominus noster - I. Kyrie eleison

Composer(s)

Philippe Rogier

Artist(s)

Philip Cave

Magnificat and His Majestys Sagbutts and Cornetts

Missa Domine Dominus noster - I. Kyrie eleison

$2.30

Missa Domine Dominus noster - II. Gloria in excelsis

Composer(s)

Philippe Rogier

Artist(s)

Philip Cave

Magnificat and His Majestys Sagbutts and Cornetts

Missa Domine Dominus noster - II. Gloria in excelsis

$2.30

Missa Domine Dominus noster - III. Credo in unum Deum

Composer(s)

Philippe Rogier

Artist(s)

Philip Cave

Magnificat and His Majestys Sagbutts and Cornetts

Missa Domine Dominus noster - III. Credo in unum Deum

$3.40

Missa Domine Dominus noster - IV. Sanctus

Composer(s)

Philippe Rogier

Artist(s)

Philip Cave

Magnificat and His Majestys Sagbutts and Cornetts

Missa Domine Dominus noster - IV. Sanctus

$2.30

Missa Domine Dominus noster - V. Agnus Dei

Composer(s)

Philippe Rogier

Artist(s)

Philip Cave

Magnificat and His Majestys Sagbutts and Cornetts

Missa Domine Dominus noster - V. Agnus Dei

$2.30

Regina Caeli

Composer(s)

Philippe Rogier

Artist(s)

Philip Cave

Magnificat and His Majestys Sagbutts and Cornetts

Regina Caeli

$2.30

Laudate Dominum

Composer(s)

Philippe Rogier

Artist(s)

Philip Cave

Magnificat and His Majestys Sagbutts and Cornetts

Laudate Dominum

$2.30

Domine in virtute tua

Composer(s)

Giovanni Pierluigi da Palestrina

Artist(s)

Philip Cave

Magnificat

Domine in virtute tua

$2.30

Missa Domine in virtute tua - I. Kyrie eleison

Composer(s)

Philippe Rogier

Artist(s)

Philip Cave

Magnificat and His Majestys Sagbutts and Cornetts

Missa Domine in virtute tua - I. Kyrie eleison

$2.30

Missa Domine in virtute tua - II. Gloria in excelsis

Composer(s)

Philippe Rogier

Artist(s)

Philip Cave

Magnificat and His Majestys Sagbutts and Cornetts

Missa Domine in virtute tua - II. Gloria in excelsis

$2.30

Missa Domine in virtute tua - III. Credo in unum Deum

Composer(s)

Philippe Rogier

Artist(s)

Philip Cave

Magnificat and His Majestys Sagbutts and Cornetts

Missa Domine in virtute tua - III. Credo in unum Deum

$3.40

Missa Domine in virtute tua - IV. Sanctus

Composer(s)

Philippe Rogier

Artist(s)

Philip Cave

Magnificat and His Majestys Sagbutts and Cornetts

Missa Domine in virtute tua - IV. Sanctus

$2.30

Missa Domine in virtute tua - V. Agnus Dei

Composer(s)

Philippe Rogier

Artist(s)

Philip Cave

Magnificat and His Majestys Sagbutts and Cornetts

Missa Domine in virtute tua - V. Agnus Dei

$2.30

Videntes stellam magi

Composer(s)

Philippe Rogier

Artist(s)

Philip Cave

Magnificat and His Majestys Sagbutts and Cornetts

Videntes stellam magi

$2.30

Verbum caro factum est

Composer(s)

Philippe Rogier

Artist(s)

Philip Cave

Magnificat and His Majestys Sagbutts and Cornetts

Verbum caro factum est

$2.30
Total running time: 73 minutes.
Album information

Magnificat, one of the world's leading vocal ensembles, presents this new collection of recently discovered Philippe Rogier works. 

Featuring three premiere recordings: Domine Dominus noster, Laudate Dominum and Missa Domine in virtue tua, this collection celebrates the 450th anniversary of Rogier's birth. This celebratory recording by Magnificat showcases the rich, contrapuntal Renaissance style of Philippe Rogier's music and is bursting with lush textures and colours.

Joining Magnificat in this performance is the instrumental group His Majestys Sagbutts and Cornetts with organ and harp, keeping with the Spanish liturgical music tradition of the sixteenth century. This full ensemble creates a kaleidoscope of sound and complements Rogier's intricate compositional techniques which includes up to twelve chordal parts in some of the movements. 

This recording truly demonstrates Rogier's position as one of the last great Renaissance composers.
Related Artists
Reviews