Filters
Schumann & Mendelssohn Piano Concertos
Schumann & Mendelssohn Piano Concertos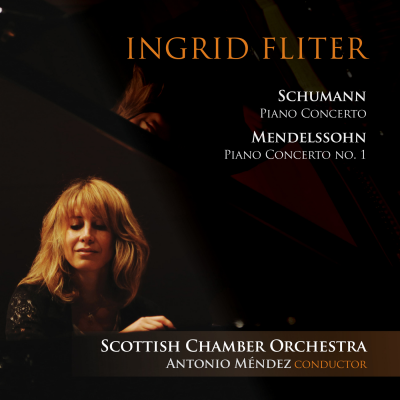 Inlay available for download
Booklet available for download
Piano Concerto in A Minor, Op. 54: I. Allegro affettuoso

Composer(s)

Robert Schumann

Artist(s)

Antonio Méndez

Ingrid Fliter

Scottish Chamber Orchestra

Piano Concerto in A Minor, Op. 54: I. Allegro affettuoso

$4.60

Piano Concerto in A Minor, Op. 54: II. Intermezzo

Composer(s)

Robert Schumann

Artist(s)

Antonio Méndez

Ingrid Fliter: piano

Scottish Chamber Orchestra

Piano Concerto in A Minor, Op. 54: II. Intermezzo

$2.30

Piano Concerto in A Minor, Op. 54: III. Allegro vivace

Composer(s)

Robert Schumann

Artist(s)

Antonio Mendez

Ingrid Fliter: piano

Scottish Chamber Orchestra

Piano Concerto in A Minor, Op. 54: III. Allegro vivace

$4.10

Marchen von der schonen Melusine, Op. 32 (The Fair Melusina) [1835 version]

Composer(s)

Felix Mendelssohn

Artist(s)

Antonio Mendez

Scottish Chamber Orchestra

Marchen von der schonen Melusine, Op. 32 (The Fair Melusina) [1835 version]

$4.10

Piano Concerto No. 1 in G Minor, Op. 25: I. Molto allegro con fuoco

Composer(s)

Felix Mendelssohn

Artist(s)

Antonio Mendez

Ingrid Fliter: piano

Scottish Chamber Orchestra

Piano Concerto No. 1 in G Minor, Op. 25: I. Molto allegro con fuoco

$3.40

Piano Concerto No. 1 in G Minor, Op. 25: II. Andante

Composer(s)

Felix Mendelssohn

Artist(s)

Antonio Méndez

Ingrid Fliter: piano

Scottish Chamber Orchestra

Piano Concerto No. 1 in G Minor, Op. 25: II. Andante

$2.30

Piano Concerto No. 1 in G Minor, Op. 25: III. Presto - Molto allegro e vivace

Composer(s)

Felix Mendelssohn

Artist(s)

Antonio Mendez

Ingrid Fliter: piano

Scottish Chamber Orchestra

Piano Concerto No. 1 in G Minor, Op. 25: III. Presto - Molto allegro e vivace

$2.30

Calm Sea and Prosperous Voyage

Composer(s)

Felix Mendelssohn

Artist(s)

Antonio Méndez

Ingrid Fliter: piano

Scottish Chamber Orchestra

Calm Sea and Prosperous Voyage

$0.00
Total running time: 73 minutes.
Album information

Ingrid Fliter is set to thrill her fans with a new recording of piano concertos. The download includes a bonus track: Mendelssohn's Calm Sea and Prosperous Voyage.

Ingrid performs repertoire that is very close to her heart: concertos by two nineteenth century heavyweights, Schumann and Mendelssohn. 

Ingrid brings the lyrical romanticism of Schumann's iconic Piano Concerto to life whilst perfectly navigating the shifting colours and technical demands of this brilliant showpiece. The sparkling passagework and charming melodies which characterise Mendelssohn's innovative G minor concerto demonstrate Ingrid's innate skill and pianistic instinct. Following Ingrid's live performance of the Mendelssohn concerto one critic wrote: 'In the beautiful second movement, time stood still.'

With both composers giving equal focus to soloist and orchestra, the musicality of the SCO's award-winning musicians shines through as they partner Fliter perfectly. This also marks the recording debut of Antonio Méndez, who is fast becoming one of the most exciting conductors of his generation following engagements with a host of international orchestras.
Related Artists
Reviews