Filters
Serpent & Fire: Arias for Dido & Cleopatra
Serpent & Fire: Arias for Dido & Cleopatra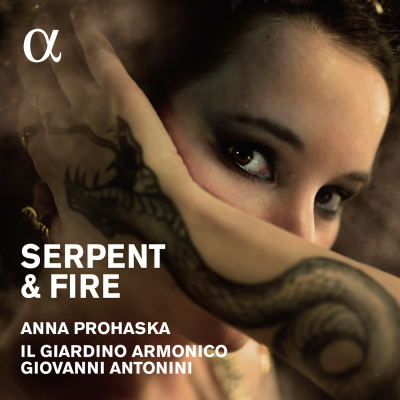 Booklet available for download
Dido and Aeneas, Z. 626: Overture

Composer(s)

Henry Purcell

Artist(s)

Giovanni Antonini

Il Giardino Armonico

Dido and Aeneas, Z. 626: Overture

$2.40

Dido and Aeneas, Z. 626, Act I: Aria "Ah! Belinda, I Am Press'd with Torment"

Composer(s)

Henry Purcell

Artist(s)

Giovanni Antonini

Anna Prohaska

Il Giardino Armonico

Dido and Aeneas, Z. 626, Act I: Aria "Ah! Belinda, I Am Press'd with Torment"

$2.40

Dido, Königin von Karthago: Aria "Holdestes Lispeln der spielenden Fluthen"

Composer(s)

Christoph Graupner

Artist(s)

Giovanni Antonini

Anna Prohaska

Il Giardino Armonico

Dido, Königin von Karthago: Aria "Holdestes Lispeln der spielenden Fluthen"

$2.40

Giulio Cesare in Egitto: Aria "Non voglio amar"

Composer(s)

Antonio Sartorio

Artist(s)

Giovanni Antonini

Anna Prohaska

Il Giardino Armonico

Giulio Cesare in Egitto: Aria "Non voglio amar"

$2.40

The Tempest, the Second Musick: Lilk

Composer(s)

Matthew Locke

Artist(s)

Giovanni Antonini

Il Giardino Armonico

The Tempest, the Second Musick: Lilk

$2.40

The Tempest, the Second Musick: Curtain Tune

Composer(s)

Matthew Locke

Artist(s)

Giovanni Antonini

Il Giardino Armonico

The Tempest, the Second Musick: Curtain Tune

$4.80

La Cleopatra: Aria "A dio regni, a dio scettri"

Composer(s)

Daniele da Castrovillari

Artist(s)

Giovanni Antonini

Anna Prohaska

Il Giardino Armonico

La Cleopatra: Aria "A dio regni, a dio scettri"

$4.80

Giulio Cesare in Egitto: Aria "Quando voglio"

Composer(s)

Antonio Sartorio

Artist(s)

Giovanni Antonini

Anna Prohaska

Il Giardino Armonico

Giulio Cesare in Egitto: Aria "Quando voglio"

$2.40

The Tempest, the First Musick: Galliard

Composer(s)

Matthew Locke

Artist(s)

Giovanni Antonini

Il Giardino Armonico

The Tempest, the First Musick: Galliard

$2.40

The Fairy Queen, Z. 629: Chaconne "Dance for the Chinese Man and Woman"

Composer(s)

Henry Purcell

Artist(s)

Giovanni Antonini

Il Giardino Armonico

The Fairy Queen, Z. 629: Chaconne "Dance for the Chinese Man and Woman"

$2.40

Dido, Konigin von Karthago: Recitativo accompagnato "Der Himmel..."

Composer(s)

Christoph Graupner

Artist(s)

Giovanni Antonini

Anna Prohaska

Il Giardino Armonico

Dido, Konigin von Karthago: Recitativo accompagnato "Der Himmel..."

$2.40

Dido, Konigin von Karthago: Aria "Infido cupido"

Composer(s)

Christoph Graupner

Artist(s)

Giovanni Antonini

Anna Prohaska

Il Giardino Armonico

Dido, Konigin von Karthago: Aria "Infido cupido"

$2.40

Dido, Konigin von Karthago: Aria "Agitato da tempeste"

Composer(s)

Christoph Graupner

Artist(s)

Giovanni Antonini

Anna Prohaska

Il Giardino Armonico

Dido, Konigin von Karthago: Aria "Agitato da tempeste"

$2.40

Giulio Cesare in Egitto, HWV 17, Act II: Recitativo accompagnato "Che sento? O dio!"

Composer(s)

George Frideric Handel

Artist(s)

Giovanni Antonini

Anna Prohaska

Il Giardino Armonico

Giulio Cesare in Egitto, HWV 17, Act II: Recitativo accompagnato "Che sento? O dio!"

$2.40

Giulio Cesare in Egitto, HWV 17, Act II: Aria "Se pieta di me non senti"

Composer(s)

George Frideric Handel

Artist(s)

Giovanni Antonini

Anna Prohaska

Il Giardino Armonico

Giulio Cesare in Egitto, HWV 17, Act II: Aria "Se pieta di me non senti"

$4.80

Didone abbandonata: Aria "Già si desta la tempesta"

Composer(s)

George Frideric Handel

Artist(s)

Giovanni Antonini

Anna Prohaska

Il Giardino Armonico

Didone abbandonata: Aria "Già si desta la tempesta"

$2.40

Sonate concertate in stil moderno, libro secondo: Sonata decimaquinta a quattro

Composer(s)

Dario Castello

Artist(s)

Giovanni Antonini

Il Giardino Armonico

Sonate concertate in stil moderno, libro secondo: Sonata decimaquinta a quattro

$2.40

Didone, Act II Scene 2: Recitativo & Aria "Re de'Getuli altero"

Composer(s)

Francesco Cavalli

Artist(s)

Giovanni Antonini

Anna Prohaska

Il Giardino Armonico

Didone, Act II Scene 2: Recitativo & Aria "Re de'Getuli altero"

$2.40

Marc'Antonio e Cleopatra: Aria "Morte col fiero aspetto"

Composer(s)

Johann Adolf Hasse

Artist(s)

Giovanni Antonini

Anna Prohaska

Il Giardino Armonico

Marc'Antonio e Cleopatra: Aria "Morte col fiero aspetto"

$2.40

Passacaille del seigneur Louigi

Artist(s)

Giovanni Antonini

Il Giardino Armonico

Passacaille del seigneur Louigi

$2.40

Dido and Aeneas, Z. 626, Act II: Aria "Oft She Visits This Lone Mountain"

Composer(s)

Henry Purcell

Artist(s)

Giovanni Antonini

Anna Prohaska

Il Giardino Armonico

Dido and Aeneas, Z. 626, Act II: Aria "Oft She Visits This Lone Mountain"

$2.40

Dido and Aeneas, Z. 626, Act III: "Thy Hand, Belinda...When I Am Laid in Earth"

Composer(s)

Henry Purcell

Artist(s)

Giovanni Antonini

Anna Prohaska

Il Giardino Armonico

Dido and Aeneas, Z. 626, Act III: "Thy Hand, Belinda...When I Am Laid in Earth"

$2.40
Total running time: 69 minutes.

Album information

This fascinating recital brings together two superb African queens; Dido and Cleopatra, and follows them all over Europe during the first century of opera, from the 1640s to 1740.

A firework display of arias, virtuosic and tragic by turns, written by the leading personalities of Baroque music (Cavalli, Handel, Purcell, Hasse) and composers still awaiting rediscovery suchas Sartorio, Graupner and the Venetian Castrovillari.

For this programme built like a tragedy around the queens of Egypt and Carthage, whom she interprets with the passion and fervour that have made her reputation, Anna Prohaska is accompanied by one of today's finest Baroque ensembles, Il Giardino Armonico; under the inspired guidance of their director Giovanni Antonini (who is also a dazzling recorder soloist in some of the arias), they keep us on the edge of our seats from start to finish.
Related Artists
Reviews