Filters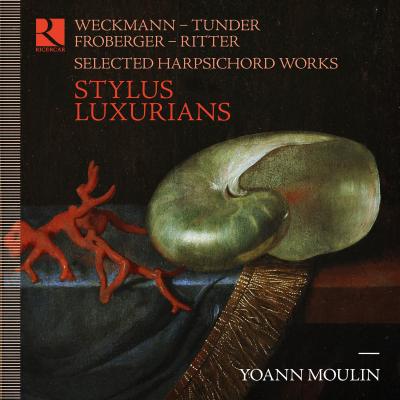 Inlay available for download
Booklet available for download
Toccata in E Minor

Composer(s)

Matthias Weckmann

Toccata in E Minor

$2.30

Canzon in D Minor

Composer(s)

Matthias Weckmann

Canzon in D Minor

$2.30

Partita in B Minor: I. Praeludium

Composer(s)

Matthias Weckmann

Partita in B Minor: I. Praeludium

$2.30

Partita in B Minor: II. Allemanda

Composer(s)

Matthias Weckmann

Partita in B Minor: II. Allemanda

$2.30

Partita in B Minor: III. Courante

Composer(s)

Matthias Weckmann

Partita in B Minor: III. Courante

$2.30

Partita in B Minor: IV. Saraband

Composer(s)

Matthias Weckmann

Partita in B Minor: IV. Saraband

$2.30

Partita in B Minor: V. Gigue

Composer(s)

Matthias Weckmann

Partita in B Minor: V. Gigue

$2.30

Benedicam Domino

Composer(s)

Heinrich Scheidemann

Benedicam Domino

$2.30

Toccata vel Praeludium in D Minor

Composer(s)

Matthias Weckmann

Toccata vel Praeludium in D Minor

$2.30

Praeludium in G Minor

$2.30

Canzon in C Minor

Composer(s)

Matthias Weckmann

Canzon in C Minor

$2.30

Ricercare XI in D Minor

Composer(s)

Johann Jacob Froberger

Ricercare XI in D Minor

$2.30

Toccata in D Minor

Composer(s)

Matthias Weckmann

Toccata in D Minor

$2.30

Suite in C Minor: I. Allemanda

Composer(s)

Christian Ritter

Suite in C Minor: I. Allemanda

$2.30

Suite in C Minor: II. Courande

Composer(s)

Christian Ritter

Suite in C Minor: II. Courande

$2.30

Suite in C Minor: III. Sarabanda

Composer(s)

Christian Ritter

Suite in C Minor: III. Sarabanda

$2.30

Suite in C Minor: IV. Gique

Composer(s)

Christian Ritter

Suite in C Minor: IV. Gique

$2.30

Sonatina in D Minor

Composer(s)

Christian Ritter

Sonatina in D Minor

$2.30
Total running time: 56 minutes.

Album information

For this second part of his anthology of seventeenth-century German harpsichord music, Yoann Moulin takes as his starting point the famous competition organised when Weckmann and Froberger met at the court of Dresden.

It was in the 1650s that the influences of the French style were grafted onto models drawn from Italian music. The compositions of this period are presented to us in their infinite variety.

Yoann Mouline writes: "Stylus luxurians "A ricercar has something in common with the speed of an equation" The creation of movement. A first gesture, a first sense, a first direction, is opposed and countered. Energy redirected, non-linear, unpredictable and irregular. Baroque. After the almost logical forms of his masters — canons and fugues, ordered and comprehensive variations — Matthias Weckmann set down a path that followed the aesthetic upheavals, the new ideas, and the events that marked his age. Music for troubled times, fantastical and strange. Music for the wars of religion, the Thirty Years' war and longer. Music for conflict, that stood between beauty and ugliness, proportion and disproportion, reason and madness. Weckmann created and then destroyed; structures were raised only to be reworked, corrupted and finally shattered. All gestures were exaggerated. The stylus luxurians was known for its use of much dissonance and for musical figures that could not only move the listener but were also in the greatest possible accord with the text. Religious movements, reformed or not, attempted to attract followers with music that was less abstractedly celestial but had a greater connection to the flesh and to carnality. It possessed a vibrancy that could arouse the emotions of the faithful, a sensual rhetoric that no longer symbolised divinity but instead spoke to human emotions, that could explain and encourage the soul's mystical love for God in sound. Weckmann seized upon this declamatory art, Frescobaldi's 'madrigal without words', and here portrayed the soul's passions, absurdities, and contradictions."
Related Artists