Filters
Tchaikovsky, Rachmaninov & Prokofiev
Tchaikovsky, Rachmaninov & Prokofiev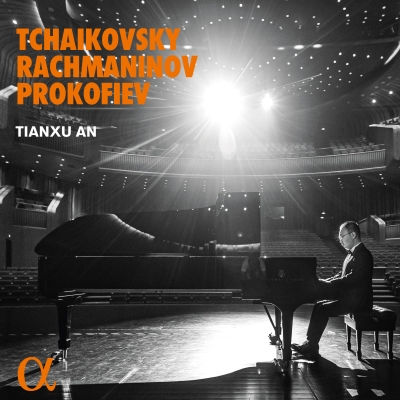 Inlay available for download
Booklet available for download
Nocturne in F Major Op. 10 No. 1

Composer(s)

Pyotr Ilyich Tchaikovsky

Nocturne in F Major Op. 10 No. 1

$2.30

The Seasons Op. 37a: X. October

Composer(s)

Pyotr Ilyich Tchaikovsky

The Seasons Op. 37a: X. October

$2.30

The Seasons Op. 37a: XI. November

Composer(s)

Pyotr Ilyich Tchaikovsky

The Seasons Op. 37a: XI. November

$2.30

Eighteen Pieces, Op. 72: X. Scherzo-fantaisie

Composer(s)

Pyotr Ilyich Tchaikovsky

Eighteen Pieces, Op. 72: X. Scherzo-fantaisie

$3.40

Eighteen Pieces, Op. 72: V. Meditation

Composer(s)

Pyotr Ilyich Tchaikovsky

Eighteen Pieces, Op. 72: V. Meditation

$2.30

Four Etudes Op. 2: I. Allegro in D Minor

Composer(s)

Sergei Prokofiev

Four Etudes Op. 2: I. Allegro in D Minor

$2.30

Four Etudes Op. 2: II. Moderato in E Minor

Composer(s)

Sergei Prokofiev

Four Etudes Op. 2: II. Moderato in E Minor

$2.30

Four Etudes Op. 2: III. Andante semplice in C Minor

Composer(s)

Sergei Prokofiev

Four Etudes Op. 2: III. Andante semplice in C Minor

$2.30

Four Etudes Op. 2: IV. Presto energico in C Minor

Composer(s)

Sergei Prokofiev

Four Etudes Op. 2: IV. Presto energico in C Minor

$2.30

Variations on a Theme of Chopin Op. 22 in C Minor: I. Theme. Largo

Composer(s)

Sergei Rachmaninoff

Variations on a Theme of Chopin Op. 22 in C Minor: I. Theme. Largo

$2.30

Variations on a Theme of Chopin Op. 22 in C Minor: II. Variation I - Variation II - Variation III /Variation IV - Variation V - Variation VI

Composer(s)

Sergei Rachmaninoff

Variations on a Theme of Chopin Op. 22 in C Minor: II. Variation I - Variation II - Variation III /Variation IV - Variation V - Variation VI

$2.30

Variations on a Theme of Chopin Op. 22 in C Minor: III. Variation VII - Variation VIII

Composer(s)

Sergei Rachmaninoff

Variations on a Theme of Chopin Op. 22 in C Minor: III. Variation VII - Variation VIII

$2.30

Variations on a Theme of Chopin Op. 22 in C Minor: IV. Variation IX

Composer(s)

Sergei Rachmaninoff

Variations on a Theme of Chopin Op. 22 in C Minor: IV. Variation IX

$2.30

Variations on a Theme of Chopin Op. 22 in C Minor: V. Variation X

Composer(s)

Sergei Rachmaninoff

Variations on a Theme of Chopin Op. 22 in C Minor: V. Variation X

$2.30

Variations on a Theme of Chopin Op. 22 in C Minor: VI. Variation XI

Composer(s)

Sergei Rachmaninoff

Variations on a Theme of Chopin Op. 22 in C Minor: VI. Variation XI

$2.30

Variations on a Theme of Chopin Op. 22 in C Minor: VII. Variation XII

Composer(s)

Sergei Rachmaninoff

Variations on a Theme of Chopin Op. 22 in C Minor: VII. Variation XII

$2.30

Variations on a Theme of Chopin Op. 22 in C Minor: VIII. Variation XIII - Variation XIV

Composer(s)

Sergei Rachmaninoff

Variations on a Theme of Chopin Op. 22 in C Minor: VIII. Variation XIII - Variation XIV

$2.30

Variations on a Theme of Chopin Op. 22 in C Minor: IX. Variation XV

Composer(s)

Sergei Rachmaninoff

Variations on a Theme of Chopin Op. 22 in C Minor: IX. Variation XV

$2.30

Variations on a Theme of Chopin Op. 22 in C Minor: X. Variation XVI - Variation XVII

Composer(s)

Sergei Rachmaninoff

Variations on a Theme of Chopin Op. 22 in C Minor: X. Variation XVI - Variation XVII

$2.30

Variations on a Theme of Chopin Op. 22 in C Minor: XI. Variation XVIII

Composer(s)

Sergei Rachmaninoff

Variations on a Theme of Chopin Op. 22 in C Minor: XI. Variation XVIII

$2.30

Variations on a Theme of Chopin Op. 22 in C Minor: XII. Variation XIX - Variation XX

Composer(s)

Sergei Rachmaninoff

Variations on a Theme of Chopin Op. 22 in C Minor: XII. Variation XIX - Variation XX

$2.30

Variations on a Theme of Chopin Op. 22 in C Minor: XIII. Variation XXI

Composer(s)

Sergei Rachmaninoff

Variations on a Theme of Chopin Op. 22 in C Minor: XIII. Variation XXI

$2.30

Variations on a Theme of Chopin Op. 22 in C Minor: XIV. Variation XXII

Composer(s)

Sergei Rachmaninoff

Variations on a Theme of Chopin Op. 22 in C Minor: XIV. Variation XXII

$2.30
Total running time: 70 minutes.
Album information

At just 22 years old, Chinese pianist Tianxu An is one of his country's most promising virtuosos. His debut comprises music by three giants of the Russian repertory with whom he is already associated.

In 2019, he gained international attention by winning the fourth prize at the prestigious Tchaikovsky Competition in Moscow—presided over by Denis Matsuev, who hailed his performance as "sensational at this stage of maturity"—and a special prize for "courage and restraint" (following a score error by a member of the organization).

Tianxu An has already performed with the Mariinsky Orchestra under the direction of Valery Gergiev and with the China Philharmonic Orchestra under Xiaotang Xia at the Mariinsky Far East Festival; he has given recitals in Russia and China, where he toured 19 major cities in 2021, with two of his favorite composers on the program: Rachmaninov and Prokofiev. Fittingly it is to the Russian repertoire that he dedicates his first recording. He says he is particularly attracted by the "expressiveness, emotional power and melodic freedom" of the music of Tchaikovsky, Rachmaninov and Prokofiev.
Related Artists
Reviews