Filters
Tchaikovsky: Symphony No.1, Italian Capriccio, Waltz
Tchaikovsky: Symphony No.1, Italian Capriccio, Waltz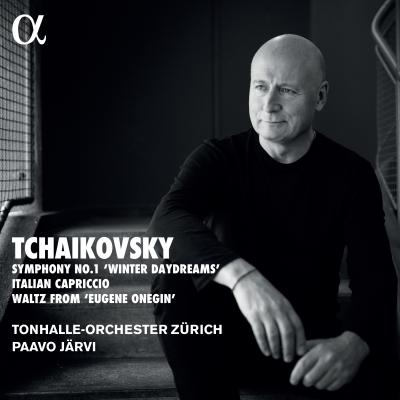 Booklet available for download
Symphony No.1 in G Minor, Op. 13 "Winter Daydreams": I. Daydreams of a Winter Journey (Allegro tranquillo)

Composer(s)

Pyotr Ilyich Tchaikovsky

Artist(s)

Paavo Järvi

Tonhalle-Orchester Zürich

Symphony No.1 in G Minor, Op. 13 "Winter Daydreams": I. Daydreams of a Winter Journey (Allegro tranquillo)

$4.60

Symphony No.1 in G Minor, Op. 13 "Winter Daydreams": II. Land of Gloom, Land of Mist (Adagio cantabile, ma non tanto)

Composer(s)

Pyotr Ilyich Tchaikovsky

Artist(s)

Paavo Järvi

Tonhalle-Orchester Zürich

Symphony No.1 in G Minor, Op. 13 "Winter Daydreams": II. Land of Gloom, Land of Mist (Adagio cantabile, ma non tanto)

$3.40

Symphony No.1 in G Minor, Op. 13 "Winter Daydreams": III. Scherzo (Allegro scherzando giocoso)

Composer(s)

Pyotr Ilyich Tchaikovsky

Artist(s)

Paavo Järvi

Tonhalle-Orchester Zürich

Symphony No.1 in G Minor, Op. 13 "Winter Daydreams": III. Scherzo (Allegro scherzando giocoso)

$3.40

Symphony No.1 in G Minor, Op. 13 "Winter Daydreams": IV. Finale (Andante lugubre - Allegro moderato - Allegro maestoso)

Composer(s)

Pyotr Ilyich Tchaikovsky

Artist(s)

Paavo Järvi

Tonhalle-Orchester Zürich

Symphony No.1 in G Minor, Op. 13 "Winter Daydreams": IV. Finale (Andante lugubre - Allegro moderato - Allegro maestoso)

$4.60

Italian Capriccio in A Major, Op. 45: I. Andante un poco rubato

Composer(s)

Pyotr Ilyich Tchaikovsky

Artist(s)

Paavo Järvi

Tonhalle-Orchester Zürich

Italian Capriccio in A Major, Op. 45: I. Andante un poco rubato

$2.30

Italian Capriccio in A Major, Op. 45: II. Pochissimo più mosso

Composer(s)

Pyotr Ilyich Tchaikovsky

Artist(s)

Paavo Järvi

Tonhalle-Orchester Zürich

Italian Capriccio in A Major, Op. 45: II. Pochissimo più mosso

$2.30

Italian Capriccio in A Major, Op. 45: III. Allegro moderato

Composer(s)

Pyotr Ilyich Tchaikovsky

Artist(s)

Paavo Järvi

Tonhalle-Orchester Zürich

Italian Capriccio in A Major, Op. 45: III. Allegro moderato

$3.40

Eugene Onegin, Op. 24, Act 2 Scene 2: Tempo di Valse

Composer(s)

Pyotr Ilyich Tchaikovsky

Artist(s)

Paavo Järvi

Tonhalle-Orchester Zürich

Eugene Onegin, Op. 24, Act 2 Scene 2: Tempo di Valse

$2.30
Total running time: 62 minutes.
Album information

The Estonian conductor Paavo Järvi and the Tonhalle-Orchester Zürich continue their journey through Tchaikovsky's symphonic works with the programmatic First Symphony. 

This fourth volume opens with the Symphony no.1 (1866), subtitled 'Winter Daydreams'. He wrote his first essay in the symphonic genre just after his appointment to a teaching post at the Moscow Conservatory, and it earned him lasting success. Indeed, he retained a lifelong attachment to the piece, asserting that it was superior in substance to all his more mature symphonic works.

The programme continues with one of the Russian composer's most famous pieces, the Italian Capriccio (1880). Conceived as a musical travelogue, this symphonic poem is a genuine tribute to Italian folk melodies. The triptych offered by this volume is rounded off by the Waltz from the opera Eugene Onegin (1879).

The final two instalments in Paavo Järvi's Tchaikovsky Symphony Cycle with Tonhalle-Orchester Zürich have been released to coincide with the reopening of the orchestra's concert hall, the prestigious Tonhalle. Situated on the shores of Lake Zurich and inaugurated by Brahms in 1895, this hall, renowned worldwide for its acoustics, is now reborn after several years of renovation. In this exceptional setting, there is no doubt that Paavo Järvi and the Tonhalle-Orchester will write a new chapter in international musical life!
Related Artists
Reviews