Filters
Udite Amanti: 17th Century Italian Love Songs
Udite Amanti: 17th Century Italian Love Songs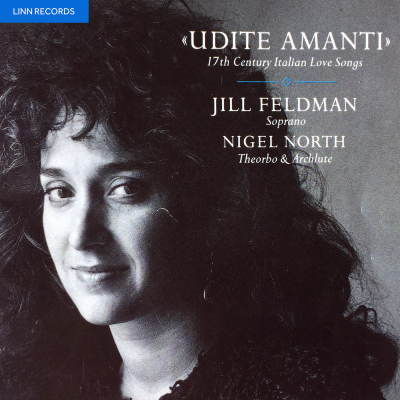 Inlay available for download
Booklet available for download
Se i languidi miei sguardi, SV 141 'Lettera Amorosa'

Composer(s)

Claudio Monteverdi

Artist(s)

Jill Feldman

Nigel North

Se i languidi miei sguardi, SV 141 'Lettera Amorosa'

$2.70

Queste lagrim'amare

Composer(s)

Giulio Caccini

Artist(s)

Jill Feldman

Nigel North

Queste lagrim'amare

$1.80

Euridice: Per quel vago boschetto

Artist(s)

Jill Feldman

Nigel North

Euridice: Per quel vago boschetto

$1.80

Le musiche, Book 5: No. 11, Torna il sereno Zefiro

Composer(s)

Sigismondo d'India

Artist(s)

Jill Feldman

Nigel North

Le musiche, Book 5: No. 11, Torna il sereno Zefiro

$1.80

Piangono al pianger mio

Composer(s)

Sigismondo d'India

Artist(s)

Jill Feldman

Nigel North

Piangono al pianger mio

$1.80

Le musiche, Book 4: No. 5, Mentre che'l cor

Composer(s)

Sigismondo d'India

Artist(s)

Jill Feldman

Nigel North

Le musiche, Book 4: No. 5, Mentre che'l cor

$1.80

Lamento della Regina Maria Stuarda

Composer(s)

Giacomo Carissimi

Artist(s)

Jill Feldman

Nigel North

Lamento della Regina Maria Stuarda

$3.70

Quando spiega la notte

Artist(s)

Jill Feldman

Nigel North

Quando spiega la notte

$1.80

Canzonetta Spirituale sopra alla nanna

Composer(s)

Tarquinio Merula

Artist(s)

Jill Feldman

Nigel North

Canzonetta Spirituale sopra alla nanna

$2.70

Sant'Alessio: Lamento della sposa

Composer(s)

Stefano Landi

Artist(s)

Jill Feldman

Nigel North

Sant'Alessio: Lamento della sposa

$1.80

Cantate, arietta, e duetti, Op. 2: No. 14, L'Eraclito amoroso

Composer(s)

Barbara Strozzi

Artist(s)

Jill Feldman

Nigel North

Cantate, arietta, e duetti, Op. 2: No. 14, L'Eraclito amoroso

$1.80
Total running time: 63 minutes.
Album information

Soprano Jill Feldman with lutenist Nigel North perform songs by Monteverdi, d'India and others.

American-born soprano Jill Feldman has been at the forefront of period performance for many years. Feldman's debut solo recording for Linn is a vocal masterclass; her highly expressive style combines vocal agility with close attention to the dramatic content, beauty and meaning of the text.

Feldman has selected some of the greatest 17th century Italian music ever written, from Monteverdi's declamatory madrigal Lettera Amorosa to Caccini's Quest Lagrim'amare with its formal perfection and extremely ornamental refinements and d'India's Mentre Che'l Cor which laments the unfulfilled vows of love of youth. Critics are constantly lavishing praise on her and many reviews compliment Feldman's "special combination of absolute control and thinking musical personality", as well as her ability to communicate music of this period "with astonishing restraint and perfect diction". This is a varied and engaging chamber programme with Nigel North on lute and theorbo providing a thoughtful accompaniment.
Related Artists
Reviews