Filters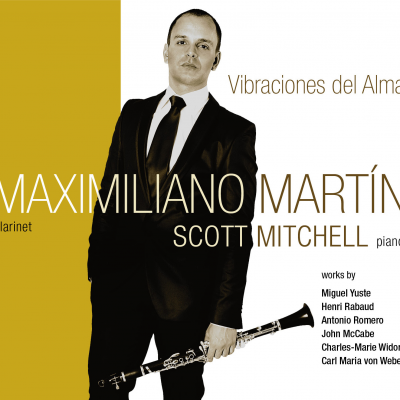 Inlay available for download
Booklet available for download
Vibraciones del Alma Op.45 - Adagio

Artist(s)

Maximiliano Martin - clarinet

Scott Mitchell - piano

Vibraciones del Alma Op.45 - Adagio

$2.30

Vibraciones del Alma Op. 45 - Allegro

Artist(s)

Maximiliano Martin - clarinet

Scott Mitchell - piano

Vibraciones del Alma Op. 45 - Allegro

$2.30

Solo de Concours, Op.10

Artist(s)

Maximiliano Martin - clarinet

Scott Mitchell - piano

Solo de Concours, Op.10

$2.30

Primer Solo de Concierto para Clarinete

Composer(s)

Antonio Romero

Artist(s)

Maximiliano Martin - clarinet

Scott Mitchell - piano

Primer Solo de Concierto para Clarinete

$3.40

Three Pieces for Clarinet and Piano, Op.26 - Nocturne

Artist(s)

Maximiliano Martin - clarinet

Scott Mitchell - piano

Three Pieces for Clarinet and Piano, Op.26 - Nocturne

$2.30

Three Pieces for Clarinet and Piano, Op.26 - Improvisation

Artist(s)

Maximiliano Martin - clarinet

Scott Mitchell - piano

Three Pieces for Clarinet and Piano, Op.26 - Improvisation

$2.30

Three Pieces for Clarinet and Piano, Op.26 - Fantasy

Artist(s)

Maximiliano Martin - clarinet

Scott Mitchell - piano

Three Pieces for Clarinet and Piano, Op.26 - Fantasy

$2.30

Introduction et Rondo, Op.72

Composer(s)

Charles-Marie Widor

Artist(s)

Maximiliano Martin - clarinet

Scott Mitchell - piano

Introduction et Rondo, Op.72

$3.40

Grand Duo Concertant, Op.48 - Allegro con fuoco

Composer(s)

Carl Maria von Weber

Artist(s)

Maximiliano Martin - clarinet

Scott Mitchell - piano

Grand Duo Concertant, Op.48 - Allegro con fuoco

$2.30

Grand Duo Concertant, Op.48 - Andante con moto

Composer(s)

Carl Maria von Weber

Artist(s)

Maximiliano Martin - clarinet

Scott Mitchell - piano

Grand Duo Concertant, Op.48 - Andante con moto

$2.30

Grand Duo Concertant, Op.48 - Rondo (Allegro)

Composer(s)

Carl Maria von Weber

Artist(s)

Maximiliano Martin - clarinet

Scott Mitchell - piano

Grand Duo Concertant, Op.48 - Rondo (Allegro)

$2.30
Total running time: 61 minutes.
Album information

Vibraciones del Alma, the second solo recital album from Spanish clarinettist Maximiliano Martín, explores the diversity of European clarinet repertoire.  

Clarinettist Maximiliano Martín and pianist Scott Mitchell present a captivating selection of music from composers such as Yuste, McCabe and Romero.

Following on from his acclaimed debut album Fantasía, this programme further establishes Martín as a leading advocate and interpreter of Spanish clarinet music with works from Europe's leading clarinet composers. Liverpool-born composer John McCabe personally advised Martín with regard to his performance of Pieces for clarinet and piano for this recording, resulting in an insightful and authentic performance.

Charles-Marie Jean Albert Widor's trademark virtuosity is evident in the Introduction and Rondo, Op.72. Martín more than meets the demands of the great contrasts of beautifully lyrical phrases and technically complex bravura passages.
Related Artists
Reviews