Filters
Vivaldi, Chelleri & Ristori: Teatro Sant'Angelo
Vivaldi, Chelleri & Ristori: Teatro Sant'Angelo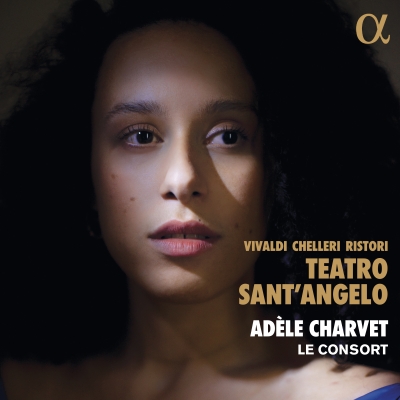 Inlay available for download
Booklet available for download
Rodomonte sdegnato: Aria. Il mio crudele amor

Composer(s)

Michelangelo Gasparini

Artist(s)

Adèle Charvet

Le Consort

Rodomonte sdegnato: Aria. Il mio crudele amor

$2.30

Amalasunta: Aria. Astri aversi

Composer(s)

Fortunato Chelleri

Artist(s)

Adèle Charvet

Le Consort

Amalasunta: Aria. Astri aversi

$2.30

Cleonice: Aria. Con favella de' pianti

Composer(s)

Giovanni Alberto Ristori

Artist(s)

Adèle Charvet

Le Consort

Cleonice: Aria. Con favella de' pianti

$2.30

L'Olimpiade, RV 725: Aria. Siam Navi

Composer(s)

Antonio Vivaldi

Artist(s)

Adèle Charvet

Le Consort

L'Olimpiade, RV 725: Aria. Siam Navi

$2.30

Andromeda liberata, RV Anh. 117: Aria. Sovvente il sole

Composer(s)

Antonio Vivaldi

Artist(s)

Adèle Charvet

Le Consort

Andromeda liberata, RV Anh. 117: Aria. Sovvente il sole

$3.40

Un pazzo ne fa cento, ovvero Don Chisciotte: Aria. Su robusti

Composer(s)

Giovanni Alberto Ristori

Artist(s)

Adèle Charvet

Le Consort

Un pazzo ne fa cento, ovvero Don Chisciotte: Aria. Su robusti

$2.30

Temistocle: Aria. Aspri rimorsi

Composer(s)

Giovanni Alberto Ristori

Artist(s)

Adèle Charvet

Le Consort

Temistocle: Aria. Aspri rimorsi

$2.30

Arianna: Aria. Nell'onda chiara

Composer(s)

Giovanni Alberto Ristori

Artist(s)

Adèle Charvet

Le Consort

Arianna: Aria. Nell'onda chiara

$2.30

Amalasunta: Aria. La navicella

Composer(s)

Fortunato Chelleri

Artist(s)

Adèle Charvet

Le Consort

Amalasunta: Aria. La navicella

$2.30

Cleonice: Aria. Quel pianto che vedi

Composer(s)

Giovanni Alberto Ristori

Artist(s)

Adèle Charvet

Le Consort

Cleonice: Aria. Quel pianto che vedi

$2.30

Trio Sonata in G Minor

Composer(s)

Fortunato Chelleri

Trio Sonata in G Minor

$2.30

Arsilda, regina di Ponto, RV 700: Aria. Ah non so, se quel ch'io sento

Composer(s)

Antonio Vivaldi

Artist(s)

Adèle Charvet

Le Consort

Arsilda, regina di Ponto, RV 700: Aria. Ah non so, se quel ch'io sento

$2.30

La verità in cimento, RV 739: Aria. Con più diletto

Composer(s)

Antonio Vivaldi

Artist(s)

Adèle Charvet

Le Consort

La verità in cimento, RV 739: Aria. Con più diletto

$2.30

La verità in cimento, RV 739: Aria. Tu m'offendi

Composer(s)

Antonio Vivaldi

Artist(s)

Adèle Charvet

Le Consort

La verità in cimento, RV 739: Aria. Tu m'offendi

$2.30

Cleonice: Aria. Qual crudo vivere

Composer(s)

Giovanni Alberto Ristori

Artist(s)

Adèle Charvet

Le Consort

Cleonice: Aria. Qual crudo vivere

$2.30

L'incoronazione di Dario, RV 719: Aria. Quella bianca e tenerina

Composer(s)

Antonio Vivaldi

Artist(s)

Adèle Charvet

Le Consort

L'incoronazione di Dario, RV 719: Aria. Quella bianca e tenerina

$2.30

Patrona reverita

Composer(s)

Giovanni Porta

Artist(s)

Adèle Charvet

Le Consort

Patrona reverita

$2.30
Total running time: 66 minutes.

Album information

The mezzo-soprano Adèle Charvet and her musical partners Le Consort pay tribute to all the composers who found success at Venice's Teatro Sant'Angelo. This flamboyant programme mixes famous arias with no fewer than twelve world premieres! 

During the Carnival of Venice in 1637, a play 'rappresentata in musica' was opened to the public for the first time – a success. Opera was born and spread like wildfire. Venice had the largest number of theatres in the world. In 1677, the Teatro Sant'Angelo opened its doors on the campo of the same name. Tiny, chaotic, cheap and extremely productive, it was renowned for its musicians and its sets.

This effervescence owes much to the figure of Vivaldi who, from 1705 onwards, regularly premiered his operas there and acted (with his father) as impresario. His own Arsilda, L'incoronazione di Dario and La verità in cimento triumphed there, but he also invited composers such as the young Fortunato Chelleri and Giovanni Alberto Ristori.
Related Artists
Reviews