Filters
The Three Seasons of Antonio Vivaldi
The Three Seasons of Antonio Vivaldi
Artist
Accademia dell'Annunciata
Riccardo Doni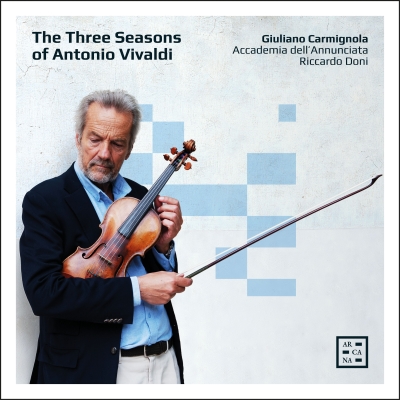 Inlay available for download
Booklet available for download
Violin Concerto in A Major, RV 343: I. Allegro

Composer(s)

Antonio Vivaldi

Artist(s)

Giuliano Carmignola

Riccardo Doni

Accademia dell'Annunciata

Violin Concerto in A Major, RV 343: I. Allegro

$2.30

Violin Concerto in A Major, RV 343: II. Adagio

Composer(s)

Antonio Vivaldi

Artist(s)

Giuliano Carmignola

Riccardo Doni

Accademia dell'Annunciata

Violin Concerto in A Major, RV 343: II. Adagio

$2.30

Violin Concerto in A Major, RV 343: III. Allegro

Composer(s)

Antonio Vivaldi

Artist(s)

Giuliano Carmignola

Riccardo Doni

Accademia dell'Annunciata

Violin Concerto in A Major, RV 343: III. Allegro

$2.30

Violin Concerto in D Minor, RV 240: I. Allegro

Composer(s)

Antonio Vivaldi

Artist(s)

Giuliano Carmignola

Riccardo Doni

Accademia dell'Annunciata

Violin Concerto in D Minor, RV 240: I. Allegro

$2.30

Violin Concerto in D Minor, RV 240: II. Largo

Composer(s)

Antonio Vivaldi

Artist(s)

Giuliano Carmignola

Riccardo Doni

Accademia dell'Annunciata

Violin Concerto in D Minor, RV 240: II. Largo

$2.30

Violin Concerto in D Minor, RV 240: III. Allegro

Composer(s)

Antonio Vivaldi

Artist(s)

Giuliano Carmignola

Riccardo Doni

Accademia dell'Annunciata

Violin Concerto in D Minor, RV 240: III. Allegro

$2.30

Violin Concerto in D Major, RV 230: I. Allegro

Composer(s)

Antonio Vivaldi

Artist(s)

Giuliano Carmignola

Riccardo Doni

Accademia dell'Annunciata

Violin Concerto in D Major, RV 230: I. Allegro

$2.30

Violin Concerto in D Major, RV 230: II. Larghetto

Composer(s)

Antonio Vivaldi

Artist(s)

Giuliano Carmignola

Riccardo Doni

Accademia dell'Annunciata

Violin Concerto in D Major, RV 230: II. Larghetto

$2.30

Violin Concerto in D Major, RV 230: III. Allegro

Composer(s)

Antonio Vivaldi

Artist(s)

Giuliano Carmignola

Riccardo Doni

Accademia dell'Annunciata

Violin Concerto in D Major, RV 230: III. Allegro

$2.30

Violin Concerto in G Minor, RV 332: I. Allegro

Composer(s)

Antonio Vivaldi

Artist(s)

Giuliano Carmignola

Riccardo Doni

Accademia dell'Annunciata

Violin Concerto in G Minor, RV 332: I. Allegro

$2.30

Violin Concerto in G Minor, RV 332: II. Largo

Composer(s)

Antonio Vivaldi

Artist(s)

Giuliano Carmignola

Riccardo Doni

Accademia dell'Annunciata

Violin Concerto in G Minor, RV 332: II. Largo

$2.30

Violin Concerto in G Minor, RV 332: III. Allegro

Composer(s)

Antonio Vivaldi

Artist(s)

Giuliano Carmignola

Riccardo Doni

Accademia dell'Annunciata

Violin Concerto in G Minor, RV 332: III. Allegro

$2.30

Violin Concerto in E Major, RV 265: I. Allegro

Composer(s)

Antonio Vivaldi

Artist(s)

Giuliano Carmignola

Riccardo Doni

Accademia dell'Annunciata

Violin Concerto in E Major, RV 265: I. Allegro

$2.30

Violin Concerto in E Major, RV 265: II. Largo

Composer(s)

Antonio Vivaldi

Artist(s)

Giuliano Carmignola

Riccardo Doni

Accademia dell'Annunciata

Violin Concerto in E Major, RV 265: II. Largo

$2.30

Violin Concerto in E Major, RV 265: III. Allegro

Composer(s)

Antonio Vivaldi

Artist(s)

Giuliano Carmignola

Riccardo Doni

Accademia dell'Annunciata

Violin Concerto in E Major, RV 265: III. Allegro

$2.30

Violin Concerto in D Major, RV 210: I. Allegro

Composer(s)

Antonio Vivaldi

Artist(s)

Giuliano Carmignola

Riccardo Doni

Accademia dell'Annunciata

Violin Concerto in D Major, RV 210: I. Allegro

$2.30

Violin Concerto in D Major, RV 210: II. Largo

Composer(s)

Antonio Vivaldi

Artist(s)

Giuliano Carmignola

Riccardo Doni

Accademia dell'Annunciata

Violin Concerto in D Major, RV 210: II. Largo

$2.30

Violin Concerto in D Major, RV 210: III. Allegro

Composer(s)

Antonio Vivaldi

Artist(s)

Giuliano Carmignola

Riccardo Doni

Accademia dell'Annunciata

Violin Concerto in D Major, RV 210: III. Allegro

$2.30

Violin Concerto in C Major, RV 189: I. Larghetto

Composer(s)

Antonio Vivaldi

Artist(s)

Giuliano Carmignola

Riccardo Doni

Accademia dell'Annunciata

Violin Concerto in C Major, RV 189: I. Larghetto

$2.30

Violin Concerto in C Major, RV 189: II. Allegro non molto

Composer(s)

Antonio Vivaldi

Artist(s)

Giuliano Carmignola

Riccardo Doni

Accademia dell'Annunciata

Violin Concerto in C Major, RV 189: II. Allegro non molto

$2.30

Violin Concerto in C Major, RV 189: III. Larghetto

Composer(s)

Antonio Vivaldi

Artist(s)

Giuliano Carmignola

Riccardo Doni

Accademia dell'Annunciata

Violin Concerto in C Major, RV 189: III. Larghetto

$2.30

Violin Concerto in C Major, RV 189: IV. Allegro molto

Composer(s)

Antonio Vivaldi

Artist(s)

Giuliano Carmignola

Riccardo Doni

Accademia dell'Annunciata

Violin Concerto in C Major, RV 189: IV. Allegro molto

$2.30

Violin Concerto in G Minor, RV 333: I. [Allegro]

Composer(s)

Antonio Vivaldi

Artist(s)

Giuliano Carmignola

Riccardo Doni

Accademia dell'Annunciata

Violin Concerto in G Minor, RV 333: I. [Allegro]

$2.30

Violin Concerto in G Minor, RV 333: II: Andante

Composer(s)

Antonio Vivaldi

Artist(s)

Giuliano Carmignola

Riccardo Doni

Accademia dell'Annunciata

Violin Concerto in G Minor, RV 333: II: Andante

$2.30

Violin Concerto in G Minor, RV 333: III: Allegro

Composer(s)

Antonio Vivaldi

Artist(s)

Giuliano Carmignola

Riccardo Doni

Accademia dell'Annunciata

Violin Concerto in G Minor, RV 333: III: Allegro

$2.30

Violin Concerto in F Major, RV 289: I. Allegro poco

Composer(s)

Antonio Vivaldi

Artist(s)

Giuliano Carmignola

Riccardo Doni

Accademia dell'Annunciata

Violin Concerto in F Major, RV 289: I. Allegro poco

$2.30

Violin Concerto in F Major, RV 289: II. Largo

Composer(s)

Antonio Vivaldi

Artist(s)

Giuliano Carmignola

Riccardo Doni

Accademia dell'Annunciata

Violin Concerto in F Major, RV 289: II. Largo

$2.30

Violin Concerto in F Major, RV 289: III. Allegro non molto

Composer(s)

Antonio Vivaldi

Artist(s)

Giuliano Carmignola

Riccardo Doni

Accademia dell'Annunciata

Violin Concerto in F Major, RV 289: III. Allegro non molto

$2.30

Violin Concerto in C Minor, RV 197: I. [Allegro]

Composer(s)

Antonio Vivaldi

Artist(s)

Giuliano Carmignola

Riccardo Doni

Accademia dell'Annunciata

Violin Concerto in C Minor, RV 197: I. [Allegro]

$2.30

Violin Concerto in C Minor, RV 197: II. Adagio

Composer(s)

Antonio Vivaldi

Artist(s)

Giuliano Carmignola

Riccardo Doni

Accademia dell'Annunciata

Violin Concerto in C Minor, RV 197: II. Adagio

$2.30

Violin Concerto in C Minor, RV 197: III. Allegro

Composer(s)

Antonio Vivaldi

Artist(s)

Giuliano Carmignola

Riccardo Doni

Accademia dell'Annunciata

Violin Concerto in C Minor, RV 197: III. Allegro

$2.30

Violin Concerto in G Minor, RV 330: I. Allegro non molto

Composer(s)

Antonio Vivaldi

Artist(s)

Giuliano Carmignola

Riccardo Doni

Accademia dell'Annunciata

Violin Concerto in G Minor, RV 330: I. Allegro non molto

$2.30

Violin Concerto in G Minor, RV 330: II. Larghetto

Composer(s)

Antonio Vivaldi

Artist(s)

Giuliano Carmignola

Riccardo Doni

Accademia dell'Annunciata

Violin Concerto in G Minor, RV 330: II. Larghetto

$2.30

Violin Concerto in G Minor, RV 330: III. Allegro

Composer(s)

Antonio Vivaldi

Artist(s)

Giuliano Carmignola

Riccardo Doni

Accademia dell'Annunciata

Violin Concerto in G Minor, RV 330: III. Allegro

$2.30

Violin Concerto in B-Flat Major, RV 380: I. Andante molto

Composer(s)

Antonio Vivaldi

Artist(s)

Giuliano Carmignola

Riccardo Doni

Accademia dell'Annunciata

Violin Concerto in B-Flat Major, RV 380: I. Andante molto

$2.30

Violin Concerto in B-Flat Major, RV 380: II. Andante

Composer(s)

Antonio Vivaldi

Artist(s)

Giuliano Carmignola

Riccardo Doni

Accademia dell'Annunciata

Violin Concerto in B-Flat Major, RV 380: II. Andante

$2.30

Violin Concerto in B-Flat Major, RV 380: III. Allegro

Composer(s)

Antonio Vivaldi

Artist(s)

Giuliano Carmignola

Riccardo Doni

Accademia dell'Annunciata

Violin Concerto in B-Flat Major, RV 380: III. Allegro

$2.30

Violin Concerto in C Minor, RV 201: I. Allegro molto

Composer(s)

Antonio Vivaldi

Artist(s)

Giuliano Carmignola

Riccardo Doni

Accademia dell'Annunciata

Violin Concerto in C Minor, RV 201: I. Allegro molto

$2.30

Violin Concerto in C Minor, RV 201: II. Larghetto

Composer(s)

Antonio Vivaldi

Artist(s)

Giuliano Carmignola

Riccardo Doni

Accademia dell'Annunciata

Violin Concerto in C Minor, RV 201: II. Larghetto

$2.30

Violin Concerto in C Minor, RV 201: III. Allegro

Composer(s)

Antonio Vivaldi

Artist(s)

Giuliano Carmignola

Riccardo Doni

Accademia dell'Annunciata

Violin Concerto in C Minor, RV 201: III. Allegro

$2.30

Violin Concerto in B-Flat Major, RV 371: I. Allegro ma poco

Composer(s)

Antonio Vivaldi

Artist(s)

Giuliano Carmignola

Riccardo Doni

Accademia dell'Annunciata

Violin Concerto in B-Flat Major, RV 371: I. Allegro ma poco

$2.30

Violin Concerto in B-Flat Major, RV 371: II. Larghetto

Composer(s)

Antonio Vivaldi

Artist(s)

Giuliano Carmignola

Riccardo Doni

Accademia dell'Annunciata

Violin Concerto in B-Flat Major, RV 371: II. Larghetto

$2.30

Violin Concerto in B-Flat Major, RV 371: III. Allegro

Composer(s)

Antonio Vivaldi

Artist(s)

Giuliano Carmignola

Riccardo Doni

Accademia dell'Annunciata

Violin Concerto in B-Flat Major, RV 371: III. Allegro

$2.30

Violin Concerto in A Major, RV 353: I. Allegro

Composer(s)

Antonio Vivaldi

Artist(s)

Giuliano Carmignola

Riccardo Doni

Accademia dell'Annunciata

Violin Concerto in A Major, RV 353: I. Allegro

$2.30

Violin Concerto in A Major, RV 353: II. Andante

Composer(s)

Antonio Vivaldi

Artist(s)

Giuliano Carmignola

Riccardo Doni

Accademia dell'Annunciata

Violin Concerto in A Major, RV 353: II. Andante

$2.30

Violin Concerto in A Major, RV 353: III. Allegro

Composer(s)

Antonio Vivaldi

Artist(s)

Giuliano Carmignola

Riccardo Doni

Accademia dell'Annunciata

Violin Concerto in A Major, RV 353: III. Allegro

$2.30

Violin Concerto in B-Flat Major, RV 367: I. Allegro ma poco poco

Composer(s)

Antonio Vivaldi

Artist(s)

Giuliano Carmignola

Riccardo Doni

Accademia dell'Annunciata

Violin Concerto in B-Flat Major, RV 367: I. Allegro ma poco poco

$2.30

Violin Concerto in B-Flat Major, RV 367: II. Andante ma poco

Composer(s)

Antonio Vivaldi

Artist(s)

Giuliano Carmignola

Riccardo Doni

Accademia dell'Annunciata

Violin Concerto in B-Flat Major, RV 367: II. Andante ma poco

$2.30

Violin Concerto in B-Flat Major, RV 367: III. Allegro

Composer(s)

Antonio Vivaldi

Artist(s)

Giuliano Carmignola

Riccardo Doni

Accademia dell'Annunciata

Violin Concerto in B-Flat Major, RV 367: III. Allegro

$2.30

Violin Concerto in G Minor, RV 327: I. Allegro ma non molto

Composer(s)

Antonio Vivaldi

Artist(s)

Giuliano Carmignola

Riccardo Doni

Accademia dell'Annunciata

Violin Concerto in G Minor, RV 327: I. Allegro ma non molto

$2.30

Violin Concerto in G Minor, RV 327: II. Largho

Composer(s)

Antonio Vivaldi

Artist(s)

Giuliano Carmignola

Riccardo Doni

Accademia dell'Annunciata

Violin Concerto in G Minor, RV 327: II. Largho

$2.30

Violin Concerto in G Minor, RV 327: III. Allegro

Composer(s)

Antonio Vivaldi

Artist(s)

Giuliano Carmignola

Riccardo Doni

Accademia dell'Annunciata

Violin Concerto in G Minor, RV 327: III. Allegro

$2.30

Violin Concerto in B Minor, RV 390: I. Adagio

Composer(s)

Antonio Vivaldi

Artist(s)

Giuliano Carmignola

Riccardo Doni

Accademia dell'Annunciata

Violin Concerto in B Minor, RV 390: I. Adagio

$2.30

Violin Concerto in B Minor, RV 390: II. Allegro non molto

Composer(s)

Antonio Vivaldi

Artist(s)

Giuliano Carmignola

Riccardo Doni

Accademia dell'Annunciata

Violin Concerto in B Minor, RV 390: II. Allegro non molto

$2.30

Violin Concerto in B Minor, RV 390: III. Larghetto

Composer(s)

Antonio Vivaldi

Artist(s)

Giuliano Carmignola

Riccardo Doni

Accademia dell'Annunciata

Violin Concerto in B Minor, RV 390: III. Larghetto

$2.30

Violin Concerto in B Minor, RV 390: IV. Allegro

Composer(s)

Antonio Vivaldi

Artist(s)

Giuliano Carmignola

Riccardo Doni

Accademia dell'Annunciata

Violin Concerto in B Minor, RV 390: IV. Allegro

$2.30
Total running time: 209 minutes.

Album information

The violin concerto accompanied Vivaldi throughout his life. And more than any other genre, the circa 220 extant violin concertos reflect the biographical and professional events relating to the "Red Priest". Hence the idea – proposed, we believe, for the first time on disc – of recording 18 concertos, divided into three "seasons" that illustrate the evolution of Vivaldi's art through the three different stages of his career: the early years, his maturity and the late period.

Giuliano Carmignola grew up with Vivaldi's music, first in his own family and subsequently in various collaborations with ensembles specialised in the Baroque repertoire, leaving us recordings that still today stand as landmarks in the Vivaldi discography. The project of the Three Seasons offers an intriguing parallel between these two inimitable virtuoso violinists by assembling 18 Vivaldi masterpieces which Giuliano Carmignola has carefully selected and never before recorded, including a world premiere recording, that of Concerto RV 289. This box set of three CDs wishes to be a summa not only of Vivaldi's art, but also of Carmignola's, interweaving their personal histories and careers. The violinist is here accompanied by Riccardo Doni, directing the Accademia dell'Annunciata, musicians with whom he has enjoyed an over-ten-year collaboration.
Related Artists