Filters
Vivaldi: Concerti per Flauto
Vivaldi: Concerti per Flauto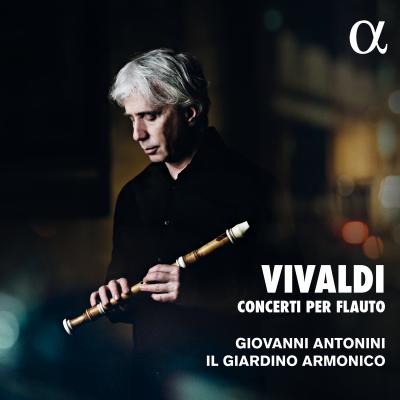 Inlay available for download
Booklet available for download
Concerto in do maggiore per flautino, archi e B.C., RV 444: I. Allegro non molto

Composer(s)

Antonio Vivaldi

Artist(s)

Giovanni Antonini

Il Giardino Armonico

Concerto in do maggiore per flautino, archi e B.C., RV 444: I. Allegro non molto

$2.30

Concerto in do maggiore per flautino, archi e B.C., RV 444: II. Largo

Composer(s)

Antonio Vivaldi

Artist(s)

Giovanni Antonini

Il Giardino Armonico

Concerto in do maggiore per flautino, archi e B.C., RV 444: II. Largo

$2.30

Concerto in do maggiore per flautino, archi e B.C., RV 444: III. Allegro molto

Composer(s)

Antonio Vivaldi

Artist(s)

Giovanni Antonini

Il Giardino Armonico

Concerto in do maggiore per flautino, archi e B.C., RV 444: III. Allegro molto

$2.30

Concerto in fa maggiore Op. 10 No. 1 per flauto, archi e B.C., RV 433 "La Tempesta di Mare": I. Allegro

Composer(s)

Antonio Vivaldi

Artist(s)

Giovanni Antonini

Il Giardino Armonico

Concerto in fa maggiore Op. 10 No. 1 per flauto, archi e B.C., RV 433 "La Tempesta di Mare": I. Allegro

$2.30

Concerto in fa maggiore Op. 10 No. 1 per flauto, archi e B.C., RV 433 "La Tempesta di Mare": II. Largo

Composer(s)

Antonio Vivaldi

Artist(s)

Giovanni Antonini

Il Giardino Armonico

Concerto in fa maggiore Op. 10 No. 1 per flauto, archi e B.C., RV 433 "La Tempesta di Mare": II. Largo

$2.30

Concerto in fa maggiore Op. 10 No. 1 per flauto, archi e B.C., RV 433 "La Tempesta di Mare": III. Presto

Composer(s)

Antonio Vivaldi

Artist(s)

Giovanni Antonini

Il Giardino Armonico

Concerto in fa maggiore Op. 10 No. 1 per flauto, archi e B.C., RV 433 "La Tempesta di Mare": III. Presto

$2.30

Concerto in do maggiore per flautino, archi e B.C., RV 443: I. (Allegro)

Composer(s)

Antonio Vivaldi

Artist(s)

Giovanni Antonini

Il Giardino Armonico

Concerto in do maggiore per flautino, archi e B.C., RV 443: I. (Allegro)

$2.30

Concerto in do maggiore per flautino, archi e B.C., RV 443: II. Largo

Composer(s)

Antonio Vivaldi

Artist(s)

Giovanni Antonini

Il Giardino Armonico

Concerto in do maggiore per flautino, archi e B.C., RV 443: II. Largo

$2.30

Concerto in do maggiore per flautino, archi e B.C., RV 443: III. Allegro molto

Composer(s)

Antonio Vivaldi

Artist(s)

Giovanni Antonini

Il Giardino Armonico

Concerto in do maggiore per flautino, archi e B.C., RV 443: III. Allegro molto

$2.30

Nisi Dominus per chalumeau e B.C., RV 608 "Cum dederit"

Composer(s)

Antonio Vivaldi

Artist(s)

Giovanni Antonini

Il Giardino Armonico

Nisi Dominus per chalumeau e B.C., RV 608 "Cum dederit"

$2.30

Concerto in do minore per flauto, archi e B.C., RV 441: I. Allegro non molto

Composer(s)

Antonio Vivaldi

Artist(s)

Giovanni Antonini

Il Giardino Armonico

Concerto in do minore per flauto, archi e B.C., RV 441: I. Allegro non molto

$2.30

Concerto in do minore per flauto, archi e B.C., RV 441: II. Largo

Composer(s)

Antonio Vivaldi

Artist(s)

Giovanni Antonini

Il Giardino Armonico

Concerto in do minore per flauto, archi e B.C., RV 441: II. Largo

$2.30

Concerto in do minore per flauto, archi e B.C., RV 441: III. (Allegro)

Composer(s)

Antonio Vivaldi

Artist(s)

Giovanni Antonini

Il Giardino Armonico

Concerto in do minore per flauto, archi e B.C., RV 441: III. (Allegro)

$2.30

Concerto in la minore per flautino, archi e B.C., RV 445: I. Allegro

Composer(s)

Antonio Vivaldi

Artist(s)

Giovanni Antonini

Il Giardino Armonico

Concerto in la minore per flautino, archi e B.C., RV 445: I. Allegro

$2.30

Concerto in la minore per flautino, archi e B.C., RV 445: II. Larghetto

Composer(s)

Antonio Vivaldi

Artist(s)

Giovanni Antonini

Il Giardino Armonico

Concerto in la minore per flautino, archi e B.C., RV 445: II. Larghetto

$2.30

Concerto in la minore per flautino, archi e B.C., RV 445: III. Allegro

Composer(s)

Antonio Vivaldi

Artist(s)

Giovanni Antonini

Il Giardino Armonico

Concerto in la minore per flautino, archi e B.C., RV 445: III. Allegro

$2.30

Concerto in fa maggiore per flauto, archi e B.C., RV 442 "Tutti gl'istromenti sordini": I. Allegro non molto

Composer(s)

Antonio Vivaldi

Artist(s)

Giovanni Antonini

Il Giardino Armonico

Concerto in fa maggiore per flauto, archi e B.C., RV 442 "Tutti gl'istromenti sordini": I. Allegro non molto

$2.30

Concerto in fa maggiore per flauto, archi e B.C., RV 442 "Tutti gl'istromenti sordini": II. Largo e Cantabile

Composer(s)

Antonio Vivaldi

Artist(s)

Giovanni Antonini

Il Giardino Armonico

Concerto in fa maggiore per flauto, archi e B.C., RV 442 "Tutti gl'istromenti sordini": II. Largo e Cantabile

$2.30

Concerto in fa maggiore per flauto, archi e B.C., RV 442 "Tutti gl'istromenti sordini": III. Allegro

Composer(s)

Antonio Vivaldi

Artist(s)

Giovanni Antonini

Il Giardino Armonico

Concerto in fa maggiore per flauto, archi e B.C., RV 442 "Tutti gl'istromenti sordini": III. Allegro

$2.30
Total running time: 59 minutes.


Album information

Having made their name performing his music, Il Giardino Armonico celebrates this popular Italian composer: Antonio Vivaldi.

Giovanni Antonini, virtuoso flautist and orchestral conductor, is the founder of the Italian ensemble Il Giardino Armonico, which burst on the baroque musical scene in 1985; together they have amassed an impressive discography. 

With Antonini as soloist in a programme of his own devising recorded between 2011 and 2017, a generous bouquet of the Concerti per Flauto: RV 433 ('La Tempesta di Mare'), plus the Concertos RV 441, 442 443, 444, and 445, and an amazing version of 'Cum Dederit', a solo from Nisi Dominus RV 608, for the chalumeau, the predecessor to the modern-day clarinet.
Related Artists
Reviews