Filters
Vivaldi: L'Amore per Elvira
Vivaldi: L'Amore per Elvira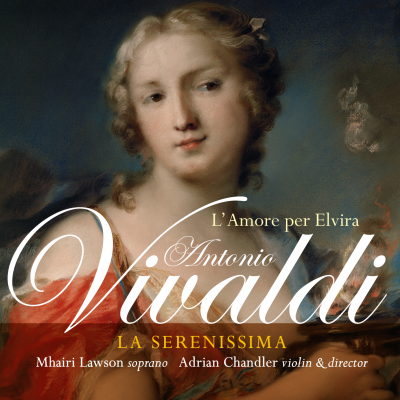 Booklet available for download
Sonata No. 3 in D major for violin & continuo, RV 11 'Graz' – I. Largo

Composer(s)

Antonio Vivaldi

Artist(s)

Adrian Chandler - violin

Sonata No. 3 in D major for violin & continuo, RV 11 'Graz' – I. Largo

$2.30

Sonata No. 3 in D major for violin & continuo, RV 11 'Graz' – II. Allegro

Composer(s)

Antonio Vivaldi

Artist(s)

Adrian Chandler - violin

Sonata No. 3 in D major for violin & continuo, RV 11 'Graz' – II. Allegro

$2.30

Sonata No. 3 in D major for violin & continuo, RV 11 'Graz' – III. Largo

Composer(s)

Antonio Vivaldi

Artist(s)

Adrian Chandler - violin

Sonata No. 3 in D major for violin & continuo, RV 11 'Graz' – III. Largo

$2.30

Sonata No. 3 in D major for violin & continuo, RV 11 'Graz' – IV. Allegro

Composer(s)

Antonio Vivaldi

Artist(s)

Adrian Chandler - violin

Sonata No. 3 in D major for violin & continuo, RV 11 'Graz' – IV. Allegro

$2.30

Tremori al braccio, RV 799 – No. 1 Recitativo: Tremori al braccio

Composer(s)

Antonio Vivaldi

Artist(s)

Mhairi Lawson - vocals

Tremori al braccio, RV 799 – No. 1 Recitativo: Tremori al braccio

$2.30

Tremori al braccio, RV 799 – No. 2 Aria: Quando chiami dolce, e cara

Composer(s)

Antonio Vivaldi

Artist(s)

Mhairi Lawson - vocals

Tremori al braccio, RV 799 – No. 2 Aria: Quando chiami dolce, e cara

$2.30

Tremori al braccio, RV 799 – No. 3 Recitativo: Ah nò, mia cara Elvira

Composer(s)

Antonio Vivaldi

Artist(s)

Mhairi Lawson - vocals

Tremori al braccio, RV 799 – No. 3 Recitativo: Ah nò, mia cara Elvira

$2.30

Tremori al braccio, RV 799 – No. 4 Aria: Quello che senti, ò bella

Composer(s)

Antonio Vivaldi

Artist(s)

Mhairi Lawson - vocals

Tremori al braccio, RV 799 – No. 4 Aria: Quello che senti, ò bella

$2.30

Sonata in C minor for violin, cello & continuo, RV 83 – I. Allegro

Composer(s)

Antonio Vivaldi

Artist(s)

Adrian Chandler - violin

Sonata in C minor for violin, cello & continuo, RV 83 – I. Allegro

$2.30

Sonata in C minor for violin, cello & continuo, RV 83 – II. Largo

Composer(s)

Antonio Vivaldi

Artist(s)

Adrian Chandler - violin

Sonata in C minor for violin, cello & continuo, RV 83 – II. Largo

$2.30

Sonata in C minor for violin, cello & continuo, RV 83 – III. Allegro

Composer(s)

Antonio Vivaldi

Artist(s)

Adrian Chandler - violin

Sonata in C minor for violin, cello & continuo, RV 83 – III. Allegro

$2.30

Elvira, anima mia, RV 654 – No. 1 Recitativo: Elvira, anima mia

Composer(s)

Antonio Vivaldi

Artist(s)

Mhairi Lawson - vocals

Elvira, anima mia, RV 654 – No. 1 Recitativo: Elvira, anima mia

$2.30

Elvira, anima mia, RV 654 – No. 2 Aria: Partirò, ma vedrai quanto

Composer(s)

Antonio Vivaldi

Artist(s)

Mhairi Lawson - vocals

Elvira, anima mia, RV 654 – No. 2 Aria: Partirò, ma vedrai quanto

$2.30

Elvira, anima mia, RV 654 – No. 3 Recitativo: Passo al rogo fatal

Composer(s)

Antonio Vivaldi

Artist(s)

Mhairi Lawson - vocals

Elvira, anima mia, RV 654 – No. 3 Recitativo: Passo al rogo fatal

$2.30

Elvira, anima mia, RV 654 – No. 4 Aria: Pupille vaghe

Composer(s)

Antonio Vivaldi

Artist(s)

Mhairi Lawson - vocals

Elvira, anima mia, RV 654 – No. 4 Aria: Pupille vaghe

$2.30

Sonata in B minor for violin & continuo, RV 37 'Graz' – I. Largo

Composer(s)

Antonio Vivaldi

Artist(s)

Adrian Chandler - violin

Sonata in B minor for violin & continuo, RV 37 'Graz' – I. Largo

$2.30

Sonata in B minor for violin & continuo, RV 37 'Graz' – II. Allegro

Composer(s)

Antonio Vivaldi

Artist(s)

Adrian Chandler - violin

Sonata in B minor for violin & continuo, RV 37 'Graz' – II. Allegro

$2.30

Sonata in B minor for violin & continuo, RV 37 'Graz' – III. Largo

Composer(s)

Antonio Vivaldi

Artist(s)

Adrian Chandler - violin

Sonata in B minor for violin & continuo, RV 37 'Graz' – III. Largo

$2.30

Sonata in B minor for violin & continuo, RV 37 'Graz' – IV. Allegro

Composer(s)

Antonio Vivaldi

Artist(s)

Adrian Chandler - violin

Sonata in B minor for violin & continuo, RV 37 'Graz' – IV. Allegro

$2.30

Lungi dal vago volto, RV 680 – No. 1 Recitative: Lungi dal vago volto

Composer(s)

Antonio Vivaldi

Artist(s)

Mhairi Lawson - vocals

Lungi dal vago volto, RV 680 – No. 1 Recitative: Lungi dal vago volto

$2.30

Lungi dal vago volto, RV 680 – No. 2 Aria: Augelletti, voi col canto

Composer(s)

Antonio Vivaldi

Artist(s)

Mhairi Lawson - vocals

Lungi dal vago volto, RV 680 – No. 2 Aria: Augelletti, voi col canto

$3.40

Lungi dal vago volto, RV 680 – No. 3 Recitative: Allegrezza, mio core

Composer(s)

Antonio Vivaldi

Artist(s)

Mhairi Lawson - vocals

Lungi dal vago volto, RV 680 – No. 3 Recitative: Allegrezza, mio core

$2.30

Lungi dal vago volto, RV 680 – No. 4 Aria: Mi stringerai sì

Composer(s)

Antonio Vivaldi

Artist(s)

Mhairi Lawson - vocals

Lungi dal vago volto, RV 680 – No. 4 Aria: Mi stringerai sì

$2.30
Total running time: 75 minutes.
Album information

Linn Records is delighted to release Baroque ensemble La Serenissima's debut album. This superb recording features two world première recordings (of 'Graz' Sonatas 2 and 3), in addition to the title material.

L'Amore per Elvira, written for the Mantuan court around 1716–20, consists of three cantatas. In Tremori al braccio, RV 799 the lover, (whose name we later learn to be Fileno) trembles at his inability to confess his love to Elvira, only overcoming his reticence in the finale (though not without reservations). In the second work Elvira, anima mia, RV 654, Fileno bears the sad tidings to Elvira that he must leave for a while and asks for one last kiss before he leaves. In the final work, Lungi dal vago volto, RV 680, the returning Fileno spies Elvira in the distance and he finally reaches her in the happy concluding aria.

The two 'Graz' sonatas, housed in the Diözesanarchiv in Graz, are presented here for the first time. Their bass parts, which were previously missing, have been carefully reconstructed by Adrian Chandler in order to make the recording possible.

The final work, the Sonata in C minor for violin and cello, RV 83, represents the only sonata of this type known to have been written by Vivaldi (he did write three concerti for this instrumental combination) and is notable for its three-movement concerto layout.
Related Artists
Reviews