Filters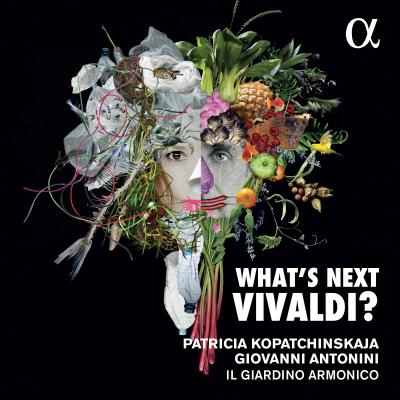 Inlay available for download
Booklet available for download
Concerto in mi bemolle maggiore RV 253 "La Tempesta di Mare", per violino, archi e b.c.: I. Presto

Composer(s)

Antonio Vivaldi

Artist(s)

Giovanni Antonini

Patricia Kopatchinskaja

Il Giardino Armonico

Concerto in mi bemolle maggiore RV 253 "La Tempesta di Mare", per violino, archi e b.c.: I. Presto

$2.30

Concerto in mi bemolle maggiore RV 253 "La Tempesta di Mare", per violino, archi e b.c.: II. Largo

Composer(s)

Antonio Vivaldi

Artist(s)

Giovanni Antonini

Patricia Kopatchinskaja

Il Giardino Armonico

Concerto in mi bemolle maggiore RV 253 "La Tempesta di Mare", per violino, archi e b.c.: II. Largo

$2.30

Concerto in mi bemolle maggiore RV 253 "La Tempesta di Mare", per violino, archi e b.c.: III. Presto

Composer(s)

Antonio Vivaldi

Artist(s)

Giovanni Antonini

Patricia Kopatchinskaja

Il Giardino Armonico

Concerto in mi bemolle maggiore RV 253 "La Tempesta di Mare", per violino, archi e b.c.: III. Presto

$2.30

"Lazzo parlante"

Composer(s)

Antonio Vivaldi

Artist(s)

Giovanni Antonini

Patricia Kopatchinskaja

Il Giardino Armonico

"Lazzo parlante"

$2.30

Estroso, per violino, flauto dolce, archi, tiorba & cembalo

Composer(s)

Aureliano Cattaneo

Artist(s)

Giovanni Antonini

Patricia Kopatchinskaja

Il Giardino Armonico

Estroso, per violino, flauto dolce, archi, tiorba & cembalo

$2.30

Concerto in sol minore, RV 157, per archi e b.c.: I. Allegro

Composer(s)

Antonio Vivaldi

Artist(s)

Giovanni Antonini

Il Giardino Armonico

Concerto in sol minore, RV 157, per archi e b.c.: I. Allegro

$2.30

Concerto in sol minore, RV 157, per archi e b.c.: II. Largo

Composer(s)

Antonio Vivaldi

Artist(s)

Giovanni Antonini

Il Giardino Armonico

Concerto in sol minore, RV 157, per archi e b.c.: II. Largo

$2.30

Concerto in sol minore, RV 157, per archi e b.c.: III. Allegro

Composer(s)

Antonio Vivaldi

Artist(s)

Giovanni Antonini

Il Giardino Armonico

Concerto in sol minore, RV 157, per archi e b.c.: III. Allegro

$2.30

Spiccato il volo, per violino solo

Composer(s)

Luca Francesconi

Artist(s)

Patricia Kopatchinskaja

Spiccato il volo, per violino solo

$2.30

Concerto in do maggiore, RV 191, per violino, archi e b.c.: I. Allegro ma poco

Composer(s)

Antonio Vivaldi

Artist(s)

Giovanni Antonini

Patricia Kopatchinskaja

Il Giardino Armonico

Concerto in do maggiore, RV 191, per violino, archi e b.c.: I. Allegro ma poco

$2.30

Concerto in do maggiore, RV 191, per violino, archi e b.c.: II. Largo

Composer(s)

Antonio Vivaldi

Artist(s)

Giovanni Antonini

Patricia Kopatchinskaja

Il Giardino Armonico

Concerto in do maggiore, RV 191, per violino, archi e b.c.: II. Largo

$2.30

Concerto in do maggiore, RV 191, per violino, archi e b.c.: III. Allegro ma poco

Composer(s)

Antonio Vivaldi

Artist(s)

Giovanni Antonini

Patricia Kopatchinskaja

Il Giardino Armonico

Concerto in do maggiore, RV 191, per violino, archi e b.c.: III. Allegro ma poco

$2.30

Incanto XIX, per flauto dolce, violino e archi

Artist(s)

Giovanni Antonini

Patricia Kopatchinskaja

Il Giardino Armonico

Incanto XIX, per flauto dolce, violino e archi

$2.30

Concerto in mi minore, RV 550, per quattro violini, archi e b.c.: I. Andante

Composer(s)

Antonio Vivaldi

Artist(s)

Giovanni Antonini

Patricia Kopatchinskaja

Il Giardino Armonico

Concerto in mi minore, RV 550, per quattro violini, archi e b.c.: I. Andante

$2.30

Concerto in mi minore, RV 550, per quattro violini, archi e b.c.: II. Allegro assai

Composer(s)

Antonio Vivaldi

Artist(s)

Giovanni Antonini

Patricia Kopatchinskaja

Il Giardino Armonico

Concerto in mi minore, RV 550, per quattro violini, archi e b.c.: II. Allegro assai

$2.30

Concerto in mi minore, RV 550, per quattro violini, archi e b.c.: III. Adagio

Composer(s)

Antonio Vivaldi

Artist(s)

Giovanni Antonini

Patricia Kopatchinskaja

Il Giardino Armonico

Concerto in mi minore, RV 550, per quattro violini, archi e b.c.: III. Adagio

$2.30

Concerto in mi minore, RV 550, per quattro violini, archi e b.c.: IV. Andante

Composer(s)

Antonio Vivaldi

Artist(s)

Giovanni Antonini

Patricia Kopatchinskaja

Il Giardino Armonico

Concerto in mi minore, RV 550, per quattro violini, archi e b.c.: IV. Andante

$2.30

Dilano Avvinto, per flauto dolce e due violini

Composer(s)

Marco Stroppa

Artist(s)

Giovanni Antonini

Patricia Kopatchinskaja

Dilano Avvinto, per flauto dolce e due violini

$2.30

Moghul, per violino, flauto dolce, archi e b.c.

Composer(s)

Giovanni Sollima

Artist(s)

Giovanni Antonini

Patricia Kopatchinskaja

Il Giardino Armonico

Moghul, per violino, flauto dolce, archi e b.c.

$2.30

Concerto in re maggiore, RV 208 "Il Grosso Mogul", per violino, archi e b.c.: I. Allegro (Cadenza by P. Kopatchinskaja)

Composer(s)

Antonio Vivaldi

Artist(s)

Giovanni Antonini

Patricia Kopatchinskaja

Il Giardino Armonico

Concerto in re maggiore, RV 208 "Il Grosso Mogul", per violino, archi e b.c.: I. Allegro (Cadenza by P. Kopatchinskaja)

$2.30

Concerto in re maggiore, RV 208 "Il Grosso Mogul", per violino, archi e b.c.: II. Grave - Recitativo

Composer(s)

Antonio Vivaldi

Artist(s)

Giovanni Antonini

Patricia Kopatchinskaja

Il Giardino Armonico

Concerto in re maggiore, RV 208 "Il Grosso Mogul", per violino, archi e b.c.: II. Grave - Recitativo

$2.30

Concerto in re maggiore, RV 208 "Il Grosso Mogul", per violino, archi e b.c.: III. Allegro (Cadenza by A. Vivaldi)

Composer(s)

Antonio Vivaldi

Artist(s)

Giovanni Antonini

Patricia Kopatchinskaja

Il Giardino Armonico

Concerto in re maggiore, RV 208 "Il Grosso Mogul", per violino, archi e b.c.: III. Allegro (Cadenza by A. Vivaldi)

$3.40

Szól a Duda (The Bagpipe), per flauto dolce e violino

Artist(s)

Giovanni Antonini

Patricia Kopatchinskaja

Szól a Duda (The Bagpipe), per flauto dolce e violino

$2.30
Total running time: 70 minutes.




Album information

Patricia Kopatchinskaja joins Giovanni Antonini and his ensemble Il Giardino Armonico to celebrate the composer who made them famous: Antonio Vivaldi. This recording won the 2021 Solo Instrumental Edison Award.

Their recordings of The Four Seasons and Cecilia Bartoli's famous first Vivaldi recital left an indelible mark on the discography of the Red-haired Priest! Their musical fireworks display continues with a programme of concertos that is bound to provoke strong reactions, since it is the result of a meeting with a musician who is equally adept at shifting boundaries, the violinist Patricia Kopatchinskaja. Together they have devised a programme entitled WHAT'S NEXT VIVALDI?, which interweaves ultra-virtuosic concertos by Vivaldi (Il Grosso Mogul RV 208, La Tempesta di Mare (for violin!) RV 253, and RV 157, 191, 550 among others) with, between each concerto, short pieces written by much more recent composers, Luca Francesconi, Simone Movio, Giacinto Scelsi, Aureliano Cattaneo and Giovanni Sollima, and mostly commissioned by Patricia Kopatchinskaja especially for this programme.
Related Artists
Reviews