Filters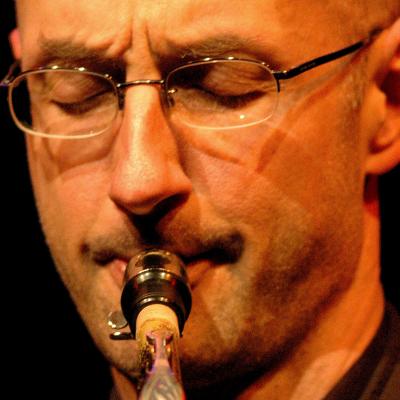 Increasingly-revered saxophonist whose lucid and adventurous work has seen him perform with the cream of jazz talent from Paul Motian to Flora Purim as well as his group featuring John Parricelli, Steve Watts and Steve Arguelles.
Biography

Martin Speake was born in Barnet, England, in 1958. There was music in the family and his grandmother was a pub pianist all her life having started off playing for silent films. A cousin was a semi professional jazz pianist who was inspired by Bill Evans, his mother loved Ella Fitzgerald and his auntie and uncle listened to Frank Sinatra, The Beatles and Errol Garner. Parties would always have music at them, which usually meant family and friends would take it in turns to sing a song.

Initially Martin was attracted by pop and rock music and the first band he saw live was Led Zeppelin. Throughout his early teens he attended many concerts and festivals and saw bands such as Pink Floyd, Roxy Music, The Faces, Hawkwind, Frank Zappa, Faust, Van Morrison, Can, Stevie Wonder, Spirit, Kevin Ayers, Mahavishnu Orchestra, Yes and many others.

He left school at 16 with very few qualifications and lasted 8 months in an office working for a motor insurance company. During this time he bought an alto saxophone, after hearing Ornette Coleman on record, and began practising and taking lessons. After studying some music theory he first went to Southgate Technical College and then to Trinity College of Music to study classical saxophone from 1977-81. At that time there were no jazz courses in London. He met some other musicians at the college who were playing jazz, such as pianist Simon Purcell with whom he formed a group, and saxophonist Mark Lockheart. Also during this time he met the musicians who were to form the saxophone quartet Itchy Fingers. Martin toured Europe, South America, Africa and the USA with this group, appearing at most major jazz festivals and playing on their first two CDs. In 1986 they won the Schlitz Young Jazz Musicians of the Year Award which was televised by the BBC.

In 1988 he left the group to concentrate on his own projects. His main band has been the Martin Speake Group featuring guitarist John Parricelli. He has recorded two albums with this band also featuring bassist Steve Watts and drummer Steve Arguelles entitled "In Our Time" and "Trust". His other projects include two very different duos with guitarist Phil Lee (exploring the jazz standard) and pianist Nikki Iles (playing contemporary tunes and free improvisation) and the 7 piece world music band Fever Pitch featuring 3 percussionists. He also plays the music of Ornette Coleman with Mind and Time free improvisation with the Eternal Triangle and Indian music with Dharambir Singh.

In 2002, he released the album "Hullabaloo" (Linn AKD  191) on Linn Records. Featuring John Parricelli (guitar), Mick Hutton (double bass) and Tom Skinner (drums) the music was composed by Martin and draws on all his experiences and influences. This includes the jazz tradition of America and Europe, folk music from around the world, free improvisation and classicial music.

As evidenced by the diversity of groups that he leads, Martin continues to be influenced by many musicians and styles of music. Apart from these projects of his own, Martin has also performed with Paul Motian, Bobo Stenson, Loose Tubes, Stan Tracey, Bhavani Shankar, Billy Jenkins, Django Bates, Bob Wilber, Conrad Herwig, Don Weller, Ronan Guilfoyle, Alison Bentley, The Style Council, Ann Pigalle, Kadam, John Williams, Airto Moreira and Flora Purim, Jim Mullen, Dave Cliff, Julian Arguelles, Ephie Resnick and the Royal Shakespeare Company among others. He is very involved in jazz education and is saxophone professor and contemporary music co-ordinator on the Royal Academy of Music Jazz Course and saxophone teacher at Middlesex University. Martin has also taught in schools, adult education classes, weekend courses and summer schools throughout the country. He has also composed music for the Associated Board jazz piano syllabus and a solo saxophone piece for Faber Music.
Reviews