Filters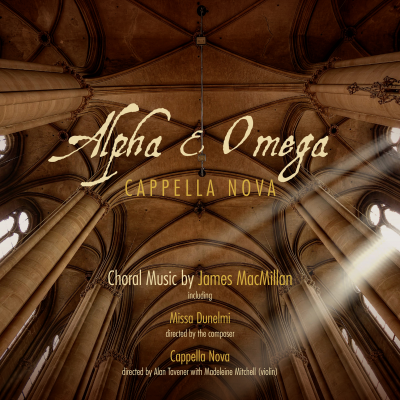 Inlay available for download
Booklet available for download
Missa Dunelmi - I. Kyrie

Composer(s)

James MacMillan

Missa Dunelmi - I. Kyrie

$2.30

Missa Dunelmi - II. Gloria

Composer(s)

James MacMillan

Missa Dunelmi - II. Gloria

$3.40

Missa Dunelmi - III. Sanctus & Benedictus

Composer(s)

James MacMillan

Missa Dunelmi - III. Sanctus & Benedictus

$2.30

Missa Dunelmi - IV. Agnus Dei

Composer(s)

James MacMillan

Missa Dunelmi - IV. Agnus Dei

$2.30

St Patrick's Magnificat

Composer(s)

James MacMillan

St Patrick's Magnificat

$2.30

...fiat mihi...

Composer(s)

James MacMillan

...fiat mihi...

$2.30

Cum vidisset Jesus

Composer(s)

James MacMillan

Cum vidisset Jesus

$3.40

I am your Mother

Composer(s)

James MacMillan

I am your Mother

$2.30

Invocation

Composer(s)

James MacMillan

Invocation

$2.30

Domine non secundum peccata nostra

Composer(s)

James MacMillan

Domine non secundum peccata nostra

$3.40

Alpha & Omega

Composer(s)

James MacMillan

Alpha & Omega

$3.40
Total running time: 67 minutes.

Album information

After its "undeniably beautiful" (The Financial Times) Linn debut and its "excellently performed" (Fanfare) follow up, Cappella Nova releases a third volume of choral works by the leading contemporary composer, James MacMillan.

Of the eight works performed here, six receive their premiere recording (only Missa Dunelmi and Invocation have been previously recorded).  Cappella Nova has enjoyed a twenty five year association with MacMillan; many premiere performances later the choir has established an intuitive response to his work and a passion for his creativity which is evident on Alpha & Omega.

This recording is made particularly special because Missa Dunelmi is conducted here by the composer; founding director Alan Tavener lends his enthusiasm and expertise for the remaining works. James MacMillan provides illuminating and fascinating insights into his work in a conversation with Rebecca Tavener included in the booklet note.

They are joined on Alpha & Omega by violinist Madeleine Mitchell described by The Times as "one of Britain's liveliest musical forces and foremost violinists". Cappella Nova's previous recordings, Tenebrae and Who are these Angels? were both named in Gramophone as 'Editor's Choice' albums; the latter also received several five star reviews.
Related Artists
Reviews