Filters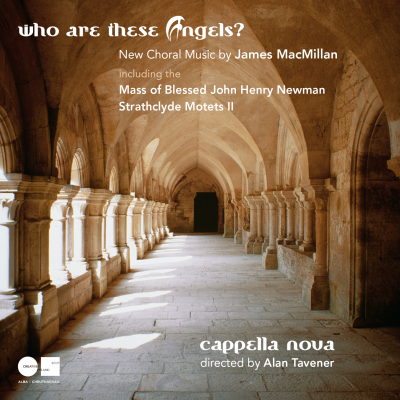 Inlay available for download
Booklet available for download
And lo, the Angel of the Lord

Composer(s)

James MacMillan

Artist(s)

Alan Tavener

Cappella Nova

And lo, the Angel of the Lord

$2.30

Qui meditabitur (Strathclyde Motet)

Composer(s)

James MacMillan

Artist(s)

Alan Tavener

Cappella Nova

Qui meditabitur (Strathclyde Motet)

$2.30

O Radiant Dawn (Strathclyde Motet)

Composer(s)

James MacMillan

Artist(s)

Alan Tavener

Cappella Nova

O Radiant Dawn (Strathclyde Motet)

$2.30

Lux aeterna (Strathclyde Motet)

Composer(s)

James MacMillan

Artist(s)

Alan Tavener

Cappella Nova

Lux aeterna (Strathclyde Motet)

$2.30

Os mutorum (Strathclyde Motet)

Composer(s)

James MacMillan

Artist(s)

Alan Tavener

Cappella Nova

Os mutorum (Strathclyde Motet)

$2.30

Bring us, O Lord

Composer(s)

James MacMillan

Artist(s)

Alan Tavener

Cappella Nova

Bring us, O Lord

$2.30

Canticle of Zachariah (Strathclyde Motet)

Composer(s)

James MacMillan

Artist(s)

Alan Tavener

Cappella Nova

Canticle of Zachariah (Strathclyde Motet)

$2.30

Benedictus Deus

Composer(s)

James MacMillan

Artist(s)

Alan Tavener

Cappella Nova

Benedictus Deus

$2.30

Advent Antiphon

Composer(s)

James MacMillan

Artist(s)

Alan Tavener

Cappella Nova

Advent Antiphon

$2.30

Pascha nostrum immolatus est (Strathclyde Motet)

Composer(s)

James MacMillan

Artist(s)

Alan Tavener

Cappella Nova

Pascha nostrum immolatus est (Strathclyde Motet)

$2.30

Who are these Angels?

Composer(s)

James MacMillan

Artist(s)

Alan Tavener

Cappella Nova

Who are these Angels?

$2.30

Think of how God loves you

Composer(s)

James MacMillan

Artist(s)

Alan Tavener

Cappella Nova

Think of how God loves you

$2.30

Benedicimus Deum caeli (Strathclyde Motet)

Composer(s)

James MacMillan

Artist(s)

Alan Tavener

Cappella Nova

Benedicimus Deum caeli (Strathclyde Motet)

$2.30

Mass of Blessed John Henry Newman - I. Kyrie

Composer(s)

James MacMillan

Artist(s)

Alan Tavener

Cappella Nova

Mass of Blessed John Henry Newman - I. Kyrie

$2.30

Mass of Blessed John Henry Newman - II. Gloria

Composer(s)

James MacMillan

Artist(s)

Alan Tavener

Cappella Nova

Mass of Blessed John Henry Newman - II. Gloria

$2.30

Mass of Blessed John Henry Newman - III. Sanctus

Composer(s)

James MacMillan

Artist(s)

Alan Tavener

Cappella Nova

Mass of Blessed John Henry Newman - III. Sanctus

$2.30

Mass of Blessed John Henry Newman - IV. Acclamations

Composer(s)

James MacMillan

Artist(s)

Alan Tavener

Cappella Nova

Mass of Blessed John Henry Newman - IV. Acclamations

$2.30

Mass of Blessed John Henry Newman - V. Agnus Dei

Composer(s)

James MacMillan

Artist(s)

Alan Tavener

Cappella Nova

Mass of Blessed John Henry Newman - V. Agnus Dei

$2.30

Tota pulchra es

Composer(s)

James MacMillan

Artist(s)

Alan Tavener

Cappella Nova

Tota pulchra es

$2.30
Total running time: 71 minutes.

Album information

Cappella Nova release their second album of premiere recordings of new works by Scottish composer James MacMillan.  

Cappella Nova follow on from their "undeniably beautiful" (The Financial Times) Linn debut, MacMillan: Tenebrae, with their second volume of choral works by the leading contemporary composer. The outstanding Scottish group have a unique relationship with James MacMillan, the composer having written several works for them. All of the tracks are premiere recordings, recorded under the supervision of MacMillan, whose fascinating conversation with Rebecca Tavener on his new works are included here.

Who are these Angels? includes the last of the Strathclyde Motets, seven of which were included on Tenebrae. Also included is the mass James MacMillan wrote specifically for Pope Benedict XVI's visit to Scotland in September 2010, sung by over 150,000 people.
Related Artists
Reviews