Filters
Bach - Busoni: Goldberg Variations & Other Works
Bach - Busoni: Goldberg Variations & Other Works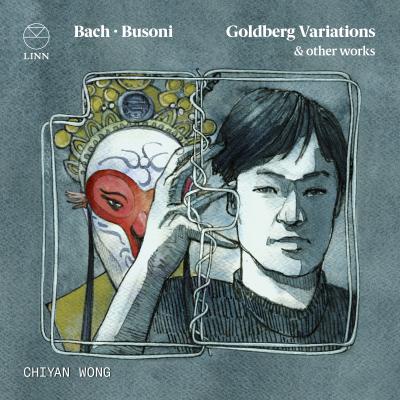 Inlay available for download
Booklet available for download
Goldberg Variations ('Air with Thirty Variations'), BWV 988: I. Largamente e cantato

Composer(s)

Johann Sebastian Bach

Goldberg Variations ('Air with Thirty Variations'), BWV 988: I. Largamente e cantato

$2.30

Goldberg Variations ('Air with Thirty Variations'), BWV 988: II. Allegro con freschezza, e deciso

Composer(s)

Johann Sebastian Bach

Goldberg Variations ('Air with Thirty Variations'), BWV 988: II. Allegro con freschezza, e deciso

$2.30

Goldberg Variations ('Air with Thirty Variations'), BWV 988: III. Andantino, dolce

Composer(s)

Johann Sebastian Bach

Goldberg Variations ('Air with Thirty Variations'), BWV 988: III. Andantino, dolce

$2.30

Goldberg Variations ('Air with Thirty Variations'), BWV 988: IV. Lo stesso movimento

Composer(s)

Johann Sebastian Bach

Goldberg Variations ('Air with Thirty Variations'), BWV 988: IV. Lo stesso movimento

$2.30

Goldberg Variations ('Air with Thirty Variations'), BWV 988: V. Allegro, non troppo

Composer(s)

Johann Sebastian Bach

Goldberg Variations ('Air with Thirty Variations'), BWV 988: V. Allegro, non troppo

$2.30

Goldberg Variations ('Air with Thirty Variations'), BWV 988: VI. Allegretto tranquillo

Composer(s)

Johann Sebastian Bach

Goldberg Variations ('Air with Thirty Variations'), BWV 988: VI. Allegretto tranquillo

$2.30

Goldberg Variations ('Air with Thirty Variations'), BWV 988: VII. Allegro scherzando

Composer(s)

Johann Sebastian Bach

Goldberg Variations ('Air with Thirty Variations'), BWV 988: VII. Allegro scherzando

$2.30

Goldberg Variations ('Air with Thirty Variations'), BWV 988: VIII. Allegro

Composer(s)

Johann Sebastian Bach

Goldberg Variations ('Air with Thirty Variations'), BWV 988: VIII. Allegro

$2.30

Goldberg Variations ('Air with Thirty Variations'), BWV 988: IX. Alla breve

Composer(s)

Johann Sebastian Bach

Goldberg Variations ('Air with Thirty Variations'), BWV 988: IX. Alla breve

$2.30

Goldberg Variations ('Air with Thirty Variations'), BWV 988: X. Lostesso tempo, più vivace

Composer(s)

Johann Sebastian Bach

Goldberg Variations ('Air with Thirty Variations'), BWV 988: X. Lostesso tempo, più vivace

$2.30

Goldberg Variations ('Air with Thirty Variations'), BWV 988: XI. Andante con grazia [ossia]

Composer(s)

Johann Sebastian Bach

Goldberg Variations ('Air with Thirty Variations'), BWV 988: XI. Andante con grazia [ossia]

$2.30

Goldberg Variations ('Air with Thirty Variations'), BWV 988: XII. Allegro ritenuto

Composer(s)

Johann Sebastian Bach

Goldberg Variations ('Air with Thirty Variations'), BWV 988: XII. Allegro ritenuto

$2.30

Goldberg Variations ('Air with Thirty Variations'), BWV 988: XIII. Quasi adagio

Composer(s)

Johann Sebastian Bach

Goldberg Variations ('Air with Thirty Variations'), BWV 988: XIII. Quasi adagio

$2.30

Goldberg Variations ('Air with Thirty Variations'), BWV 988: XIV. Allegretto piacevole

Composer(s)

Johann Sebastian Bach

Goldberg Variations ('Air with Thirty Variations'), BWV 988: XIV. Allegretto piacevole

$2.30

Goldberg Variations ('Air with Thirty Variations'), BWV 988: XV. Allegretto vivace [Variante des Herausgebers]

Composer(s)

Johann Sebastian Bach

Goldberg Variations ('Air with Thirty Variations'), BWV 988: XV. Allegretto vivace [Variante des Herausgebers]

$2.30

Goldberg Variations ('Air with Thirty Variations'), BWV 988: XVI. Alla breve

Composer(s)

Johann Sebastian Bach

Goldberg Variations ('Air with Thirty Variations'), BWV 988: XVI. Alla breve

$2.30

Goldberg Variations ('Air with Thirty Variations'), BWV 988: XVII. Non Allegro

Composer(s)

Johann Sebastian Bach

Goldberg Variations ('Air with Thirty Variations'), BWV 988: XVII. Non Allegro

$2.30

Goldberg Variations ('Air with Thirty Variations'), BWV 988: XVIII. Adagio

Composer(s)

Johann Sebastian Bach

Goldberg Variations ('Air with Thirty Variations'), BWV 988: XVIII. Adagio

$2.30

Goldberg Variations ('Air with Thirty Variations'), BWV 988: XIX. Allegro corrente

Composer(s)

Johann Sebastian Bach

Goldberg Variations ('Air with Thirty Variations'), BWV 988: XIX. Allegro corrente

$2.30

Goldberg Variations ('Air with Thirty Variations'), BWV 988: XX. Andante brillante [Version des Herausgebers]

Composer(s)

Johann Sebastian Bach

Goldberg Variations ('Air with Thirty Variations'), BWV 988: XX. Andante brillante [Version des Herausgebers]

$2.30

Goldberg Variations ('Air with Thirty Variations'), BWV 988: XXI. Allegro non troppo – Frisch und volkstümlich, doch nicht ohne Würde – Largamente (Aria)

Composer(s)

Johann Sebastian Bach

Goldberg Variations ('Air with Thirty Variations'), BWV 988: XXI. Allegro non troppo – Frisch und volkstümlich, doch nicht ohne Würde – Largamente (Aria)

$2.30

Inversion of Variation 15 (Canone alla quinta) from Bach's Goldberg Variations, BWV 988

Inversion of Variation 15 (Canone alla quinta) from Bach's Goldberg Variations, BWV 988

$2.30

Sonatina "in diem Nativitatis Christi MCMXVII" (No. 4), BV 274

Composer(s)

Ferruccio Busoni

Sonatina "in diem Nativitatis Christi MCMXVII" (No. 4), BV 274

$3.40

Partita for Violin No. 2 in D Minor, BWV 1004: V. Chaconne

Composer(s)

Johann Sebastian Bach

Partita for Violin No. 2 in D Minor, BWV 1004: V. Chaconne

$5.75
Total running time: 56 minutes.
Album information

Following his critically acclaimed debut Liszt Transfigured: Operatic Fantasies for Piano, which won the 40th Liszt Ferenc International Grand Prix du Disque in 2018, Chiyan Wong returns to record his second album for Linn.

Alongside the piano music of Liszt, the music of Ferruccio Busoni has been a guiding light for the young, eclectic pianist. Here Chiyan combines Busoni's kaleidoscopic arrangement of Bach's famous Goldberg Variations, which celebrates the powerful sonority and range of the modern concert grand, with Bach's timeless original. Chiyan's 'dazzling technical finish' (Gramophone) and luxuriant sound are on full display in Busoni's arrangement of Bach's famous Chaconne, a classic in the genre. Inversion, mirroring and variations are also idiomatic devices in Busoni's Sonatina 'in diem Nativitatis Christi MCMXVII' and Chiyan's own 'composition etude', Inversion of Variation 15 (Canone alla quinta), which complete this one-of-a-kind programme.
Related Artists
Reviews