Filters
Bach: Partitas (Re-imagined for Small Orchestra by Thomas Oehler)
Bach: Partitas (Re-imagined for Small Orchestra by Thomas Oehler)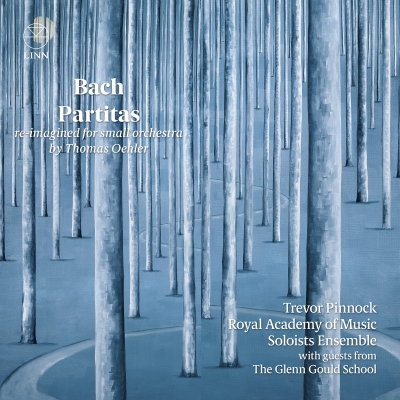 Inlay available for download
Booklet available for download
Partita No. 1 in B-Flat Major, BWV 825: I. Praeludium

Composer(s)

Johann Sebastian Bach

Artist(s)

Trevor Pinnock

The Glenn Gould School

Royal Academy of Music Soloists Ensemble

Partita No. 1 in B-Flat Major, BWV 825: I. Praeludium

$2.30

Partita No. 1 in B-Flat Major, BWV 825: II. Allemande

Composer(s)

Johann Sebastian Bach

Artist(s)

Trevor Pinnock

The Glenn Gould School

Royal Academy of Music Soloists Ensemble

Partita No. 1 in B-Flat Major, BWV 825: II. Allemande

$2.30

Partita No. 1 in B-Flat Major, BWV 825: III. Corrente

Composer(s)

Johann Sebastian Bach

Artist(s)

Trevor Pinnock

The Glenn Gould School

Royal Academy of Music Soloists Ensemble

Partita No. 1 in B-Flat Major, BWV 825: III. Corrente

$2.30

Partita No. 1 in B-Flat Major, BWV 825: IV. Sarabande

Composer(s)

Johann Sebastian Bach

Artist(s)

Trevor Pinnock

The Glenn Gould School

Royal Academy of Music Soloists Ensemble

Partita No. 1 in B-Flat Major, BWV 825: IV. Sarabande

$2.30

Partita No. 1 in B-Flat Major, BWV 825: V. Menuet I

Composer(s)

Johann Sebastian Bach

Artist(s)

Trevor Pinnock

The Glenn Gould School

Royal Academy of Music Soloists Ensemble

Partita No. 1 in B-Flat Major, BWV 825: V. Menuet I

$2.30

Partita No. 1 in B-Flat Major, BWV 825: VI. Menuet II

Composer(s)

Johann Sebastian Bach

Artist(s)

Trevor Pinnock

The Glenn Gould School

Royal Academy of Music Soloists Ensemble

Partita No. 1 in B-Flat Major, BWV 825: VI. Menuet II

$2.30

Partita No. 1 in B-Flat Major, BWV 825: VII. Menuet I

Composer(s)

Johann Sebastian Bach

Artist(s)

Trevor Pinnock

The Glenn Gould School

Royal Academy of Music Soloists Ensemble

Partita No. 1 in B-Flat Major, BWV 825: VII. Menuet I

$2.30

Partita No. 1 in B-Flat Major, BWV 825: VIII. Gigue

Composer(s)

Johann Sebastian Bach

Artist(s)

Trevor Pinnock

The Glenn Gould School

Royal Academy of Music Soloists Ensemble

Partita No. 1 in B-Flat Major, BWV 825: VIII. Gigue

$2.30

Partita No. 2 in C Minor, BWV 826: I. Sinfonia

Composer(s)

Johann Sebastian Bach

Artist(s)

Trevor Pinnock

The Glenn Gould School

Royal Academy of Music Soloists Ensemble

Partita No. 2 in C Minor, BWV 826: I. Sinfonia

$2.30

Partita No. 2 in C Minor, BWV 826: II. Allemande

Composer(s)

Johann Sebastian Bach

Artist(s)

Trevor Pinnock

The Glenn Gould School

Royal Academy of Music Soloists Ensemble

Partita No. 2 in C Minor, BWV 826: II. Allemande

$2.30

Partita No. 2 in C Minor, BWV 826: III. Courante

Composer(s)

Johann Sebastian Bach

Artist(s)

Trevor Pinnock

The Glenn Gould School

Royal Academy of Music Soloists Ensemble

Partita No. 2 in C Minor, BWV 826: III. Courante

$2.30

Partita No. 2 in C Minor, BWV 826: IV. Sarabande

Composer(s)

Johann Sebastian Bach

Artist(s)

Trevor Pinnock

The Glenn Gould School

Royal Academy of Music Soloists Ensemble

Partita No. 2 in C Minor, BWV 826: IV. Sarabande

$2.30

Partita No. 2 in C Minor, BWV 826: V. Rondeaux

Composer(s)

Johann Sebastian Bach

Artist(s)

Trevor Pinnock

The Glenn Gould School

Royal Academy of Music Soloists Ensemble

Partita No. 2 in C Minor, BWV 826: V. Rondeaux

$2.30

Partita No. 2 in C Minor, BWV 826: VI. Capriccio

Composer(s)

Johann Sebastian Bach

Artist(s)

Trevor Pinnock

The Glenn Gould School

Royal Academy of Music Soloists Ensemble

Partita No. 2 in C Minor, BWV 826: VI. Capriccio

$2.30

Partita No. 5 in G Major, BWV 829: I. Praeambulum

Composer(s)

Johann Sebastian Bach

Artist(s)

Trevor Pinnock

The Glenn Gould School

Royal Academy of Music Soloists Ensemble

Partita No. 5 in G Major, BWV 829: I. Praeambulum

$2.30

Partita No. 5 in G Major, BWV 829: II. Allemande

Composer(s)

Johann Sebastian Bach

Artist(s)

Trevor Pinnock

The Glenn Gould School

Royal Academy of Music Soloists Ensemble

Partita No. 5 in G Major, BWV 829: II. Allemande

$2.30

Partita No. 5 in G Major, BWV 829: III. Corrente

Composer(s)

Johann Sebastian Bach

Artist(s)

Trevor Pinnock

The Glenn Gould School

Royal Academy of Music Soloists Ensemble

Partita No. 5 in G Major, BWV 829: III. Corrente

$2.30

Partita No. 5 in G Major, BWV 829: IV. Sarabande

Composer(s)

Johann Sebastian Bach

Artist(s)

Trevor Pinnock

The Glenn Gould School

Royal Academy of Music Soloists Ensemble

Partita No. 5 in G Major, BWV 829: IV. Sarabande

$2.30

Partita No. 5 in G Major, BWV 829: V. Tempo di Minuetta

Composer(s)

Johann Sebastian Bach

Artist(s)

Trevor Pinnock

The Glenn Gould School

Royal Academy of Music Soloists Ensemble

Partita No. 5 in G Major, BWV 829: V. Tempo di Minuetta

$2.30

Partita No. 5 in G Major, BWV 829: VI. Passepied

Composer(s)

Johann Sebastian Bach

Artist(s)

Trevor Pinnock

The Glenn Gould School

Royal Academy of Music Soloists Ensemble

Partita No. 5 in G Major, BWV 829: VI. Passepied

$2.30

Partita No. 5 in G Major, BWV 829: VII. Gigue

Composer(s)

Johann Sebastian Bach

Artist(s)

Trevor Pinnock

The Glenn Gould School

Royal Academy of Music Soloists Ensemble

Partita No. 5 in G Major, BWV 829: VII. Gigue

$2.30

Partita No. 6 in E Minor, BWV 830: III. Corrente

Composer(s)

Johann Sebastian Bach

Artist(s)

Trevor Pinnock

The Glenn Gould School

Royal Academy of Music Soloists Ensemble

Partita No. 6 in E Minor, BWV 830: III. Corrente

$2.30

Brook of Light

Composer(s)

Thomas Oehler

Artist(s)

Trevor Pinnock

The Glenn Gould School

Royal Academy of Music Soloists Ensemble

Brook of Light

$2.30
Total running time: 69 minutes.
Album information

Since 1822 the Royal Academy of Music has inspired generations of musicians to connect, collaborate and create. This recording of Bach Partitas continues this mission, reuniting renowned harpsichordist and conductor Trevor Pinnock with students from the Royal Academy of Music and The Glenn Gould School of The Royal Conservatory in Toronto.

Following the success of Goldberg Variations (arr. for small orchestra by Józef Koffler), the Principal of the Academy, Jonathan Freeman-Attwood commissioned 're-imaginings' of three of Bach's most celebrated keyboard Partitas for the same scoring, by alumnus composer Thomas Oehler. The creative challenge – to bring a fresh perspective to some of Bach's most elegant resourceful and refined keyboard writing – pays off in the hands of wonderfully talented musicians, and reveals how Oehler's faithful response to Bach's score allows the music to glow as brightly as ever.
Related Artists
Reviews