Filters
Beethoven, Bridge & Chin: To Be Loved
Beethoven, Bridge & Chin: To Be Loved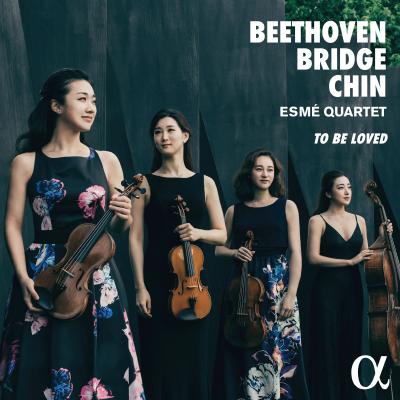 Inlay available for download
Booklet available for download
String Quartet No. 1, Op. 18 in F Major: I. Allegro con brio

Composer(s)

Ludwig Van Beethoven

String Quartet No. 1, Op. 18 in F Major: I. Allegro con brio

$3.40

String Quartet No. 1, Op. 18 in F Major: II. Adagio affettuoso ed appassionato

Composer(s)

Ludwig Van Beethoven

String Quartet No. 1, Op. 18 in F Major: II. Adagio affettuoso ed appassionato

$3.40

String Quartet No. 1, Op. 18 in F Major: III. Scherzo (Allegro molto)

Composer(s)

Ludwig Van Beethoven

String Quartet No. 1, Op. 18 in F Major: III. Scherzo (Allegro molto)

$2.30

String Quartet No. 1, Op. 18 in F Major: IV. Allegro

Composer(s)

Ludwig Van Beethoven

String Quartet No. 1, Op. 18 in F Major: IV. Allegro

$2.30

Parametastrings for String Quartet and Tape: I. Allegro

Parametastrings for String Quartet and Tape: I. Allegro

$2.30

Parametastrings for String Quartet and Tape: II. Andante

Parametastrings for String Quartet and Tape: II. Andante

$2.30

Parametastrings for String Quartet and Tape: III. Andantino

Parametastrings for String Quartet and Tape: III. Andantino

$2.30

Parametastrings for String Quartet and Tape: IV. Moderato - Allegro

Parametastrings for String Quartet and Tape: IV. Moderato - Allegro

$2.30

Novelletten, H. 44: I. Andante moderato

Novelletten, H. 44: I. Andante moderato

$2.30

Novelletten, H. 44: II. Presto (Allegretto)

Novelletten, H. 44: II. Presto (Allegretto)

$2.30

Novelletten, H. 44: III. Allegro vivo

Novelletten, H. 44: III. Allegro vivo

$2.30
Total running time: 62 minutes.
Album information

The prize-winning Esmé Quartet presents a programme that combines Beethoven's first string quartet and ParaMetaString, a quartet 'with magnetic tape' that the Kronos Quartet commissioned from the Esmé's compatriot Unsuk Chin in 1996.

The Esmé Quartet, consisting of four Korean women musicians, was founded in 2016 and is based in Germany. Its members have received guidance from Günter Pichler of the Alban Berg Quartett and Heime Müller of the Artemis Quartett, among others. In addition to winning the Prize of the Aix Festival Academy, they also received First Prize at the Wigmore Hall International String Quartet Competition in London.

Serving as a link between the two works (Beethoven's first string quartet and Chin's ParaMetaString) is the Novelletten by the English composer Frank Bridge (1904) which also rounds off an overview of some of the finest chamber music written over the past 200 years.

This recording was created in collaboration with the Academy of the Festival d'Aix-en-Provence as part of Alpha's commitment to support new talents.
Related Artists
Reviews