Filters
Beethoven: Piano Sonatas Opp. 106 & 111
Beethoven: Piano Sonatas Opp. 106 & 111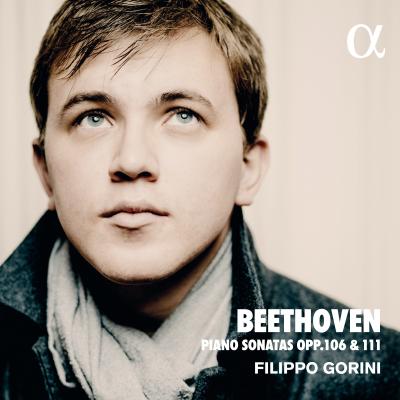 Inlay available for download
Booklet available for download
Piano Sonata No. 29 in B-Flat Major, Op. 106 "Hammerklavier": I. Allegro

Composer(s)

Ludwig Van Beethoven

Piano Sonata No. 29 in B-Flat Major, Op. 106 "Hammerklavier": I. Allegro

$3.40

Piano Sonata No. 29 in B-Flat Major, Op. 106 "Hammerklavier": II. Scherzo. Assai vivace

Composer(s)

Ludwig Van Beethoven

Piano Sonata No. 29 in B-Flat Major, Op. 106 "Hammerklavier": II. Scherzo. Assai vivace

$2.30

Piano Sonata No. 29 in B-Flat Major, Op. 106 "Hammerklavier": III. Adagio sostenuto

Composer(s)

Ludwig Van Beethoven

Piano Sonata No. 29 in B-Flat Major, Op. 106 "Hammerklavier": III. Adagio sostenuto

$7.00

Piano Sonata No. 29 in B-Flat Major, Op. 106 "Hammerklavier": IV. Introduzione. Largo

Composer(s)

Ludwig Van Beethoven

Piano Sonata No. 29 in B-Flat Major, Op. 106 "Hammerklavier": IV. Introduzione. Largo

$4.60

Piano Sonata No. 32 in C Minor, Op. 111: I. Maestoso - Allegro con brio ed appassionato

Composer(s)

Ludwig Van Beethoven

Piano Sonata No. 32 in C Minor, Op. 111: I. Maestoso - Allegro con brio ed appassionato

$3.40

Piano Sonata No. 32 in C Minor, Op. 111: II. Arieta. Adagio molto semplice cantabile

Composer(s)

Ludwig Van Beethoven

Piano Sonata No. 32 in C Minor, Op. 111: II. Arieta. Adagio molto semplice cantabile

$5.75
Total running time: 73 minutes.
Album information

After his debut recording of Beethoven was acclaimed by the critics, Filippo Gorini, a student of Alfred Brendel and winner of the First Prize and Audience Prize at the 2015 Beethoven Competition in Bonn, returns with two of the composer's piano sonatas.

Here Gorini tackles the perilous Sonata no. 29, known as the 'Hammerklavier', which the composer himself said would pose a challenge for future generations, along with Sonata no. 32, which according to Thomas Mann represents the supreme accomplishment of, and 'farewell' to, sonata form.
Related Artists
Reviews