Filters
Brahms: Piano Trios Vol. 1, Op. 36 & 87
Brahms: Piano Trios Vol. 1, Op. 36 & 87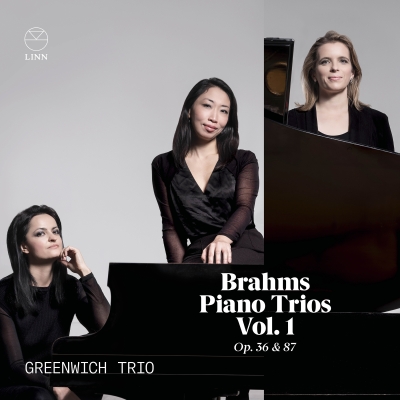 Inlay available for download
Booklet available for download
Piano Trio No. 2 in C Major, Op. 87: I. Allegro

Composer(s)

Johannes Brahms

Piano Trio No. 2 in C Major, Op. 87: I. Allegro

$3.40

Piano Trio No. 2 in C Major, Op. 87: II. Andante con moto

Composer(s)

Johannes Brahms

Piano Trio No. 2 in C Major, Op. 87: II. Andante con moto

$3.40

Piano Trio No. 2 in C Major, Op. 87: III. Scherzo. Presto

Composer(s)

Johannes Brahms

Piano Trio No. 2 in C Major, Op. 87: III. Scherzo. Presto

$2.30

Piano Trio No. 2 in C Major, Op. 87: IV. Finale. Allegro giocoso

Composer(s)

Johannes Brahms

Piano Trio No. 2 in C Major, Op. 87: IV. Finale. Allegro giocoso

$2.30

String Sextet No. 2 in G Major, Op. 36: I. Allegro non troppo

Composer(s)

Johannes Brahms

String Sextet No. 2 in G Major, Op. 36: I. Allegro non troppo

$4.60

String Sextet No. 2 in G Major, Op. 36: II. Scherzo. Allegro non troppo

Composer(s)

Johannes Brahms

String Sextet No. 2 in G Major, Op. 36: II. Scherzo. Allegro non troppo

$3.40

String Sextet No. 2 in G Major, Op. 36: III. Poco adagio

Composer(s)

Johannes Brahms

String Sextet No. 2 in G Major, Op. 36: III. Poco adagio

$3.40

String Sextet No. 2 in G Major, Op. 36: IV. Poco allegro

Composer(s)

Johannes Brahms

String Sextet No. 2 in G Major, Op. 36: IV. Poco allegro

$3.40
Total running time: 64 minutes.
Album information

The award-winning Greenwich Trio, comprising Slovenian violinist Lana Trotovšek, Canadian cellist Heather Tuach and Japanese pianist Yoko Misumi, makes its debut on Linn with a recording of Brahms Piano Trios. 

Pairing Op. 36 with Op. 87, this is the first instalment in a complete trios cycle. Although a string sextet in its original Brahmsian guise, Op. 36 was brilliantly arranged for piano trio by Theodor Kirchner, a contemporary and friend of Johannes. The second of Brahms's three trios, Op. 87 is a mature work which sees the composer at the height of his compositional writing. Its highly Romantic leaning combined with its Classical structure calls for the sort of sharp skills the Greenwich Trio has in abundance.

Having delighted audiences throughout Europe (Amsterdam's Concertgebouw, London's Kings Place, Rheingau Musik Festival, among others) this debut is eagerly-awaited.
Related Artists
Reviews