Filters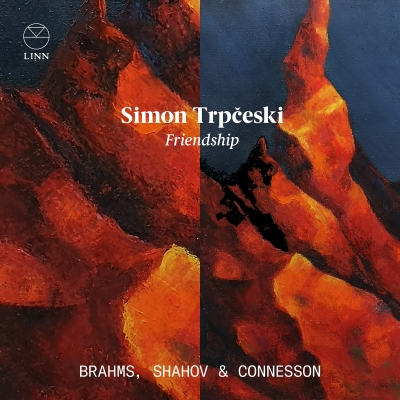 Inlay available for download
Booklet available for download
Piano Quartet No. 3 in C Minor, Op. 60: I. Allegro non troppo

Composer(s)

Johannes Brahms

Artist(s)

Alexander Somov

Gjorgi Dimchevski

Simon Trpčeski

Sorin Spasinovici

Piano Quartet No. 3 in C Minor, Op. 60: I. Allegro non troppo

$3.40

Piano Quartet No. 3 in C Minor, Op. 60: II. Scherzo. Allegro

Composer(s)

Johannes Brahms

Artist(s)

Alexander Somov

Gjorgi Dimchevski

Simon Trpčeski

Sorin Spasinovici

Piano Quartet No. 3 in C Minor, Op. 60: II. Scherzo. Allegro

$2.30

Piano Quartet No. 3 in C Minor, Op. 60: III. Andante

Composer(s)

Johannes Brahms

Artist(s)

Alexander Somov

Gjorgi Dimchevski

Simon Trpčeski

Sorin Spasinovici

Piano Quartet No. 3 in C Minor, Op. 60: III. Andante

$3.40

Piano Quartet No. 3 in C Minor, Op. 60: IV. Finale. Allegro comodo

Composer(s)

Johannes Brahms

Artist(s)

Alexander Somov

Gjorgi Dimchevski

Simon Trpčeski

Sorin Spasinovici

Piano Quartet No. 3 in C Minor, Op. 60: IV. Finale. Allegro comodo

$3.40

Quintet: I. A Play

Artist(s)

Hidan Mamudov

Alexander Somov

Simon Trpčeski

Vlatko Nushev

Gjorgi Dimchevski

Quintet: I. A Play

$2.30

Quintet: II. String of Beads

Artist(s)

Hidan Mamudov

Alexander Somov

Simon Trpčeski

Vlatko Nushev

Gjorgi Dimchevski

Quintet: II. String of Beads

$2.30

Quintet: III. Water Spring

Artist(s)

Hidan Mamudov

Alexander Somov

Simon Trpčeski

Vlatko Nushev

Gjorgi Dimchevski

Quintet: III. Water Spring

$2.30

Divertimento: I. Dynamique

Composer(s)

Guillaume Connesson

Artist(s)

Hidan Mamudov

Alexander Somov

Simon Trpčeski

Vlatko Nushev

Gjorgi Dimchevski

Divertimento: I. Dynamique

$2.30

Divertimento: II. Nocturne

Composer(s)

Guillaume Connesson

Artist(s)

Hidan Mamudov

Alexander Somov

Simon Trpčeski

Vlatko Nushev

Gjorgi Dimchevski

Divertimento: II. Nocturne

$2.30

Divertimento: III. Festif

Composer(s)

Guillaume Connesson

Artist(s)

Hidan Mamudov

Alexander Somov

Simon Trpčeski

Vlatko Nushev

Gjorgi Dimchevski

Divertimento: III. Festif

$2.30
Total running time: 57 minutes.
Album information

Pianist Simon Trpčeski's latest album Friendship is celebratory and open-hearted.

Friendship comes out of a strong sense of belief, stemming from his country's struggle throughout the age, his love for music, his faith in humanity's inner strength and, above all, his friends and colleagues who made this recording happen. Mirroring this confidence-embracing approach, the neatly curated repertoire includes Brahms's fiery Piano Quartet No. 3 in C minor, a work full of love, power and boldness. Connesson's jaw-dropping Divertimento is presented in a fantastic newly available arrangement by percussionist Vlatko Nushev. And sandwiched between the two, Pande Shahov's three-movement Quintet ends in a triumphant manner.

Simon Trpčeski is joined by his fellow MAKEDONISSIMO musicians Alexander Somov (cello), Hidan Mamudov (clarinet) and Vlatko Nushev (percussion), as well as Sorin Spasinovici (viola) and Gjorgi Dimchevski (violin).
Related Artists
Reviews