Filters
Brahms: Romanzen aus Magelone & Regenlied-Zyklus (Brahms Songbook, Vol. 1)
Brahms: Romanzen aus Magelone & Regenlied-Zyklus (Brahms Songbook, Vol. 1)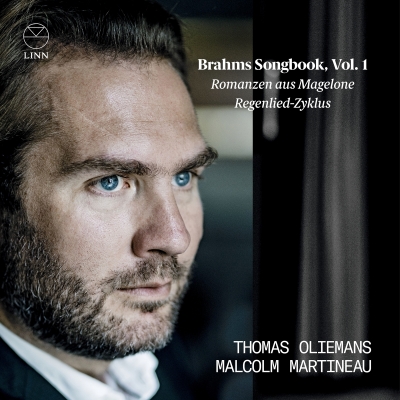 Inlay available for download
Booklet available for download
Romanzen aus L. Tieck's Magelone, Op. 33: No. 1, Keinen hat es noch gereut

Composer(s)

Johannes Brahms

Artist(s)

Thomas Oliemans

Malcolm Martineau

Romanzen aus L. Tieck's Magelone, Op. 33: No. 1, Keinen hat es noch gereut

$2.30

Romanzen aus L. Tieck's Magelone, Op. 33: No. 2, Traun! Bogen und Pfeil

Composer(s)

Johannes Brahms

Artist(s)

Thomas Oliemans

Malcolm Martineau

Romanzen aus L. Tieck's Magelone, Op. 33: No. 2, Traun! Bogen und Pfeil

$2.30

Romanzen aus L. Tieck's Magelone, Op. 33: No. 3, Sind es Schmerzen, sind es Freuden

Composer(s)

Johannes Brahms

Artist(s)

Thomas Oliemans

Malcolm Martineau

Romanzen aus L. Tieck's Magelone, Op. 33: No. 3, Sind es Schmerzen, sind es Freuden

$2.30

Romanzen aus L. Tieck's Magelone, Op. 33: No. 4, Liebe kam aus fernen Landen

Composer(s)

Johannes Brahms

Artist(s)

Thomas Oliemans

Malcolm Martineau

Romanzen aus L. Tieck's Magelone, Op. 33: No. 4, Liebe kam aus fernen Landen

$2.30

Romanzen aus L. Tieck's Magelone, Op. 33: No. 5, So willst du des Armen

Composer(s)

Johannes Brahms

Artist(s)

Thomas Oliemans

Malcolm Martineau

Romanzen aus L. Tieck's Magelone, Op. 33: No. 5, So willst du des Armen

$2.30

Romanzen aus L. Tieck's Magelone, Op. 33: No. 6, Wie soll ich die Freude

Composer(s)

Johannes Brahms

Artist(s)

Thomas Oliemans

Malcolm Martineau

Romanzen aus L. Tieck's Magelone, Op. 33: No. 6, Wie soll ich die Freude

$2.30

Romanzen aus L. Tieck's Magelone, Op. 33: No. 7, War es dir, dem diese Lippen bebten

Composer(s)

Johannes Brahms

Artist(s)

Thomas Oliemans

Malcolm Martineau

Romanzen aus L. Tieck's Magelone, Op. 33: No. 7, War es dir, dem diese Lippen bebten

$2.30

Romanzen aus L. Tieck's Magelone, Op. 33: No. 8, Wir müssen uns trennen

Composer(s)

Johannes Brahms

Artist(s)

Thomas Oliemans

Malcolm Martineau

Romanzen aus L. Tieck's Magelone, Op. 33: No. 8, Wir müssen uns trennen

$2.30

Romanzen aus L. Tieck's Magelone, Op. 33: No. 9, Ruhe, Süssliebchen

Composer(s)

Johannes Brahms

Artist(s)

Thomas Oliemans

Malcolm Martineau

Romanzen aus L. Tieck's Magelone, Op. 33: No. 9, Ruhe, Süssliebchen

$2.30

Romanzen aus L. Tieck's Magelone, Op. 33: No. 10, Verzweiflung "So tönet denn, schäumende Wellen"

Composer(s)

Johannes Brahms

Artist(s)

Thomas Oliemans

Malcolm Martineau

Romanzen aus L. Tieck's Magelone, Op. 33: No. 10, Verzweiflung "So tönet denn, schäumende Wellen"

$2.30

Romanzen aus L. Tieck's Magelone, Op. 33: No. 11, Wie schnell verschwindet

Composer(s)

Johannes Brahms

Artist(s)

Thomas Oliemans

Malcolm Martineau

Romanzen aus L. Tieck's Magelone, Op. 33: No. 11, Wie schnell verschwindet

$2.30

Romanzen aus L. Tieck's Magelone, Op. 33: No. 12, Muss es eine Trennung geben

Composer(s)

Johannes Brahms

Artist(s)

Thomas Oliemans

Malcolm Martineau

Romanzen aus L. Tieck's Magelone, Op. 33: No. 12, Muss es eine Trennung geben

$2.30

Romanzen aus L. Tieck's Magelone, Op. 33: No. 13, Sulima "Geliebter, wo zaudert"

Composer(s)

Johannes Brahms

Artist(s)

Thomas Oliemans

Malcolm Martineau

Romanzen aus L. Tieck's Magelone, Op. 33: No. 13, Sulima "Geliebter, wo zaudert"

$2.30

Romanzen aus L. Tieck's Magelone, Op. 33: No. 14, Wie froh und frisch

Composer(s)

Johannes Brahms

Artist(s)

Thomas Oliemans

Malcolm Martineau

Romanzen aus L. Tieck's Magelone, Op. 33: No. 14, Wie froh und frisch

$2.30

Romanzen aus L. Tieck's Magelone, Op. 33: No. 15, Treue Liebe dauert lange

Composer(s)

Johannes Brahms

Artist(s)

Thomas Oliemans

Malcolm Martineau

Romanzen aus L. Tieck's Magelone, Op. 33: No. 15, Treue Liebe dauert lange

$2.30

Vier Lieder nach Gedichten von Klaus Groth "Regenlied"-Zyklus: No. 1, Regenlied "Walle, Regen, walle nieder"

Composer(s)

Johannes Brahms

Artist(s)

Thomas Oliemans

Malcolm Martineau

Vier Lieder nach Gedichten von Klaus Groth "Regenlied"-Zyklus: No. 1, Regenlied "Walle, Regen, walle nieder"

$2.30

Vier Lieder nach Gedichten von Klaus Groth "Regenlied"-Zyklus: No. 2, Dein blaues Auge

Composer(s)

Johannes Brahms

Artist(s)

Thomas Oliemans

Malcolm Martineau

Vier Lieder nach Gedichten von Klaus Groth "Regenlied"-Zyklus: No. 2, Dein blaues Auge

$2.30

Vier Lieder nach Gedichten von Klaus Groth "Regenlied"-Zyklus: No. 3, Mein wundes Herz verlangt

Composer(s)

Johannes Brahms

Artist(s)

Thomas Oliemans

Malcolm Martineau

Vier Lieder nach Gedichten von Klaus Groth "Regenlied"-Zyklus: No. 3, Mein wundes Herz verlangt

$2.30

Vier Lieder nach Gedichten von Klaus Groth "Regenlied"-Zyklus: No. 4, Nachklang "Regentropfen aus den Bäumen"

Composer(s)

Johannes Brahms

Artist(s)

Thomas Oliemans

Malcolm Martineau

Vier Lieder nach Gedichten von Klaus Groth "Regenlied"-Zyklus: No. 4, Nachklang "Regentropfen aus den Bäumen"

$2.30
Total running time: 62 minutes.
Album information

Malcolm Martineau is the brilliant initiator of this new one-of-a-kind series on Linn. The Brahms Songbook has set the unprecedented goal to record Brahms's lieder by complete opus number. 

For its first instalment, Martineau has teamed up with famed Dutch baritone Thomas Oliemans in the expansive Romanzen aus Magelone, Op. 33. Composed between 1861 and 1869, the youthful, inevitably romantic fifteen-song cycle tells the story of a noble warrior, a Neapolitan princess and a sultan's daughter. The operatic-like cycle goes through the emotions of each character as the tale unfolds. Oliemans's busy stage career and 'communicative singing style' (The New York Times) make him the perfect fit. The album concludes with the virtually unknown 'Regenlied' cycle: four songs that were later included in Acht Lieder und Gesänge, Op. 59. Volume 2 will see Dame Sarah Connolly and Hanno Müller-Brachmann share the bill.
Related Artists
Reviews