Filters
Buxtehude: Trio Sonatas, Op. 1
Buxtehude: Trio Sonatas, Op. 1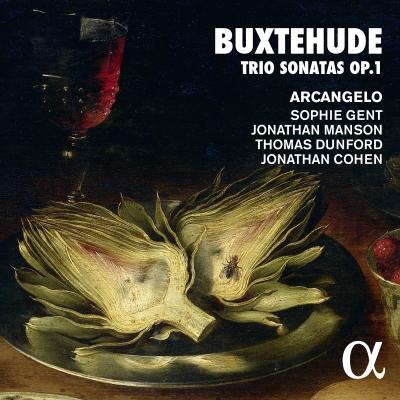 Inlay available for download
Booklet available for download
Trio Sonata in F Major, BuxWV 252

Composer(s)

Dietrich Buxtehude

Artist(s)

Jonathan Cohen

Arcangelo

Trio Sonata in F Major, BuxWV 252

$3.40

Trio Sonata in G Major, BuxWV 253

Composer(s)

Dietrich Buxtehude

Artist(s)

Jonathan Cohen

Arcangelo

Trio Sonata in G Major, BuxWV 253

$3.40

Trio Sonata in A Minor, BuxWV 254

Composer(s)

Dietrich Buxtehude

Artist(s)

Jonathan Cohen

Arcangelo

Trio Sonata in A Minor, BuxWV 254

$3.40

Trio Sonata in B-Flat Major, BuxWV 255

Composer(s)

Dietrich Buxtehude

Artist(s)

Jonathan Cohen

Arcangelo

Trio Sonata in B-Flat Major, BuxWV 255

$3.40

Trio Sonata in C Major, BuxWV 256

Composer(s)

Dietrich Buxtehude

Artist(s)

Jonathan Cohen

Arcangelo

Trio Sonata in C Major, BuxWV 256

$3.40

Trio Sonata in D Minor, BuxWV 257

Composer(s)

Dietrich Buxtehude

Artist(s)

Jonathan Cohen

Arcangelo

Trio Sonata in D Minor, BuxWV 257

$3.40

Trio Sonata in E Minor, BuxWV 258

Composer(s)

Dietrich Buxtehude

Artist(s)

Jonathan Cohen

Arcangelo

Trio Sonata in E Minor, BuxWV 258

$3.40
Total running time: 59 minutes.



Album information

For this recording of music by Buxtehude, Jonathan Cohen, founder of the ensemble Arcangelo, is joined by a distinguished trio: Sophie Gent, Thomas Dunford and Jonathan Manson. This album was nominated for a 2018 Grammy Award.

Although Dietrich Buxtehude is famous above all for his organ music and cantatas, and for the long journey the young Bach undertook to meet him, his chamber music is virtually unknown. In the mid-1690s, at the height of his fame, Buxtehude published two collections in rapid succession, each comprising seven sonatas for violin, viola da gamba and basso continuo. It is the works of the first collection (1694) – designated Opus 1 in the print – that Arcangelo has recorded here. These sonatas are characterised by pronounced experimental features in both the scoring and the handling of the instruments.
Related Artists
Reviews