Filters
Buxtehude: Trio Sonatas Op. 2
Buxtehude: Trio Sonatas Op. 2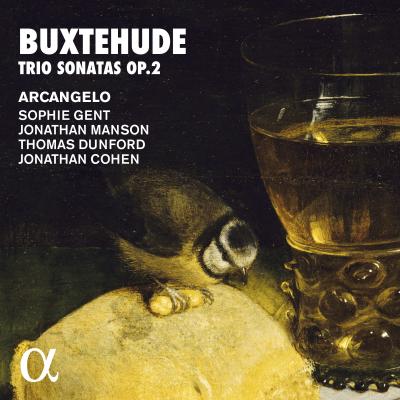 Inlay available for download
Booklet available for download
Trio Sonata in B-Flat Major, BUXWV 259

Composer(s)

Dietrich Buxtehude

Artist(s)

Jonathan Cohen

Arcangelo

Trio Sonata in B-Flat Major, BUXWV 259

$3.40

Trio Sonata in D Major, BUXWV 260

Composer(s)

Dietrich Buxtehude

Artist(s)

Jonathan Cohen

Arcangelo

Trio Sonata in D Major, BUXWV 260

$4.60

Trio Sonata in G Minor, BUXWV 261

Composer(s)

Dietrich Buxtehude

Artist(s)

Jonathan Cohen

Arcangelo

Trio Sonata in G Minor, BUXWV 261

$4.60

Trio Sonata in C Minor, BUXWV 262

Composer(s)

Dietrich Buxtehude

Artist(s)

Jonathan Cohen

Arcangelo

Trio Sonata in C Minor, BUXWV 262

$3.40

Trio Sonata in A Major, BUXWV 263

Composer(s)

Dietrich Buxtehude

Artist(s)

Jonathan Cohen

Arcangelo

Trio Sonata in A Major, BUXWV 263

$3.40

Trio Sonata in E Major, BUXWV 264

Composer(s)

Dietrich Buxtehude

Artist(s)

Jonathan Cohen

Arcangelo

Trio Sonata in E Major, BUXWV 264

$3.40

Trio Sonata in F Major, BUXWV 265

Composer(s)

Dietrich Buxtehude

Artist(s)

Jonathan Cohen

Arcangelo

Trio Sonata in F Major, BUXWV 265

$3.40
Total running time: 71 minutes.


Album information

Arcangelo presents its second instalment of trios by Dietrich Buxtehude, the follow up to its critically acclaimed Op. 1 recording. 

The sonata concertata form is perfectly illustrated in these trios by Dietrich Buxtehude which, according to Peter Wollny constitute 'a landmark in the history of the sonata'. They provide a better understanding of a composer who has owed his fame chiefly associated to his cantatas and organ works, and to the admiration of the young Johann Sebastian Bach, who walked 400 kilometres to hear him play.

After recording Buxtehude's first set of chamber sonatas (ALPHA367), the musicians of Arcangelo (Sophie Gent, Jonathan Manson, Thomas Dunford and Jonathan Cohen) now revive the pieces from the second collection, published in 1696. It shows the multiple European influences (Baltic, Italian, German, French) that flourished in Lübeck, the north German city where Buxtehude worked as organist of the Marienkirche, but also in Hamburg, where the music was type set.
Related Artists
Reviews