Filters
Chopin: 4 Ballades & 4 Impromptus
Chopin: 4 Ballades & 4 Impromptus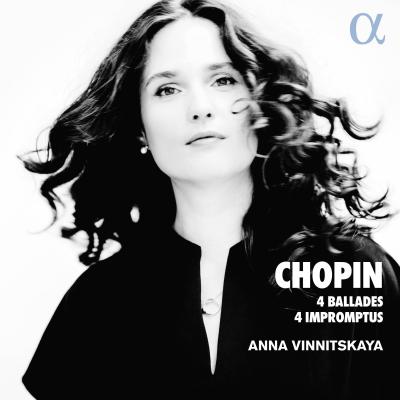 Inlay available for download
Booklet available for download
Ballade No.1 in G Minor, Op. 23

Composer(s)

Frédéric Chopin

Artist(s)

Anna Vinnitskaya

Ballade No.1 in G Minor, Op. 23

$3.40

Ballade No.2 in F Major, Op. 38

Composer(s)

Frédéric Chopin

Artist(s)

Anna Vinnitskaya

Ballade No.2 in F Major, Op. 38

$3.40

Ballade No.3 in A-Flat Major, Op. 47

Composer(s)

Frédéric Chopin

Artist(s)

Anna Vinnitskaya

Ballade No.3 in A-Flat Major, Op. 47

$3.40

Ballade No.4 in F Minor, Op. 52

Composer(s)

Frédéric Chopin

Artist(s)

Anna Vinnitskaya

Ballade No.4 in F Minor, Op. 52

$4.60

Impromptu No.1 in A-Flat Major, Op. 29

Composer(s)

Frédéric Chopin

Artist(s)

Anna Vinnitskaya

Impromptu No.1 in A-Flat Major, Op. 29

$2.30

Impromptu No.2 in F-Sharp Major, Op. 36

Composer(s)

Frédéric Chopin

Artist(s)

Anna Vinnitskaya

Impromptu No.2 in F-Sharp Major, Op. 36

$2.30

Impromptu No.3 in G-Flat Major, Op. 51

Composer(s)

Frédéric Chopin

Artist(s)

Anna Vinnitskaya

Impromptu No.3 in G-Flat Major, Op. 51

$2.30

Fantaisie-impromptu in C-Sharp Minor, Op. 66

Composer(s)

Frédéric Chopin

Artist(s)

Anna Vinnitskaya

Fantaisie-impromptu in C-Sharp Minor, Op. 66

$2.30
Total running time: 57 minutes.
Album information

Anna Vinnitskaya adds to her award-winning discography with her first Chopin recording, which couples the four Ballades with the four Impromptus. 

The pianist Anna Vinnitskaya has built up an impressive discography since her victory at the Queen Elisabeth Competition in 2007: Bach, Brahms, Ravel, and of course the Russian composers with whom she has been familiar since her childhood in Novorossiysk, then her studies with Evgeni Koroliov. 

The Russian pianist has won praise for her immaculate technique and abundant musicality, qualities in evidence on this captivating performance. This recording couples the four Ballades, a cross between the miniature and the sonata, with the four Impromptus Chopin composed at different periods of his life, between 1835 and 1842. 
Related Artists
Reviews