Filters
Artist
Petter Udland Johansen
Hirundo Maris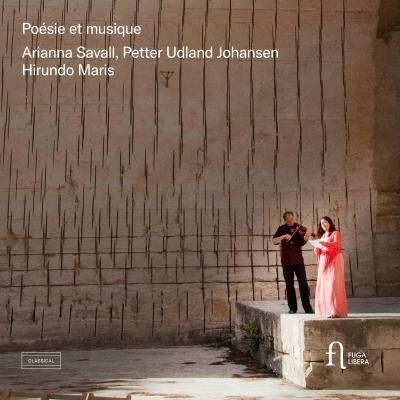 Inlay available for download
Booklet available for download
Café de chinitas

Composer(s)

Federico García Lorca

Artist(s)

Hirundo Maris

Petter Udland Johansen

Café de chinitas

$2.30

Tres morillas

Composer(s)

Federico García Lorca

Artist(s)

Hirundo Maris

Petter Udland Johansen

Tres morillas

$2.30

Les Roses XVII

Composer(s)

Arianna Savall

Artist(s)

Hirundo Maris

Petter Udland Johansen

Les Roses XVII

$2.30

Ophelia's Song

Composer(s)

Elizabeth Maconchy

Artist(s)

Arianna Savall

Hirundo Maris

Ophelia's Song

$2.30

Pamietam ciche, jasne, złote dnie…

Composer(s)

Mieczysław Karłowicz

Artist(s)

Arianna Savall

Hirundo Maris

Pamietam ciche, jasne, złote dnie…

$2.30

Polish Songs, Op. 74: Życyenie

Composer(s)

Frédéric Chopin

Polish Songs, Op. 74: Życyenie

$2.30

4 Duets, Op. 78: I. Tanzlied

Composer(s)

Robert Schumann

Artist(s)

Arianna Savall

Hirundo Maris

Petter Udland Johansen

4 Duets, Op. 78: I. Tanzlied

$2.30

4 Duets, Op. 78: III. Ich denke dein

Composer(s)

Robert Schumann

Artist(s)

Arianna Savall

Hirundo Maris

Petter Udland Johansen

4 Duets, Op. 78: III. Ich denke dein

$2.30

12 Songs, Op. 33: V. Langs ei å

Artist(s)

Hirundo Maris

Petter Udland Johansen

12 Songs, Op. 33: V. Langs ei å

$2.30

Peer Gynt, Op. 23: Solveigs sang

Artist(s)

Arianna Savall

Hirundo Maris

Peer Gynt, Op. 23: Solveigs sang

$2.30

5 Songs, Op. 70: III. Lys nat

Artist(s)

Hirundo Maris

Petter Udland Johansen

5 Songs, Op. 70: III. Lys nat

$2.30

12 Songs, Op. 33: XII. Fyremål

Artist(s)

Hirundo Maris

Petter Udland Johansen

12 Songs, Op. 33: XII. Fyremål

$2.30

Damunt de tu

Composer(s)

Federico Mompou

Artist(s)

Arianna Savall

Hirundo Maris

Damunt de tu

$2.30

Jo et pressentia

Composer(s)

Federico Mompou

Artist(s)

Arianna Savall

Hirundo Maris

Jo et pressentia

$2.30

2 Duos, Op. 11: I. La nuit

Composer(s)

Ernest Chausson

Artist(s)

Arianna Savall

Hirundo Maris

Petter Udland Johansen

2 Duos, Op. 11: I. La nuit

$2.30

Maig

Composer(s)

Eduard Toldrà

Artist(s)

Arianna Savall

Hirundo Maris

Maig

$2.30

Avril

Composer(s)

Eduard Toldrà

Artist(s)

Arianna Savall

Hirundo Maris

Avril

$2.30

4 Lieder, Op. 27: IV. Morgen!

Composer(s)

Richard Strauss

Artist(s)

Hirundo Maris

Petter Udland Johansen

4 Lieder, Op. 27: IV. Morgen!

$2.30

Die Nacht, D.deest

Composer(s)

Franz Schubert

Artist(s)

Arianna Savall

Hirundo Maris

Petter Udland Johansen

Die Nacht, D.deest

$2.30

Der Wanderer, D. 489

Composer(s)

Franz Schubert

Artist(s)

Hirundo Maris

Petter Udland Johansen

Der Wanderer, D. 489

$2.30

Nacht und Träume, D. 827

Composer(s)

Franz Schubert

Artist(s)

Arianna Savall

Hirundo Maris

Nacht und Träume, D. 827

$2.30

Dirait-on

Composer(s)

Morten Lauridsen

Artist(s)

Arianna Savall

Hirundo Maris

Petter Udland Johansen

Dirait-on

$2.30
Total running time: 70 minutes.
Album information

Embark on a journey from the sunny Mediterranean to frosty Scandinavia with a new project which is devoted to a great and wonderful song tradition: the nineteenth- and twentieth-century art song. 

Hirundo Maris has constantly explored new musical worlds and forms of expression since it was founded in 2009. They are now taking a completely different path with this new project for the label Fuga Libera. Under the direction of Arianna Savall and Petter Udland Johansen, who share a love of poetry and music, Hirundo Maris perform Schubert, Schumann, Brahms, Fauré, Debussy, Mompou, Toldrà, García Lorca, de Falla and Grieg, all of whom were so significant for this chamber music genre. 

"The love of poetry and music that we (Arianna Savall and Petter Udland Johansen) share is something that we invariably explore in all our projects with Hirundo Maris. It was very important for us to do this in our own personal way, and to bring to the music our own personal sound and love. That is why we arranged all of the music anew so that it would integrate with the musical universe of Hirundo Maris. You will hear a great love and respect for this music made by these fantastic composers in the spirit of Hirundo Maris, with music coming from the sunny Mediterranean and reaching to frosty Scandinavia."
Related Artists