Filters
Chopin: Polonaise, Berceuse, Barcarolle & 24 preludes
Chopin: Polonaise, Berceuse, Barcarolle & 24 preludes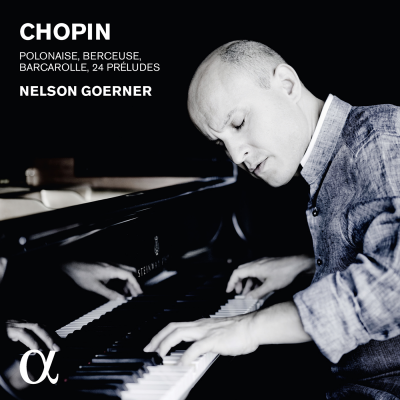 Booklet available for download
Polonaise in F-Sharp Minor, Op. 44

Composer(s)

Frederic Chopin

Polonaise in F-Sharp Minor, Op. 44

$3.40

Berceuse in D-Flat Minor, Op. 57

Composer(s)

Frederic Chopin

Berceuse in D-Flat Minor, Op. 57

$2.30

Barcarolle in F-Sharp Major, Op. 60

Composer(s)

Frederic Chopin

Barcarolle in F-Sharp Major, Op. 60

$3.40

24 preludes, Op. 28: No. 1 in C Major (Agitato)

Composer(s)

Frederic Chopin

24 preludes, Op. 28: No. 1 in C Major (Agitato)

$2.30

24 preludes, Op. 28: No. 2 in A Minor (Lento)

Composer(s)

Frederic Chopin

24 preludes, Op. 28: No. 2 in A Minor (Lento)

$2.30

24 preludes, Op. 28: No. 3 in G Major (Vivace)

Composer(s)

Frederic Chopin

24 preludes, Op. 28: No. 3 in G Major (Vivace)

$2.30

24 preludes, Op. 28: No. 4 in E Minor (Largo)

Composer(s)

Frederic Chopin

24 preludes, Op. 28: No. 4 in E Minor (Largo)

$2.30

24 preludes, Op. 28: No. 5 in D Major (Allegro molto)

Composer(s)

Frederic Chopin

24 preludes, Op. 28: No. 5 in D Major (Allegro molto)

$2.30

24 preludes, Op. 28: No. 6 in B Minor (Lento assai)

Composer(s)

Frederic Chopin

24 preludes, Op. 28: No. 6 in B Minor (Lento assai)

$2.30

24 preludes, Op. 28: No. 7 in A Major (Andantino)

Composer(s)

Frederic Chopin

24 preludes, Op. 28: No. 7 in A Major (Andantino)

$2.30

24 preludes, Op. 28: No. 8 in F-Sharp Minor (Molto agitato)

Composer(s)

Frederic Chopin

24 preludes, Op. 28: No. 8 in F-Sharp Minor (Molto agitato)

$2.30

24 preludes, Op. 28: No. 9 in E Major (Largo)

Composer(s)

Frederic Chopin

24 preludes, Op. 28: No. 9 in E Major (Largo)

$2.30

24 preludes, Op. 28: No. 10 in C-Sharp Minor (Allegro molto)

Composer(s)

Frederic Chopin

24 preludes, Op. 28: No. 10 in C-Sharp Minor (Allegro molto)

$2.30

24 preludes, Op. 28: No. 11 in B Major (Vivace)

Composer(s)

Frederic Chopin

24 preludes, Op. 28: No. 11 in B Major (Vivace)

$2.30

24 preludes, Op. 28: No. 12 in G-Sharp Minor (Presto)

Composer(s)

Frederic Chopin

24 preludes, Op. 28: No. 12 in G-Sharp Minor (Presto)

$2.30

24 preludes, Op. 28: No. 13 in F-Sharp Major (Lento)

Composer(s)

Frederic Chopin

24 preludes, Op. 28: No. 13 in F-Sharp Major (Lento)

$2.30

24 preludes, Op. 28: No. 14 in E-Flat Minor (Allegro)

Composer(s)

Frederic Chopin

24 preludes, Op. 28: No. 14 in E-Flat Minor (Allegro)

$2.30

24 preludes, Op. 28: No. 15 in D-Flat Major (Sostenuto)

Composer(s)

Frederic Chopin

24 preludes, Op. 28: No. 15 in D-Flat Major (Sostenuto)

$2.30

24 preludes, Op. 28: No. 16 in B-Flat Minor (Presto con fuoco)

Composer(s)

Frederic Chopin

24 preludes, Op. 28: No. 16 in B-Flat Minor (Presto con fuoco)

$2.30

24 preludes, Op. 28: No. 17 in A-Flat Major (Allegretto)

Composer(s)

Frederic Chopin

24 preludes, Op. 28: No. 17 in A-Flat Major (Allegretto)

$2.30

24 preludes, Op. 28: No. 18 in F Minor (Allegro molto)

Composer(s)

Frederic Chopin

24 preludes, Op. 28: No. 18 in F Minor (Allegro molto)

$2.30

24 preludes, Op. 28: No. 19 in E-Flat Major (Vivace)

Composer(s)

Frederic Chopin

24 preludes, Op. 28: No. 19 in E-Flat Major (Vivace)

$2.30

24 preludes, Op. 28: No. 20 in C Minor (Largo)

Composer(s)

Frederic Chopin

24 preludes, Op. 28: No. 20 in C Minor (Largo)

$2.30

24 preludes, Op. 28: No. 21 in B-Flat Major (Cantabile)

Composer(s)

Frederic Chopin

24 preludes, Op. 28: No. 21 in B-Flat Major (Cantabile)

$2.30

24 preludes, Op. 28: No. 22 in G Minor (Molto agitato)

Composer(s)

Frederic Chopin

24 preludes, Op. 28: No. 22 in G Minor (Molto agitato)

$2.30

24 preludes, Op. 28: No. 23 in F Major (Moderato)

Composer(s)

Frederic Chopin

24 preludes, Op. 28: No. 23 in F Major (Moderato)

$2.30

24 preludes, Op. 28: No. 24 in D Minor (Allegro appassionato)

Composer(s)

Frederic Chopin

24 preludes, Op. 28: No. 24 in D Minor (Allegro appassionato)

$2.30
Total running time: 58 minutes.




Album information

After Debussy and Schumann, Nelson Goerner comes back to the composer who revealed him to the great audience of recorded music: Chopin.

His first Chopin recordings won him high praise and countless distinctions (3 Diapasons d'Or!): 'Everything he touches seems «right»' wrote Gramophone in a recent issue.

Nicknamed 'the great poet of the piano', he now attacks Chopin's 24 Préludes, which he chose to record live, in a single go, in Poland where he is particularly appreciated and considered an essential pillar of the Chopin Institute.

As a complement, Nelson Goerner opts for the Barcarolle Op. 60, the Polonaise Op. 44 and the Berceuse op.57.
Related Artists
Reviews