Filters
Debussy: La mer & Ariettes oubliées
Debussy: La mer & Ariettes oubliées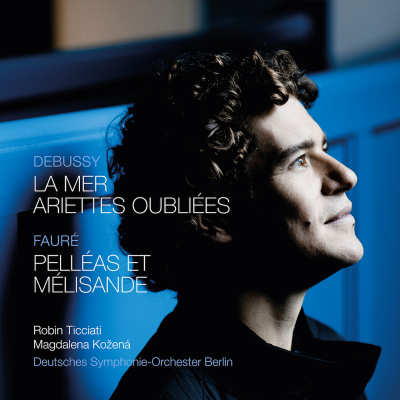 Inlay available for download
Booklet available for download
Prelude to Penelope

Composer(s)

Gabriel Faure

Artist(s)

Robin Ticciati

Deutsches Symphonie-Orchester Berlin

Prelude to Penelope

$3.40

Pelleas et Melisande: Prelude

Composer(s)

Gabriel Faure

Artist(s)

Robin Ticciati

Deutsches Symphonie-Orchester Berlin

Pelleas et Melisande: Prelude

$2.30

Pelleas et Melisande: Fileuse

Composer(s)

Gabriel Faure

Artist(s)

Robin Ticciati

Deutsches Symphonie-Orchester Berlin

Pelleas et Melisande: Fileuse

$2.30

Pelleas et Melisande: Sicilienne

Composer(s)

Gabriel Faure

Artist(s)

Robin Ticciati

Deutsches Symphonie-Orchester Berlin

Pelleas et Melisande: Sicilienne

$2.30

Pelleas et Melisande: Mort de Melisande

Composer(s)

Gabriel Faure

Artist(s)

Robin Ticciati

Deutsches Symphonie-Orchester Berlin

Pelleas et Melisande: Mort de Melisande

$2.30

Ariettes oubliees: I. C'est l'extase langoureuse

Composer(s)

Claude Debussy

Artist(s)

Robin Ticciati

Magdalena Kožená

Deutsches Symphonie-Orchester Berlin

Ariettes oubliees: I. C'est l'extase langoureuse

$2.30

Ariettes oubliees: II. Il pleure dans mon coeur

Composer(s)

Claude Debussy

Artist(s)

Robin Ticciati

Magdalena Kožená

Deutsches Symphonie-Orchester Berlin

Ariettes oubliees: II. Il pleure dans mon coeur

$2.30

Ariettes oubliees: III. L'ombre des arbres

Composer(s)

Claude Debussy

Artist(s)

Robin Ticciati

Magdalena Kožená

Deutsches Symphonie-Orchester Berlin

Ariettes oubliees: III. L'ombre des arbres

$2.30

Ariettes oubliees: IV. Chevaux de bois

Composer(s)

Claude Debussy

Artist(s)

Robin Ticciati

Magdalena Kožená

Deutsches Symphonie-Orchester Berlin

Ariettes oubliees: IV. Chevaux de bois

$2.30

Ariettes oubliees: V. Green

Composer(s)

Claude Debussy

Artist(s)

Robin Ticciati

Magdalena Kožená

Deutsches Symphonie-Orchester Berlin

Ariettes oubliees: V. Green

$2.30

Ariettes oubliees: VI. Spleen

Composer(s)

Claude Debussy

Artist(s)

Robin Ticciati

Magdalena Kožená

Deutsches Symphonie-Orchester Berlin

Ariettes oubliees: VI. Spleen

$2.30

La mer: De l'aube a midi sur la mer

Composer(s)

Claude Debussy

Artist(s)

Robin Ticciati

Deutsches Symphonie-Orchester Berlin

La mer: De l'aube a midi sur la mer

$3.40

La mer: Jeux de vagues

Composer(s)

Claude Debussy

Artist(s)

Robin Ticciati

Deutsches Symphonie-Orchester Berlin

La mer: Jeux de vagues

$3.40

La mer: Dialogue du vent et de la mer

Composer(s)

Claude Debussy

Artist(s)

Robin Ticciati

Deutsches Symphonie-Orchester Berlin

La mer: Dialogue du vent et de la mer

$3.40
Total running time: 68 minutes.
Album information

Robin Ticciati and the DSO present Debussy's La mer, Fauré's Pelléas et Mélisande and the premiere recording of composer Brett Dean's arrangements of Debussy's Ariettes oubliées featuring Magdalena Kožená.

Following his DSO debut Ticciati chose La mer to perform when he returned as the newly announced Principal Conductor in 2016. Ticciati has conducted La mer and Pelléas et Mélisande across Europe with the LPO, Concertgebouw Orchestra and the Budapest Festival Orchestra receiving excellent reviews.

Brett Dean's orchestration of the Ariettes premiered in Sydney in 2015 and at once displayed Debussy's music in a new light. Dean's new arrangements expand on the colours heard in Debussy's original six songs applying unbelievably delicate orchestration that sounds like gossamer; The Daily Telegraph declared it 'a revelation'.

The all-French programme also includes the prelude to Fauré's opera Pénélope and his orchestral suite Pelléas et Mélisande in a perfectly judged recording which augurs well for this exciting new partnership.
Related Artists
Reviews