Filters
Franz Lehár: Love was a Dream
Franz Lehár: Love was a Dream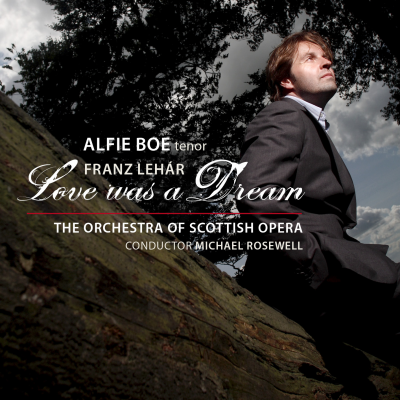 Inlay available for download
Booklet available for download
Just believe it's true (Schon ist die Welt)

Artist(s)

Michael Rosewell

Alfie Boe - tenor

The Orchestra of Scottish Opera

Just believe it's true (Schon ist die Welt)

$2.30

Vilia (The Merry Widow)

Artist(s)

Michael Rosewell

Alfie Boe - tenor

The Orchestra of Scottish Opera

Vilia (The Merry Widow)

$2.30

Girls were made to love and kiss (Paganini)

Artist(s)

Michael Rosewell

Alfie Boe - tenor

The Orchestra of Scottish Opera

Girls were made to love and kiss (Paganini)

$2.30

Oh maiden, my maiden (Frederica)

Artist(s)

Michael Rosewell

Alfie Boe - tenor

The Orchestra of Scottish Opera

Oh maiden, my maiden (Frederica)

$2.30

You are my heart's delight (The Land of Smiles)

Artist(s)

Michael Rosewell

Alfie Boe - tenor

The Orchestra of Scottish Opera

You are my heart's delight (The Land of Smiles)

$2.30

Love was a dream (Giuditta)

Artist(s)

Michael Rosewell

Alfie Boe - tenor

The Orchestra of Scottish Opera

Love was a dream (Giuditta)

$2.30

Beautiful Italy (Paganini)

Artist(s)

Michael Rosewell

Alfie Boe - tenor

The Orchestra of Scottish Opera

Beautiful Italy (Paganini)

$2.30

Patiently Smiling (The Land of Smiles)

Artist(s)

Michael Rosewell

Alfie Boe - tenor

The Orchestra of Scottish Opera

Patiently Smiling (The Land of Smiles)

$2.30

Love unspoken (The Merry Widow)

Artist(s)

Michael Rosewell

Alfie Boe - tenor

The Orchestra of Scottish Opera

Love unspoken (The Merry Widow)

$2.30

Friends, this is the life for me! (Giuditta)

Artist(s)

Michael Rosewell

Alfie Boe - tenor

The Orchestra of Scottish Opera

Friends, this is the life for me! (Giuditta)

$2.30

Beneath the window (The Land of Smiles)

Artist(s)

Michael Rosewell

Alfie Boe - tenor

The Orchestra of Scottish Opera

Beneath the window (The Land of Smiles)

$2.30

Farewell, my love, farewell (Frasquita)

Artist(s)

Michael Rosewell

Alfie Boe - tenor

The Orchestra of Scottish Opera

Farewell, my love, farewell (Frasquita)

$2.30
Total running time: 43 minutes.
Album information

Alfie brings his trademark charm to the songs of Léhar, performing with the Scottish Opera Orchestra.

The award-winning star of the ENO and Covent Garden, Alfie Boe, has signed with Linn Records to record his labour of love; an album of Franz Lehár songs inspired by the recordings of Richard Tauber, his father's favourite singer.

Franz Lehár (1870 - 1948) wrote some of the most instantly recognisable and beautiful music in 20th century operetta producing songs that are charmingly lyrical and incredibly melodic. Growing up listening to Richard Tauber Alfie discovered less frequently recorded repertoire full of Lehár's trademark drama and romance, included here alongside songs from the famously popular Merry Widow.

Alfie recorded "Franz Lehár" 'at Glasgow's Royal Concert Hall with the respected Orchestra of Scottish Opera and conductor Michael Rosewell, resulting in a delightfully live, cohesive sound.
Related Artists
Reviews