Filters
Handel: Messiah (Dublin Version, 1742)
Handel: Messiah (Dublin Version, 1742)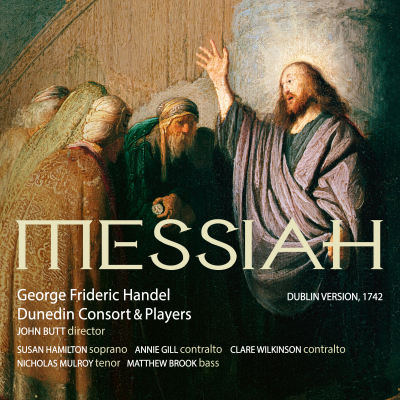 Inlay available for download
Booklet available for download
Sinfonia

Composer(s)

George Frideric Handel

Sinfonia

$2.30

Recit: Comfort ye

Composer(s)

George Frideric Handel

Artist(s)

John Butt

Nicholas Mulroy (tenor)

Recit: Comfort ye

$2.30

Air: Every valley shall be exalted

Composer(s)

George Frideric Handel

Artist(s)

John Butt

Nicholas Mulroy (tenor)

Air: Every valley shall be exalted

$2.30

Chorus: And the Glory of the Lord

Composer(s)

George Frideric Handel

Chorus: And the Glory of the Lord

$2.30

Recit: Thus saith the Lord

Composer(s)

George Frideric Handel

Artist(s)

John Butt

Matthew Brook (bass)

Recit: Thus saith the Lord

$2.30

Air: But who may abide

Composer(s)

George Frideric Handel

Artist(s)

John Butt

Matthew Brook (bass)

Air: But who may abide

$2.30

Chorus: And he shall purify

Composer(s)

George Frideric Handel

Chorus: And he shall purify

$2.30

Recit: Behold a virgin shall conceive

Composer(s)

George Frideric Handel

Artist(s)

John Butt

Annie Gill (mezzo soprano)

Recit: Behold a virgin shall conceive

$2.30

Air: O thou that tellest good tidings

Composer(s)

George Frideric Handel

Air: O thou that tellest good tidings

$2.30

Chorus: O thou that tellest good tidings

Composer(s)

George Frideric Handel

Chorus: O thou that tellest good tidings

$2.30

Recit: For behold!

Composer(s)

George Frideric Handel

Artist(s)

John Butt

Matthew Brook (bass)

Recit: For behold!

$2.30

Air: The people that walked in darkness

Composer(s)

George Frideric Handel

Artist(s)

John Butt

Matthew Brook (bass)

Air: The people that walked in darkness

$2.30

Chorus: For unto us a child is born

Composer(s)

George Frideric Handel

Chorus: For unto us a child is born

$2.30

Pifa (Pastoral Symphony)

Composer(s)

George Frideric Handel

Pifa (Pastoral Symphony)

$2.30

Recit: There were shepherds

Composer(s)

George Frideric Handel

Artist(s)

John Butt

Susan Hamilton (soprano)

Recit: There were shepherds

$2.30

Recit: And lo!

Composer(s)

George Frideric Handel

Artist(s)

John Butt

Susan Hamilton (soprano)

Recit: And lo!

$2.30

Recit: And the angel said unto them

Composer(s)

George Frideric Handel

Artist(s)

John Butt

Susan Hamilton (soprano)

Recit: And the angel said unto them

$2.30

Recit: And suddenly

Composer(s)

George Frideric Handel

Artist(s)

John Butt

Susan Hamilton (soprano)

Recit: And suddenly

$2.30

Chorus: Glory to God

Composer(s)

George Frideric Handel

Chorus: Glory to God

$2.30

Air: Rejoice greatly

Composer(s)

George Frideric Handel

Artist(s)

John Butt

Susan Hamilton (soprano)

Air: Rejoice greatly

$2.30

Recit: Then shall the eyes of the blind

Composer(s)

George Frideric Handel

Artist(s)

John Butt

Clare Wilkinson (alto)

Recit: Then shall the eyes of the blind

$2.30

Air: He shall feed his flock

Composer(s)

George Frideric Handel

Artist(s)

John Butt

Clare Wilkinson (alto)

Air: He shall feed his flock

$2.30

Chorus: His yoke is easy

Composer(s)

George Frideric Handel

Chorus: His yoke is easy

$2.30

Chorus: Behold the lamb of God

Composer(s)

George Frideric Handel

Chorus: Behold the lamb of God

$2.30

Air: He was despised

Composer(s)

George Frideric Handel

Artist(s)

John Butt

Clare Wilkinson (alto)

Air: He was despised

$4.60

Chorus: Surely

Composer(s)

George Frideric Handel

Chorus: Surely

$2.30

(and with his stripes)

Composer(s)

George Frideric Handel

(and with his stripes)

$2.30

Chorus: All we like sheep

Composer(s)

George Frideric Handel

Chorus: All we like sheep

$2.30

Recit: But Who may abide

Composer(s)

George Frideric Handel

Recit: But Who may abide

$2.30

Recit accomp: All they that see him

Composer(s)

George Frideric Handel

Artist(s)

John Butt

Nicholas Mulroy (tenor)

Recit accomp: All they that see him

$2.30

Chorus: He trusted in God

Composer(s)

George Frideric Handel

Chorus: He trusted in God

$2.30

Recit accomp: Thy rebuke

Composer(s)

George Frideric Handel

Artist(s)

John Butt

Susan Hamilton (soprano)

Recit accomp: Thy rebuke

$2.30

Air: Behold and see

Composer(s)

George Frideric Handel

Artist(s)

John Butt

Susan Hamilton (soprano)

Air: Behold and see

$2.30

Recit accomp: He was cut off

Composer(s)

George Frideric Handel

Artist(s)

John Butt

Susan Hamilton (soprano)

Recit accomp: He was cut off

$2.30

Air: But thou didst not leave

Composer(s)

George Frideric Handel

Artist(s)

John Butt

Susan Hamilton (soprano)

Air: But thou didst not leave

$2.30

Chorus: Lift up your heads

Composer(s)

George Frideric Handel

Chorus: Lift up your heads

$2.30

Recit: Unto which of the angels

Composer(s)

George Frideric Handel

Artist(s)

John Butt

Nicholas Mulroy (tenor)

Recit: Unto which of the angels

$2.30

Chorus: Let all the angels

Composer(s)

George Frideric Handel

Chorus: Let all the angels

$2.30

Air: Thou art gone up

Composer(s)

George Frideric Handel

Artist(s)

John Butt

Matthew Brook (bass)

Air: Thou art gone up

$2.30

Chorus: The Lord gave the word

Composer(s)

George Frideric Handel

Chorus: The Lord gave the word

$2.30

Soli & Chorus: How beautiful are the feet

Composer(s)

George Frideric Handel

Artist(s)

John Butt

Annie Gill (mezzo soprano), Heather Cairncross (alto)

Soli & Chorus: How beautiful are the feet

$2.30

Air: Why do the nations

Composer(s)

George Frideric Handel

Artist(s)

John Butt

Edward Caswell (bass)

Air: Why do the nations

$2.30

Chorus: Let us break

Composer(s)

George Frideric Handel

Chorus: Let us break

$2.30

Recit: He that dwelleth

Composer(s)

George Frideric Handel

Artist(s)

John Butt

Nicholas Mulroy (tenor)

Recit: He that dwelleth

$2.30

Chorus: Hallelujah

Composer(s)

George Frideric Handel

Chorus: Hallelujah

$2.30

Air: I know that my redeemer liveth

Composer(s)

George Frideric Handel

Artist(s)

John Butt

Susan Hamilton (soprano)

Air: I know that my redeemer liveth

$2.30

Soli & Chorus: Since by man

Composer(s)

George Frideric Handel

Soli & Chorus: Since by man

$2.30

Recit. Accomp: Behold I tell you a mystery

Composer(s)

George Frideric Handel

Artist(s)

John Butt

Matthew Brook (bass)

Recit. Accomp: Behold I tell you a mystery

$2.30

Air: The trumpet shall sound

Composer(s)

George Frideric Handel

Artist(s)

John Butt

Matthew Brook (bass)

Air: The trumpet shall sound

$3.40

Recit: Then shall be brought

Composer(s)

George Frideric Handel

Artist(s)

John Butt

Annie Gill (mezzo soprano)

Recit: Then shall be brought

$2.30

Duet: O death where is thy sting

Composer(s)

George Frideric Handel

Artist(s)

John Butt

Nicholas Mulroy (tenor), Annie Gill (mezzo soprano)

Duet: O death where is thy sting

$2.30

Chorus: But thanks

Composer(s)

George Frideric Handel

Chorus: But thanks

$2.30

Air: If God be for us

Composer(s)

George Frideric Handel

Artist(s)

John Butt

Clare Wilkinson (alto)

Air: If God be for us

$2.30

Chorus: Worthy is the lamb

Composer(s)

George Frideric Handel

Chorus: Worthy is the lamb

$2.30

Chorus: Amen

Composer(s)

George Frideric Handel

Chorus: Amen

$2.30

Recit: He that dwelleth in Heaven shall laugh them to scorn

Composer(s)

George Frideric Handel

Recit: He that dwelleth in Heaven shall laugh them to scorn

$2.30

Air: Thou shalt break them with a rod of iron

Composer(s)

George Frideric Handel

Air: Thou shalt break them with a rod of iron

$2.30
Total running time: 138 minutes.


Album information

This superb 139 minute recording, which features the Messiah as premiered by Handel in Dublin in 1742, was named the winner of Baroque Vocal Album of the Year in the 2007 Gramophone Awards.

The Dunedin Consort's Dublin version of Messiah was Linn's fastest selling album of 2006 and was described in many publications as the top choice Messiah for 2006. The recording was given four stars by The Times, The Guardian and BBC Music Magazine, chosen as 'Album of the Day' on AllMusic.com and selected in The Scotsman's 'Top Ten classical music moments of 2006'. This sought-after recording was also a winner at the 2007 Gramophone Awards.

What makes this Messiah so special is that it is the first recording to seriously explore the version and performing forces that Handel used for his legendary Dublin premiere. This unique recording signifies an exciting and historically considered representation of Messiah, which recaptures something of the freshness of the first public performances.
Related Artists
Reviews