Filters
Handel: Organ Concertos Op. 4 & Op. 7
Handel: Organ Concertos Op. 4 & Op. 7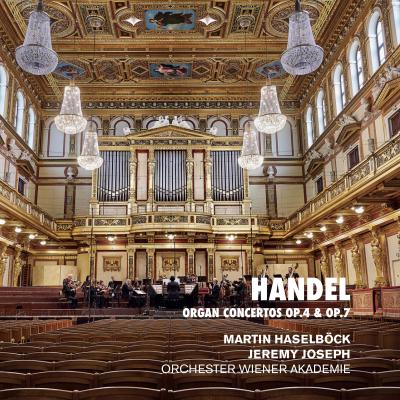 Inlay available for download
Booklet available for download
Concerto in G Minor Op. 4/1, HWV 289: I. Larghetto

Composer(s)

George Frideric Handel

Artist(s)

Martin Haselböck

Orchester Wiener Akademie

Concerto in G Minor Op. 4/1, HWV 289: I. Larghetto

$2.30

Concerto in G Minor Op. 4/1, HWV 289: II. Allegro

Composer(s)

George Frideric Handel

Artist(s)

Martin Haselböck

Orchester Wiener Akademie

Concerto in G Minor Op. 4/1, HWV 289: II. Allegro

$2.30

Concerto in G Minor Op. 4/1, HWV 289: III. Adagio

Composer(s)

George Frideric Handel

Artist(s)

Martin Haselböck

Orchester Wiener Akademie

Concerto in G Minor Op. 4/1, HWV 289: III. Adagio

$2.30

Concerto in G Minor Op. 4/1, HWV 289: IV. Andante

Composer(s)

George Frideric Handel

Artist(s)

Martin Haselböck

Orchester Wiener Akademie

Concerto in G Minor Op. 4/1, HWV 289: IV. Andante

$2.30

Concerto in B-Flat Major Op. 4/2, HWV 290: I. A tempo ordinario

Composer(s)

George Frideric Handel

Artist(s)

Martin Haselböck

Orchester Wiener Akademie

Concerto in B-Flat Major Op. 4/2, HWV 290: I. A tempo ordinario

$2.30

Concerto in B-Flat Major Op. 4/2, HWV 290: II. Allegro

Composer(s)

George Frideric Handel

Artist(s)

Martin Haselböck

Orchester Wiener Akademie

Concerto in B-Flat Major Op. 4/2, HWV 290: II. Allegro

$2.30

Concerto in B-Flat Major Op. 4/2, HWV 290: III. Adagio

Composer(s)

George Frideric Handel

Artist(s)

Martin Haselböck

Orchester Wiener Akademie

Concerto in B-Flat Major Op. 4/2, HWV 290: III. Adagio

$2.30

Concerto in B-Flat Major Op. 4/2, HWV 290: IV. Allegro ma non troppo

Composer(s)

George Frideric Handel

Artist(s)

Martin Haselböck

Orchester Wiener Akademie

Concerto in B-Flat Major Op. 4/2, HWV 290: IV. Allegro ma non troppo

$2.30

Concerto in G Minor Op. 4/3, HWV 291: I. Adagio

Composer(s)

George Frideric Handel

Artist(s)

Martin Haselböck

Orchester Wiener Akademie

Concerto in G Minor Op. 4/3, HWV 291: I. Adagio

$2.30

Concerto in G Minor Op. 4/3, HWV 291: II. Allegro

Composer(s)

George Frideric Handel

Artist(s)

Martin Haselböck

Orchester Wiener Akademie

Concerto in G Minor Op. 4/3, HWV 291: II. Allegro

$2.30

Concerto in G Minor Op. 4/3, HWV 291: III. Allegro

Composer(s)

George Frideric Handel

Artist(s)

Martin Haselböck

Orchester Wiener Akademie

Concerto in G Minor Op. 4/3, HWV 291: III. Allegro

$2.30

Concerto in G Minor Op. 4/3, HWV 291: IV. Gavotte:Allegro

Composer(s)

George Frideric Handel

Artist(s)

Martin Haselböck

Orchester Wiener Akademie

Concerto in G Minor Op. 4/3, HWV 291: IV. Gavotte:Allegro

$2.30

Concerto in F Major Op. 4/4, HWV 292: I. Allegro

Composer(s)

George Frideric Handel

Artist(s)

Martin Haselböck

Orchester Wiener Akademie

Concerto in F Major Op. 4/4, HWV 292: I. Allegro

$2.30

Concerto in F Major Op. 4/4, HWV 292: II. Andante

Composer(s)

George Frideric Handel

Artist(s)

Martin Haselböck

Orchester Wiener Akademie

Concerto in F Major Op. 4/4, HWV 292: II. Andante

$2.30

Concerto in F Major Op. 4/4, HWV 292: III. Adagio

Composer(s)

George Frideric Handel

Artist(s)

Martin Haselböck

Orchester Wiener Akademie

Concerto in F Major Op. 4/4, HWV 292: III. Adagio

$2.30

Concerto in F Major Op. 4/4, HWV 292: IV. Allegro

Composer(s)

George Frideric Handel

Artist(s)

Martin Haselböck

Orchester Wiener Akademie

Concerto in F Major Op. 4/4, HWV 292: IV. Allegro

$2.30

Concerto in F Major Op. 4/5, HWV 293: I. Larghetto

Composer(s)

George Frideric Handel

Artist(s)

Martin Haselböck

Orchester Wiener Akademie

Concerto in F Major Op. 4/5, HWV 293: I. Larghetto

$2.30

Concerto in F Major Op. 4/5, HWV 293: II. Allegro

Composer(s)

George Frideric Handel

Artist(s)

Martin Haselböck

Orchester Wiener Akademie

Concerto in F Major Op. 4/5, HWV 293: II. Allegro

$2.30

Concerto in F Major Op. 4/5, HWV 293: III. Alla siciliana

Composer(s)

George Frideric Handel

Artist(s)

Martin Haselböck

Orchester Wiener Akademie

Concerto in F Major Op. 4/5, HWV 293: III. Alla siciliana

$2.30

Concerto in F Major Op. 4/5, HWV 293: IV. Presto

Composer(s)

George Frideric Handel

Artist(s)

Martin Haselböck

Orchester Wiener Akademie

Concerto in F Major Op. 4/5, HWV 293: IV. Presto

$2.30

Concerto in B-Flat Major Op. 4/6, HWV 294: I. Andante - Allegro

Composer(s)

George Frideric Handel

Artist(s)

Martin Haselböck

Orchester Wiener Akademie

Concerto in B-Flat Major Op. 4/6, HWV 294: I. Andante - Allegro

$2.30

Concerto in B-Flat Major Op. 4/6, HWV 294: II. Larghetto

Composer(s)

George Frideric Handel

Artist(s)

Martin Haselböck

Orchester Wiener Akademie

Concerto in B-Flat Major Op. 4/6, HWV 294: II. Larghetto

$2.30

Concerto in B-Flat Major Op. 4/6, HWV 294: III. Allegro moderato

Composer(s)

George Frideric Handel

Artist(s)

Martin Haselböck

Orchester Wiener Akademie

Concerto in B-Flat Major Op. 4/6, HWV 294: III. Allegro moderato

$2.30

Concerto No. 13 in F Major, HWV 295: I. Larghetto

Composer(s)

George Frideric Handel

Artist(s)

Martin Haselböck

Orchester Wiener Akademie

Concerto No. 13 in F Major, HWV 295: I. Larghetto

$2.30

Concerto No. 13 in F Major, HWV 295: II. Allegro

Composer(s)

George Frideric Handel

Artist(s)

Martin Haselböck

Orchester Wiener Akademie

Concerto No. 13 in F Major, HWV 295: II. Allegro

$2.30

Concerto No. 13 in F Major, HWV 295: III. Larghetto

Composer(s)

George Frideric Handel

Artist(s)

Martin Haselböck

Orchester Wiener Akademie

Concerto No. 13 in F Major, HWV 295: III. Larghetto

$2.30

Concerto No. 13 in F Major, HWV 295: IV. Allegro

Composer(s)

George Frideric Handel

Artist(s)

Martin Haselböck

Orchester Wiener Akademie

Concerto No. 13 in F Major, HWV 295: IV. Allegro

$2.30

Concerto in B-Flat Major Op. 7/1, HWV 306: I. Andante

Composer(s)

George Frideric Handel

Artist(s)

Martin Haselböck

Jeremy Joseph

Orchester Wiener Akademie

Concerto in B-Flat Major Op. 7/1, HWV 306: I. Andante

$2.30

Concerto in B-Flat Major Op. 7/1, HWV 306: II. Andante

Composer(s)

George Frideric Handel

Artist(s)

Martin Haselböck

Jeremy Joseph

Orchester Wiener Akademie

Concerto in B-Flat Major Op. 7/1, HWV 306: II. Andante

$2.30

Concerto in B-Flat Major Op. 7/1, HWV 306: III. Largo e piano

Composer(s)

George Frideric Handel

Artist(s)

Martin Haselböck

Jeremy Joseph

Orchester Wiener Akademie

Concerto in B-Flat Major Op. 7/1, HWV 306: III. Largo e piano

$2.30

Concerto in B-Flat Major Op. 7/1, HWV 306: IV. Fuga (Allegro)

Composer(s)

George Frideric Handel

Artist(s)

Martin Haselböck

Jeremy Joseph

Orchester Wiener Akademie

Concerto in B-Flat Major Op. 7/1, HWV 306: IV. Fuga (Allegro)

$2.30

Concerto in B-Flat Major Op. 7/1, HWV 306: V. Bourrée (Allegro)

Composer(s)

George Frideric Handel

Artist(s)

Martin Haselböck

Jeremy Joseph

Orchester Wiener Akademie

Concerto in B-Flat Major Op. 7/1, HWV 306: V. Bourrée (Allegro)

$2.30

Concerto in A Major Op. 7/2, HWV 307: I. Ouverture

Composer(s)

George Frideric Handel

Artist(s)

Martin Haselböck

Jeremy Joseph

Orchester Wiener Akademie

Concerto in A Major Op. 7/2, HWV 307: I. Ouverture

$2.30

Concerto in A Major Op. 7/2, HWV 307: II. A tempo ordinario

Composer(s)

George Frideric Handel

Artist(s)

Martin Haselböck

Jeremy Joseph

Orchester Wiener Akademie

Concerto in A Major Op. 7/2, HWV 307: II. A tempo ordinario

$2.30

Concerto in A Major Op. 7/2, HWV 307: III Organo ad libitum (Largo)

Composer(s)

George Frideric Handel

Artist(s)

Martin Haselböck

Jeremy Joseph

Orchester Wiener Akademie

Concerto in A Major Op. 7/2, HWV 307: III Organo ad libitum (Largo)

$2.30

Concerto in A Major Op. 7/2, HWV 307: IV Allegro

Composer(s)

George Frideric Handel

Artist(s)

Martin Haselböck

Jeremy Joseph

Orchester Wiener Akademie

Concerto in A Major Op. 7/2, HWV 307: IV Allegro

$2.30

Concerto in B-Flat Major Op. 7/3, HWV 308: I. Andante

Composer(s)

George Frideric Handel

Artist(s)

Martin Haselböck

Jeremy Joseph

Orchester Wiener Akademie

Concerto in B-Flat Major Op. 7/3, HWV 308: I. Andante

$2.30

Concerto in B-Flat Major Op. 7/3, HWV 308: II. Adagio e Fuga ad libitum

Composer(s)

George Frideric Handel

Artist(s)

Martin Haselböck

Jeremy Joseph

Orchester Wiener Akademie

Concerto in B-Flat Major Op. 7/3, HWV 308: II. Adagio e Fuga ad libitum

$2.30

Concerto in B-Flat Major Op. 7/3, HWV 308: III. Spiritoso

Composer(s)

George Frideric Handel

Artist(s)

Martin Haselböck

Jeremy Joseph

Orchester Wiener Akademie

Concerto in B-Flat Major Op. 7/3, HWV 308: III. Spiritoso

$2.30

Concerto in B-Flat Major Op. 7/3, HWV 308: IV. Menuet

Composer(s)

George Frideric Handel

Artist(s)

Martin Haselböck

Jeremy Joseph

Orchester Wiener Akademie

Concerto in B-Flat Major Op. 7/3, HWV 308: IV. Menuet

$2.30

Concerto in D Minor Op. 7/4, HWV 309: I. Adagio

Composer(s)

George Frideric Handel

Artist(s)

Martin Haselböck

Jeremy Joseph

Orchester Wiener Akademie

Concerto in D Minor Op. 7/4, HWV 309: I. Adagio

$2.30

Concerto in D Minor Op. 7/4, HWV 309: II. Allegro così così

Composer(s)

George Frideric Handel

Artist(s)

Martin Haselböck

Jeremy Joseph

Orchester Wiener Akademie

Concerto in D Minor Op. 7/4, HWV 309: II. Allegro così così

$2.30

Concerto in D Minor Op. 7/4, HWV 309: III. Organo ad libitum (Chaconne)

Composer(s)

George Frideric Handel

Artist(s)

Martin Haselböck

Jeremy Joseph

Orchester Wiener Akademie

Concerto in D Minor Op. 7/4, HWV 309: III. Organo ad libitum (Chaconne)

$2.30

Concerto in D Minor Op. 7/4, HWV 309: IV. Allegro

Composer(s)

George Frideric Handel

Artist(s)

Martin Haselböck

Jeremy Joseph

Orchester Wiener Akademie

Concerto in D Minor Op. 7/4, HWV 309: IV. Allegro

$2.30

Concerto in G Minor Op. 7/5, HWV 310: I. Staccato ma non troppo allegro

Composer(s)

George Frideric Handel

Artist(s)

Martin Haselböck

Jeremy Joseph

Orchester Wiener Akademie

Concerto in G Minor Op. 7/5, HWV 310: I. Staccato ma non troppo allegro

$2.30

Concerto in G Minor Op. 7/5, HWV 310: II. Organo ad libitum (Adagio)

Composer(s)

George Frideric Handel

Artist(s)

Martin Haselböck

Jeremy Joseph

Orchester Wiener Akademie

Concerto in G Minor Op. 7/5, HWV 310: II. Organo ad libitum (Adagio)

$2.30

Concerto in G Minor Op. 7/5, HWV 310: III. Andante larghetto e staccato

Composer(s)

George Frideric Handel

Artist(s)

Martin Haselböck

Jeremy Joseph

Orchester Wiener Akademie

Concerto in G Minor Op. 7/5, HWV 310: III. Andante larghetto e staccato

$2.30

Concerto in G Minor Op. 7/5, HWV 310: IV. Menuet

Composer(s)

George Frideric Handel

Artist(s)

Martin Haselböck

Jeremy Joseph

Orchester Wiener Akademie

Concerto in G Minor Op. 7/5, HWV 310: IV. Menuet

$2.30

Concerto in G Minor Op. 7/5, HWV 310: V. Gavotte

Composer(s)

George Frideric Handel

Artist(s)

Martin Haselböck

Jeremy Joseph

Orchester Wiener Akademie

Concerto in G Minor Op. 7/5, HWV 310: V. Gavotte

$2.30

Concerto in B-Flat Major Op. 7/6, HWV 311: I. Pomposo

Composer(s)

George Frideric Handel

Artist(s)

Martin Haselböck

Jeremy Joseph

Orchester Wiener Akademie

Concerto in B-Flat Major Op. 7/6, HWV 311: I. Pomposo

$2.30

Concerto in B-Flat Major Op. 7/6, HWV 311: II. Organo ad libitum

Composer(s)

George Frideric Handel

Artist(s)

Martin Haselböck

Jeremy Joseph

Orchester Wiener Akademie

Concerto in B-Flat Major Op. 7/6, HWV 311: II. Organo ad libitum

$2.30

Concerto in B-Flat Major Op. 7/6, HWV 311: III. Air

Composer(s)

George Frideric Handel

Artist(s)

Martin Haselböck

Jeremy Joseph

Orchester Wiener Akademie

Concerto in B-Flat Major Op. 7/6, HWV 311: III. Air

$2.30
Total running time: 169 minutes.
Album information

Handel is best known to the wider public for his large-scale choral and orchestral works, but his organ music is equally precious. Martin Haselböck and the Orchester Wiener Akademie have recorded the Handel's Organ Concertos opp.4 and 7.

It was the Duke of Saxe-Weissenfels who, diverting him from a career in the law, spotted his exceptional abilities on the instrument. By the age of seventeen, Handel was already the resident organist at the Domkirche in Halle, and he was later to defeat Domenico Scarlatti in a contest of virtuosity during his time in Rome.

Recorded in the prestigious Vienna Musikverein, world-famous for its acoustics, Haselböck plays on the hall's imposing Rieger organ in what is one of its very first recordings. Inaugurated in 2011, it is the fourth organ in the Musikverein since the hall opened in 1870. With its considerable dimensions – much larger than the organs Handel used to play on – the instrument offers a tonal palette rich in contrasts.
Related Artists
Reviews