Filters
Haydn 2032, Vol. 3: Solo e pensoso
Haydn 2032, Vol. 3: Solo e pensoso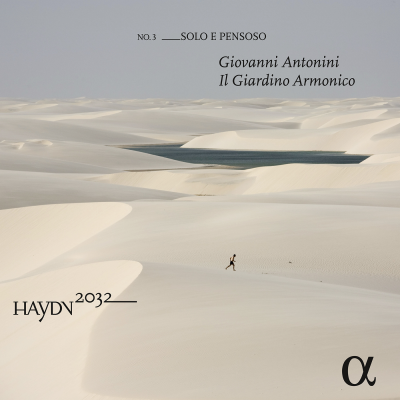 Booklet available for download
Symphony No. 42 in D Major, Hob. I:42: I. Moderato e maestoso

Composer(s)

Franz Joseph Haydn

Artist(s)

Giovanni Antonini

Il Giardino Armonico

Symphony No. 42 in D Major, Hob. I:42: I. Moderato e maestoso

$3.40

Symphony No. 42 in D Major, Hob. I:42: II. Andantino e cantabile

Composer(s)

Franz Joseph Haydn

Artist(s)

Giovanni Antonini

Il Giardino Armonico

Symphony No. 42 in D Major, Hob. I:42: II. Andantino e cantabile

$3.40

Symphony No. 42 in D Major, Hob. I:42: III. Menuet (Allegretto)

Composer(s)

Franz Joseph Haydn

Artist(s)

Giovanni Antonini

Il Giardino Armonico

Symphony No. 42 in D Major, Hob. I:42: III. Menuet (Allegretto)

$2.30

Symphony No. 42 in D Major, Hob. I:42: IV. Finale (Scherzando e presto)

Composer(s)

Franz Joseph Haydn

Artist(s)

Giovanni Antonini

Il Giardino Armonico

Symphony No. 42 in D Major, Hob. I:42: IV. Finale (Scherzando e presto)

$2.30

L'Isola disabitata, Hob. XXVIII:9: Overture (Largo - Vivace assai - Allegretto - Vivace [Assai])

Composer(s)

Franz Joseph Haydn

Artist(s)

Giovanni Antonini

Il Giardino Armonico

L'Isola disabitata, Hob. XXVIII:9: Overture (Largo - Vivace assai - Allegretto - Vivace [Assai])

$3.40

Symphony No. 64 in A Major, Hob. I:64 "Tempora mutantur": I. Allegro con spirito

Composer(s)

Franz Joseph Haydn

Artist(s)

Giovanni Antonini

Il Giardino Armonico

Symphony No. 64 in A Major, Hob. I:64 "Tempora mutantur": I. Allegro con spirito

$3.40

Symphony No. 64 in A Major, Hob. I:64 "Tempora mutantur": II. Largo

Composer(s)

Franz Joseph Haydn

Artist(s)

Giovanni Antonini

Il Giardino Armonico

Symphony No. 64 in A Major, Hob. I:64 "Tempora mutantur": II. Largo

$2.30

Symphony No. 64 in A Major, Hob. I:64 "Tempora mutantur": III. Menuet (Allegretto)

Composer(s)

Franz Joseph Haydn

Artist(s)

Giovanni Antonini

Il Giardino Armonico

Symphony No. 64 in A Major, Hob. I:64 "Tempora mutantur": III. Menuet (Allegretto)

$2.30

Symphony No. 64 in A Major, Hob. I:64 "Tempora mutantur": IV. Finale (Presto)

Composer(s)

Franz Joseph Haydn

Artist(s)

Giovanni Antonini

Il Giardino Armonico

Symphony No. 64 in A Major, Hob. I:64 "Tempora mutantur": IV. Finale (Presto)

$2.30

Aria "Solo e pensoso", Hob. XXIVb:20

Composer(s)

Franz Joseph Haydn

Artist(s)

Giovanni Antonini

Francesca Aspromonte

Il Giardino Armonico

Aria "Solo e pensoso", Hob. XXIVb:20

$2.30

Symphony No. 4 in D Major, Hob. I:4: I. Presto

Composer(s)

Franz Joseph Haydn

Artist(s)

Giovanni Antonini

Il Giardino Armonico

Symphony No. 4 in D Major, Hob. I:4: I. Presto

$2.30

Symphony No. 4 in D Major, Hob. I:4: II. Andante

Composer(s)

Franz Joseph Haydn

Artist(s)

Giovanni Antonini

Il Giardino Armonico

Symphony No. 4 in D Major, Hob. I:4: II. Andante

$2.30

Symphony No. 4 in D Major, Hob. I:4: III. Finale (Tempo di menuetto)

Composer(s)

Franz Joseph Haydn

Artist(s)

Giovanni Antonini

Il Giardino Armonico

Symphony No. 4 in D Major, Hob. I:4: III. Finale (Tempo di menuetto)

$2.30
Total running time: 68 minutes.
Album information

Looking ahead to the 300th anniversary of the birth of Haydn in 2032 Giovanni Antonini sets out to record all of the composer's 107 symphonies.

This ambitious project is placed under the artistic direction of Giovanni Antonini, who now presents the third volume, after two previous issues that attracted great attention and received numerous awards, including the Echo Klassik Prize 2015 for the 'best orchestral recording' of the year.

Since he sees the music of Haydn as 'a kaleidoscope of human emotions', Giovanni Antonini has decided to approach the symphonies not chronologically, but thematically; the theme here is Haydn the philosopher. The Italian conductor has chosen in each of the programmes to make connections between the symphonies and other works. For this volume, he calls on the magnificent soprano Francesca Aspromonte to perform the famous aria 'Solo e pensoso'.
Related Artists
Reviews