Filters
Josquin Desprez: Septiesme livre de chansons
Josquin Desprez: Septiesme livre de chansons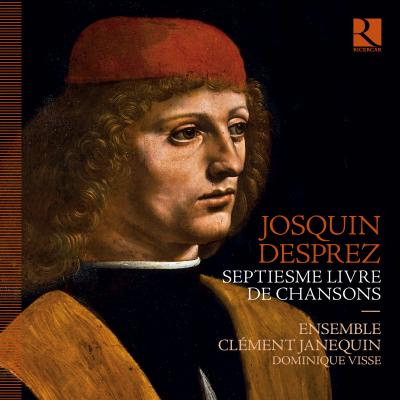 Inlay available for download
Booklet available for download
Regretz sans fin il me fault endurer

Composer(s)

Josquin Desprez

Artist(s)

Dominique Visse

Ensemble Clément Janequin

Regretz sans fin il me fault endurer

$2.30

Allegez moy doulce plaisant brunette

Composer(s)

Josquin Desprez

Artist(s)

Dominique Visse

Ensemble Clément Janequin

Allegez moy doulce plaisant brunette

$2.30

Douleur me bat

Composer(s)

Josquin Desprez

Artist(s)

Dominique Visse

Ensemble Clément Janequin

Douleur me bat

$2.30

Je me complains de mon amy

Composer(s)

Josquin Desprez

Artist(s)

Dominique Visse

Ensemble Clément Janequin

Je me complains de mon amy

$2.30

Cueur langoreulx

Composer(s)

Josquin Desprez

Artist(s)

Dominique Visse

Ensemble Clément Janequin

Cueur langoreulx

$2.30

Mille regretz

Composer(s)

Luis de Narvaez

Mille regretz

$2.30

Musæ Jovis

Composer(s)

Nicolas Gombert

Artist(s)

Dominique Visse

Ensemble Clément Janequin

Musæ Jovis

$2.30

Petite Camusette a la mort mavez mis

Composer(s)

Josquin Desprez

Artist(s)

Dominique Visse

Ensemble Clément Janequin

Petite Camusette a la mort mavez mis

$2.30

Plus nulz regretz

Composer(s)

Josquin Desprez

Artist(s)

Dominique Visse

Ensemble Clément Janequin

Plus nulz regretz

$2.30

Du mien amant

Composer(s)

Josquin Desprez

Artist(s)

Dominique Visse

Ensemble Clément Janequin

Du mien amant

$2.30

La Bernardina

Composer(s)

Josquin Desprez

Artist(s)

Yoann Moulin

Eric Bellocq

La Bernardina

$2.30

Faulte dargent

Composer(s)

Josquin Desprez

Artist(s)

Dominique Visse

Ensemble Clément Janequin

Faulte dargent

$2.30

Baises moy ma doulce' amye

Composer(s)

Josquin Desprez

Artist(s)

Dominique Visse

Ensemble Clément Janequin

Baises moy ma doulce' amye

$2.30

Ma bouche rit et mon cueur pleure

Composer(s)

Josquin Desprez

Artist(s)

Dominique Visse

Ensemble Clément Janequin

Ma bouche rit et mon cueur pleure

$2.30

O mors inevitabilis

Composer(s)

Hieronymus Vinders

Artist(s)

Dominique Visse

Ensemble Clément Janequin

O mors inevitabilis

$2.30

Mille regretz

Composer(s)

Hans Newsidler

Mille regretz

$2.30

Parfons regretz et lamentable joye

Composer(s)

Josquin Desprez

Artist(s)

Dominique Visse

Ensemble Clément Janequin

Parfons regretz et lamentable joye

$2.30

Tenez moy en voz bras

Composer(s)

Josquin Desprez

Artist(s)

Dominique Visse

Ensemble Clément Janequin

Tenez moy en voz bras

$2.30

Nymphes des bois

Composer(s)

Josquin Desprez

Artist(s)

Dominique Visse

Ensemble Clément Janequin

Nymphes des bois

$2.30
Total running time: 60 minutes.



Album information

Dominique Visse and Ensemble Clément Janequin have recorded a selection of chansons by Josquin Desprez from one of the most important editions of his works, Tylman Susato's Septiesme livre de Chansons published in 1545. 

2021 sees the 500th anniversary of the death of Josquin Desprez, the most celebrated composer of his day. This edition bear witness to the diversity of Josquin's chanson writing, but above all to the melancholy and sorrow so present in his works, and is clearly a tribute, as is also evident in the two Déplorations on his death, Musæ Jovis by Nicolas Gombert and O mors inevitabilis by Hieronymus Vinders.

This recording endeavours to present a Josquin legacy, a post mortem illustration of his chanson œuvre, in remembrance of his musical genius. It has also enabled Dominique Visse and the Ensemble Clément Janequin to express their profound musical passion for this major Renaissance composer who has accompanied them for more than 40 years.
Related Artists
Reviews