Filters
J.S. Bach: Complete Sonatas & Partitas, BWV 1001-1006
J.S. Bach: Complete Sonatas & Partitas, BWV 1001-1006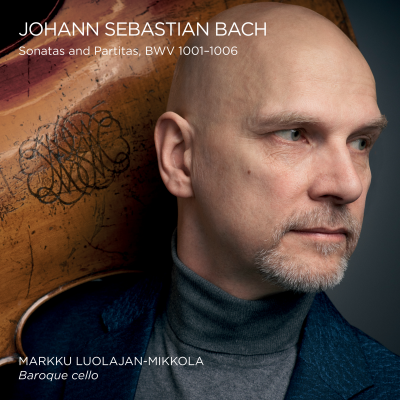 Inlay available for download
Booklet available for download
Violin Partita No. 2 in D Minor, BWV 1004: I. Allemanda

Composer(s)

Johann Sebastian Bach

Artist(s)

Markku Luolajan-Mikkola

Violin Partita No. 2 in D Minor, BWV 1004: I. Allemanda

$2.30

Violin Partita No. 2 in D Minor, BWV 1004: II. Corrente

Composer(s)

Johann Sebastian Bach

Artist(s)

Markku Luolajan-Mikkola

Violin Partita No. 2 in D Minor, BWV 1004: II. Corrente

$2.30

Violin Partita No. 2 in D Minor, BWV 1004: III. Sarabanda

Composer(s)

Johann Sebastian Bach

Artist(s)

Markku Luolajan-Mikkola

Violin Partita No. 2 in D Minor, BWV 1004: III. Sarabanda

$2.30

Violin Partita No. 2 in D Minor, BWV 1004: IV. Giga

Composer(s)

Johann Sebastian Bach

Artist(s)

Markku Luolajan-Mikkola

Violin Partita No. 2 in D Minor, BWV 1004: IV. Giga

$2.30

Violin Partita No. 2 in D Minor, BWV 1004: V. Ciaccona

Composer(s)

Johann Sebastian Bach

Artist(s)

Markku Luolajan-Mikkola

Violin Partita No. 2 in D Minor, BWV 1004: V. Ciaccona

$5.75

Violin Sonata No. 2 in A Minor, BWV 1003: I. Grave

Composer(s)

Johann Sebastian Bach

Artist(s)

Markku Luolajan-Mikkola

Violin Sonata No. 2 in A Minor, BWV 1003: I. Grave

$2.30

Violin Sonata No. 2 in A Minor, BWV 1003: II. Fuga

Composer(s)

Johann Sebastian Bach

Artist(s)

Markku Luolajan-Mikkola

Violin Sonata No. 2 in A Minor, BWV 1003: II. Fuga

$3.40

Violin Sonata No. 2 in A Minor, BWV 1003: III. Andante

Composer(s)

Johann Sebastian Bach

Artist(s)

Markku Luolajan-Mikkola

Violin Sonata No. 2 in A Minor, BWV 1003: III. Andante

$2.30

Violin Sonata No. 2 in A Minor, BWV 1003: IV. Allegro

Composer(s)

Johann Sebastian Bach

Artist(s)

Markku Luolajan-Mikkola

Violin Sonata No. 2 in A Minor, BWV 1003: IV. Allegro

$3.40

Violin Partita No. 3 in E Major, BWV 1006 : I. Preludio

Composer(s)

Johann Sebastian Bach

Artist(s)

Markku Luolajan-Mikkola

Violin Partita No. 3 in E Major, BWV 1006 : I. Preludio

$2.30

Violin Partita No. 3 in E Major, BWV 1006: II. Loure

Composer(s)

Johann Sebastian Bach

Artist(s)

Markku Luolajan-Mikkola

Violin Partita No. 3 in E Major, BWV 1006: II. Loure

$2.30

Violin Partita No. 3 in E Major, BWV 1006: III. Gavotte en Rondeau

Composer(s)

Johann Sebastian Bach

Artist(s)

Markku Luolajan-Mikkola

Violin Partita No. 3 in E Major, BWV 1006: III. Gavotte en Rondeau

$2.30

Violin Partita No. 3 in E Major, BWV 1006: IV. Menuet I & II

Composer(s)

Johann Sebastian Bach

Artist(s)

Markku Luolajan-Mikkola

Violin Partita No. 3 in E Major, BWV 1006: IV. Menuet I & II

$2.30

Violin Partita No. 3 in E Major, BWV 1006: V. Bouree

Composer(s)

Johann Sebastian Bach

Artist(s)

Markku Luolajan-Mikkola

Violin Partita No. 3 in E Major, BWV 1006: V. Bouree

$2.30

Violin Partita No. 3 in E Major, BWV 1006: VI. Gigue

Composer(s)

Johann Sebastian Bach

Artist(s)

Markku Luolajan-Mikkola

Violin Partita No. 3 in E Major, BWV 1006: VI. Gigue

$2.30

Violin Partita No. 1 in B Minor, BWV 1002: I. Allemanda

Composer(s)

Johann Sebastian Bach

Artist(s)

Markku Luolajan-Mikkola

Violin Partita No. 1 in B Minor, BWV 1002: I. Allemanda

$2.30

Violin Partita No. 1 in B Minor, BWV 1002: II. Double

Composer(s)

Johann Sebastian Bach

Artist(s)

Markku Luolajan-Mikkola

Violin Partita No. 1 in B Minor, BWV 1002: II. Double

$2.30

Violin Partita No. 1 in B Minor, BWV 1002: III. Corrente

Composer(s)

Johann Sebastian Bach

Artist(s)

Markku Luolajan-Mikkola

Violin Partita No. 1 in B Minor, BWV 1002: III. Corrente

$2.30

Violin Partita No. 1 in B Minor, BWV 1002: IV. Double. Presto

Composer(s)

Johann Sebastian Bach

Artist(s)

Markku Luolajan-Mikkola

Violin Partita No. 1 in B Minor, BWV 1002: IV. Double. Presto

$2.30

Violin Partita No. 1 in B Minor, BWV 1002: V. Sarabande

Composer(s)

Johann Sebastian Bach

Artist(s)

Markku Luolajan-Mikkola

Violin Partita No. 1 in B Minor, BWV 1002: V. Sarabande

$2.30

Violin Partita No. 1 in B Minor, BWV 1002: VI. Double

Composer(s)

Johann Sebastian Bach

Artist(s)

Markku Luolajan-Mikkola

Violin Partita No. 1 in B Minor, BWV 1002: VI. Double

$2.30

Violin Partita No. 1 in B Minor, BWV 1002: VII. Tempo di Borea

Composer(s)

Johann Sebastian Bach

Artist(s)

Markku Luolajan-Mikkola

Violin Partita No. 1 in B Minor, BWV 1002: VII. Tempo di Borea

$2.30

Violin Partita No. 1 in B Minor, BWV 1002: VIII. Double

Composer(s)

Johann Sebastian Bach

Artist(s)

Markku Luolajan-Mikkola

Violin Partita No. 1 in B Minor, BWV 1002: VIII. Double

$2.30

Violin Sonata No. 1 in G Minor, BWV 1001: I. Adagio

Composer(s)

Johann Sebastian Bach

Artist(s)

Markku Luolajan-Mikkola

Violin Sonata No. 1 in G Minor, BWV 1001: I. Adagio

$2.30

Violin Sonata No. 1 in G Minor, BWV 1001: II. Fuga. Allegro

Composer(s)

Johann Sebastian Bach

Artist(s)

Markku Luolajan-Mikkola

Violin Sonata No. 1 in G Minor, BWV 1001: II. Fuga. Allegro

$2.30

Violin Sonata No. 1 in G Minor, BWV 1001: III. Siciliana

Composer(s)

Johann Sebastian Bach

Artist(s)

Markku Luolajan-Mikkola

Violin Sonata No. 1 in G Minor, BWV 1001: III. Siciliana

$2.30

Violin Sonata No. 1 in G Minor, BWV 1001: IV. Presto

Composer(s)

Johann Sebastian Bach

Artist(s)

Markku Luolajan-Mikkola

Violin Sonata No. 1 in G Minor, BWV 1001: IV. Presto

$2.30

Violin Sonata No. 3 in C Major, BWV 1005: I. Adagio

Composer(s)

Johann Sebastian Bach

Artist(s)

Markku Luolajan-Mikkola

Violin Sonata No. 3 in C Major, BWV 1005: I. Adagio

$2.30

Violin Sonata No. 3 in C Major, BWV 1005: II. Fuga

Composer(s)

Johann Sebastian Bach

Artist(s)

Markku Luolajan-Mikkola

Violin Sonata No. 3 in C Major, BWV 1005: II. Fuga

$4.60

Violin Sonata No. 3 in C Major, BWV 1005: III. Largo

Composer(s)

Johann Sebastian Bach

Artist(s)

Markku Luolajan-Mikkola

Violin Sonata No. 3 in C Major, BWV 1005: III. Largo

$2.30

Violin Sonata No. 3 in C Major, BWV 1005: IV. Allegro assai

Composer(s)

Johann Sebastian Bach

Artist(s)

Markku Luolajan-Mikkola

Violin Sonata No. 3 in C Major, BWV 1005: IV. Allegro assai

$2.30
Total running time: 158 minutes.
Album information

With an established fan base built over his two decades with viol consort Phantasm, Luolajan-Mikkola makes his solo Linn debut in style, tackling what is considered the pinnacle of Bach's output for violinists: the Sonatas and Partitas.

With two Gramophone Awards to his name and a reputation synonymous with excellence, Markku Luolajan-Mikkola is a musician who is at the top of his profession. Transcribing Bach's hugely popular works for cello, especially one in Baroque set-up, was not without its risks, although performing on Baroque cello also offers compelling advantages.

Luolajan-Mikkola takes his interpretative cue from the set-up of the Baroque instrument, which informs such issues as tuning, vibrato, fingering and articulation. Performing the Sonatas and Partitas on the cello is so challenging that it is almost impossible to imagine a cellist of Bach's day playing them, but Luolajan-Mikkola rises to the challenge with aplomb.

Luolajan-Mikkola's main aim in this recording has been to capture emotion and convey expression according to the respective key and character of each movement, which he achieves in spades.
Related Artists
Reviews