Filters
Mass and Vespers for the Feast of Holy Innocents
Mass and Vespers for the Feast of Holy Innocents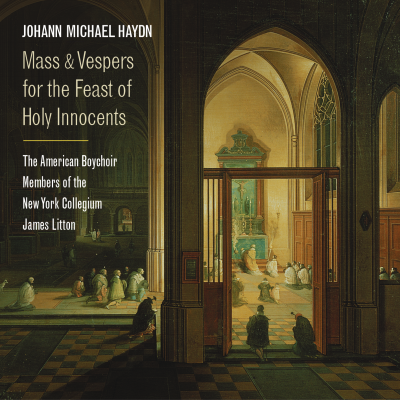 Inlay available for download
Booklet available for download
Introit

Artist(s)

James Litton

Members of the New York Collegium

Introit

$1.70

Kyrie

Artist(s)

James Litton

Members of the New York Collegium

Kyrie

$1.70

Gloria

Artist(s)

James Litton

Members of the New York Collegium

Gloria

$1.70

Collect

Artist(s)

James Litton

Members of the New York Collegium

Collect

$1.70

Gradual

Artist(s)

James Litton

Members of the New York Collegium

Gradual

$3.40

Gospel

Artist(s)

James Litton

Members of the New York Collegium

Gospel

$1.70

Credo

Artist(s)

James Litton

Members of the New York Collegium

Credo

$3.40

Offertory :<i>Church Sonata in D Major KV245</i>

Artist(s)

James Litton

Members of the New York Collegium

Offertory :Church Sonata in D Major KV245

$1.70

Preface

Artist(s)

James Litton

Members of the New York Collegium

Preface

$1.70

Sanctus

Artist(s)

James Litton

Members of the New York Collegium

Sanctus

$1.70

Benedictus

Artist(s)

James Litton

Members of the New York Collegium

Benedictus

$1.70

Pater Noster

Artist(s)

James Litton

Members of the New York Collegium

Pater Noster

$1.70

Agnus Dei

Artist(s)

James Litton

Members of the New York Collegium

Agnus Dei

$3.40

Blessing / Dismissal

Artist(s)

James Litton

Members of the New York Collegium

Blessing / Dismissal

$1.70

Voluntary :<i> Church Sonata in G Major KV 274</i>

Artist(s)

James Litton

Members of the New York Collegium

Voluntary : Church Sonata in G Major KV 274

$1.70

Verse and Respond

Artist(s)

James Litton

Members of the New York Collegium

Verse and Respond

$1.70

Antiphon incipit<br>Psalm 110 :<i> Dixit Dominus</i>

Composer(s)

plainsong Haydn

Artist(s)

James Litton

Members of the New York Collegium

Antiphon incipitPsalm 110 : Dixit Dominus

$1.70

Antiphon

Artist(s)

James Litton

Members of the New York Collegium

Antiphon

$1.70

Antiphon incipit<br>Psalm 111 : <i>Confitebor tibi</i>

Composer(s)

plainsong Haydn

Artist(s)

James Litton

Members of the New York Collegium

Antiphon incipitPsalm 111 : Confitebor tibi

$1.70

Antiphon

Artist(s)

James Litton

Members of the New York Collegium

Antiphon

$1.70

Antiphon incipit<br>Psalm 112 : <i>Beatus vir</i>

Composer(s)

plainsong Haydn

Artist(s)

James Litton

Members of the New York Collegium

Antiphon incipitPsalm 112 : Beatus vir

$1.70

Antiphon

Artist(s)

James Litton

Members of the New York Collegium

Antiphon

$1.70

Antiphon incipit<br>Psalm 130 : <i> De profundis</i>

Composer(s)

plainsong Haydn

Artist(s)

James Litton

Members of the New York Collegium

Antiphon incipitPsalm 130 : De profundis

$3.40

Antiphon

Artist(s)

James Litton

Members of the New York Collegium

Antiphon

$1.70

Antiphon incipit<br>Psalm 132 : <i>Memento,Domine</i>

Composer(s)

plainsong Haydn

Artist(s)

James Litton

Members of the New York Collegium

Antiphon incipitPsalm 132 : Memento,Domine

$3.40

Antiphon

Artist(s)

James Litton

Members of the New York Collegium

Antiphon

$1.70

Antiphon

Artist(s)

James Litton

Members of the New York Collegium

Antiphon

$1.70

Hymn : <i>Salvete,flores Martyrum</i>

Artist(s)

James Litton

Members of the New York Collegium

Hymn : Salvete,flores Martyrum

$1.70

Antiphon<br>Magnificat

Composer(s)

plainsong Haydn

Artist(s)

James Litton

Members of the New York Collegium

AntiphonMagnificat

$3.40

Antiphon

Artist(s)

James Litton

Members of the New York Collegium

Antiphon

$1.70
Total running time: 76 minutes.
Album information

A pure and innocent performance with a traditional feel of Haydn's Mass and Vespers. 

This recording is a rare opportunity to hear this neglected choral masterpiece by the younger brother of the great Franz Josef Haydn.

This recording is a partial reconstruction of a Mass and Vespers for Holy Innocents Day as may have been sung in Salzburg during the early nineteenth century. It features instrumental interludes by Wolfgang Amadeus Mozart, performed by the members of the New York Collegium, some of America's best-known baroque specialists.

The American Boychoir is North America's oldest and foremost choir of its kind, and rivals the legendary Vienna Boys' Choir.
Related Artists
Reviews