Filters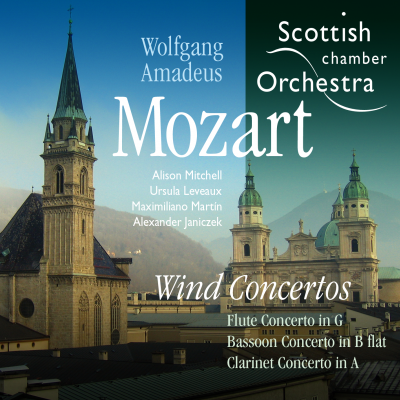 Inlay available for download
Booklet available for download
Flute Concerto No. 1 in G major, K. 313 – I. Allegro maestoso

Composer(s)

Wolfgang Amadeus Mozart

Artist(s)

Alexander Janiczek

Alison Mitchell - flute

Flute Concerto No. 1 in G major, K. 313 – I. Allegro maestoso

$3.40

Flute Concerto No. 1 in G major, K. 313 – II. Adagio ma non troppo

Composer(s)

Wolfgang Amadeus Mozart

Artist(s)

Alexander Janiczek

Alison Mitchell - flute

Flute Concerto No. 1 in G major, K. 313 – II. Adagio ma non troppo

$3.40

Flute Concerto No. 1 in G major, K. 313 – III. Rondo. Tempo di Menuetto

Composer(s)

Wolfgang Amadeus Mozart

Artist(s)

Alexander Janiczek

Alison Mitchell -flute

Flute Concerto No. 1 in G major, K. 313 – III. Rondo. Tempo di Menuetto

$3.40

Bassoon Concerto in B flat major, K. 191 – I. Allegro

Composer(s)

Wolfgang Amadeus Mozart

Artist(s)

Alexander Janiczek

Ursula Leveaux - bassoon

Bassoon Concerto in B flat major, K. 191 – I. Allegro

$3.40

Bassoon Concerto in B flat major, K. 191 – II. Andante ma Adagio

Composer(s)

Wolfgang Amadeus Mozart

Artist(s)

Alexander Janiczek

Ursula Leveaux - bassoon

Bassoon Concerto in B flat major, K. 191 – II. Andante ma Adagio

$2.30

Bassoon Concerto in B flat major, K. 191 – III. Rondo: Tempo di menuetto

Composer(s)

Wolfgang Amadeus Mozart

Artist(s)

Alexander Janiczek

Ursula Leveaux - bassoon

Bassoon Concerto in B flat major, K. 191 – III. Rondo: Tempo di menuetto

$2.30

Clarinet Concerto in A major, K. 622 – I. Allegro

Composer(s)

Wolfgang Amadeus Mozart

Artist(s)

Alexander Janiczek

Maximiliano Martin - clarinet

Clarinet Concerto in A major, K. 622 – I. Allegro

$4.60

Clarinet Concerto in A major, K. 622 – II. Adagio

Composer(s)

Wolfgang Amadeus Mozart

Artist(s)

Alexander Janiczek

Maximiliano Martin - clarinet

Clarinet Concerto in A major, K. 622 – II. Adagio

$3.40

Clarinet Concerto in A major, K. 622 – III. Rondo. Allegro

Composer(s)

Wolfgang Amadeus Mozart

Artist(s)

Alexander Janiczek

Maximiliano Martin - clarinet

Clarinet Concerto in A major, K. 622 – III. Rondo. Allegro

$3.40
Total running time: 72 minutes.
Album information

Section principals Alison Mitchell (flute), Ursula Leveaux (bassoon) and Maximiliano Martín (clarinet) celebrate the 250th anniversary of the birth of Wolfgang Amadeus Mozart.

Austrian conductor Alexander Janiczek is the ideal choice to lead the orchestra in the well-loved repertoire of his fellow Austrian. Audiophile Audition summed up the recording in its review: 'Three superb concertos, three superb soloists, and a superb hi-res recording.'

Incredibly the Bassoon Concerto was written when Mozart was only eighteen. By this stage in his life he had already written about thirty symphonies, a dozen string quartets and several Italian operas. The Flute Concerto is notable for the fact that Mozart did not like the flute as an instrument, famously stating 'whenever I have to write music for an instrument I dislike, I immediately lose interest'.

In 1791, the last year of his life, Mozart wrote the Clarinet Concerto. Interestingly the Clarinet Concerto was not composed for a standard clarinet in A but for an instrument the court clarinettist Anton Stadler had developed which extended the instrument's lower range by four notes. The Clarinet Concerto was published with the solo part adapted to suit an ordinary clarinet, but for this performance Maximiliano Martin has adapted the text of the first edition to make the best use of the clarinet's lowest register.
Related Artists
Reviews