Filters
New College: Commissions & Premieres
New College: Commissions & Premieres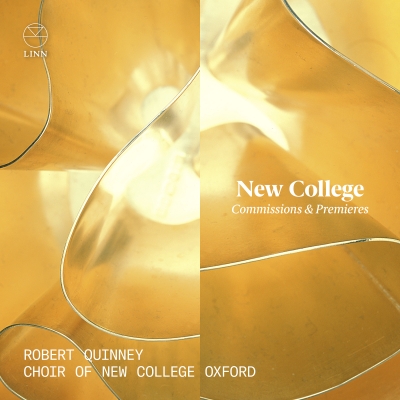 Inlay available for download
Booklet available for download
Faire Is the Heaven

Composer(s)

Sir William Harris

Artist(s)

Robert Quinney

Choir of New College Oxford

Faire Is the Heaven

$2.30

New College Service: I. Magnificat

Composer(s)

Herbert Howells

Artist(s)

Robert Quinney

Choir of New College Oxford

New College Service: I. Magnificat

$2.30

New College Service: II. Nunc dimittis

Composer(s)

Herbert Howells

Artist(s)

Robert Quinney

Choir of New College Oxford

New College Service: II. Nunc dimittis

$2.30

Crucifixus pro nobis, Op. 38: I. Christ in the Cradle

Composer(s)

Kenneth Leighton

Artist(s)

Robert Quinney

Nick Pritchard

Choir of New College Oxford

Crucifixus pro nobis, Op. 38: I. Christ in the Cradle

$2.30

Crucifixus pro nobis, Op. 38: II. Christ in the Garden

Composer(s)

Kenneth Leighton

Artist(s)

Robert Quinney

Choir of New College Oxford

Crucifixus pro nobis, Op. 38: II. Christ in the Garden

$2.30

Crucifixus pro nobis, Op. 38: III. Christ in his Passion

Composer(s)

Kenneth Leighton

Artist(s)

Robert Quinney

Nick Pritchard

Choir of New College Oxford

Crucifixus pro nobis, Op. 38: III. Christ in his Passion

$3.40

Crucifixus pro nobis, Op. 38: IV. Hymn

Composer(s)

Kenneth Leighton

Artist(s)

Robert Quinney

Choir of New College Oxford

Crucifixus pro nobis, Op. 38: IV. Hymn

$2.30

New College Service: I. Magnificat

Artist(s)

Robert Quinney

Choir of New College Oxford

New College Service: I. Magnificat

$2.30

New College Service: II. Nunc dimittis

Artist(s)

Robert Quinney

Choir of New College Oxford

New College Service: II. Nunc dimittis

$2.30

O pastor animarum

Composer(s)

Caitlin Harrison

Artist(s)

Robert Quinney

Choir of New College Oxford

O pastor animarum

$2.30

New College Service: I. Magnificat

Composer(s)

Deborah Pritchard

Artist(s)

Robert Quinney

Choir of New College Oxford

New College Service: I. Magnificat

$2.30

New College Service: II. Nunc dimittis

Composer(s)

Deborah Pritchard

Artist(s)

Robert Quinney

Choir of New College Oxford

New College Service: II. Nunc dimittis

$2.30

O God, Make the Door of This House

Artist(s)

Robert Quinney

Choir of New College Oxford

O God, Make the Door of This House

$2.30
Total running time: 56 minutes.
Album information

The Choir of New College Oxford is one of the world's foremost choral foundations. The music composed for it in the twentieth and twenty-first centuries thus provides a compelling historical tour of changing musical styles and liturgical practices.

This album, which follows the choir's Sheppard recording (Gramophone Editor's Choice), surveys New College commissions and premieres from the 1920s to the 2020s, beginning with Sir William Harris's evergreen Faire is the heaven, composed while he was Organist of New College, and ending with a trio of recent commissions from contemporary English composers Caitlin Harrison, Deborah Pritchard and Toby Young. For Kenneth Leighton's heart-wrenching cantata Crucifixus pro nobis, written in 1961, the choir is joined by tenor Nick Pritchard, a former academical clerk at New College.
Related Artists
Reviews